Self-Employed People Are Fed Up With Regulations
In its annual survey of its thousands of self-employed users, Thumbtack found something that annoys business owners even more than taxes: rules.
Thumbtack, a digital labor marketplace that is often lumped in with other gig-economy platforms, is doing pretty well for itself. It recently moved into new digs in San Francisco, and last year it raised $100 million in venture funding from such lauded venture funds as Google Capital and Sequoia Capital. California has been good to the company.
But ironically, the professional DJs, photographers, caterers, and stylists who promote their work on the platform don't feel as warmly toward the Golden State. According to a new survey conducted by the company, blue states like California, Illinois, and New York are hardly havens for its more than 150,000 service providers.
The states where small business owners felt government was friendly to them, according to the survey, which received responses from nearly 18,000 of its service providers, include traditionally less government-friendly states such as Texas, Utah, Idaho, Georgia, and Kansas. The second most small-business-friendly state, New Hampshire, is home to the most small-business-friendly city, Manchester, according to Thumbtack. The least friendly states are, in order, Rhode Island, Illinois, Connecticut, California, and New York.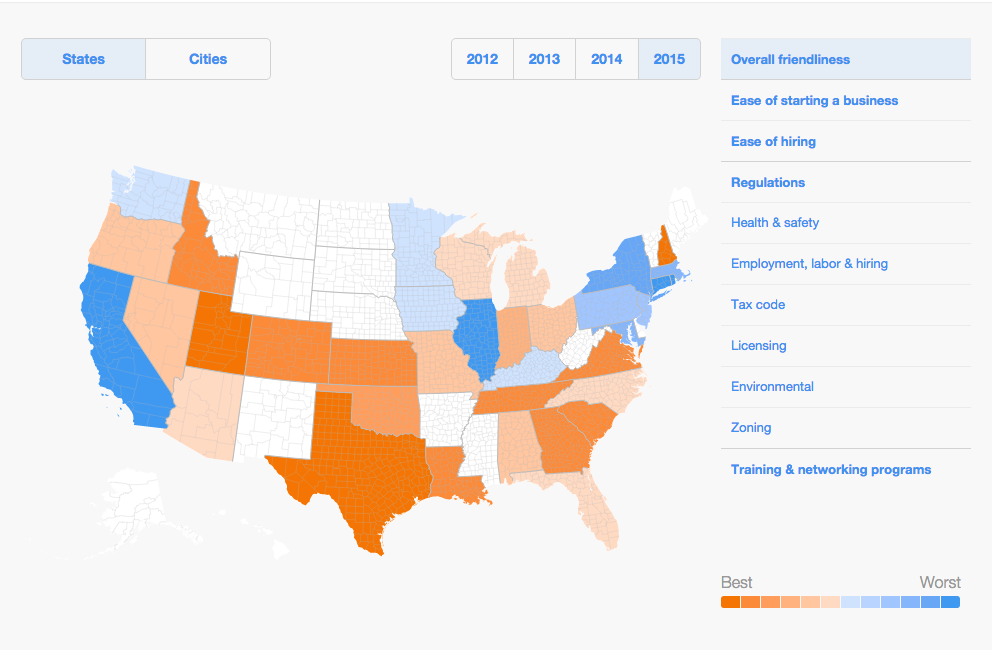 The profile of a typical Thumbtack service provider, then, is different than the young, liberal, tech-savvy Bay Arean hoping to make ends meet who we typically imagine when we think of the gig economy. They are, it turns out, 60% male, 67% white, and 85% older than 35, and 45% of those surveyed have been in business for themselves for more than five years.
"I assumed our platform was going to cater to younger, smaller businesses that were just starting out," Thumbtack Chief Economist Jon Lieber told BuzzFeed News, "so that was surprising."
The report also underscores the finding that complying with municipal licensing and regulation was a greater concern to Thumbtack pros than taxes. On a state level, labor regulations were "88 percent more important in driving state friendliness" than how much businesses would have to pay in taxes, according to the survey. But, according to Lieber, it's not so much the cost of hiring employees as the burden of dealing with regulations that prevents small business from growing.
"You have to make sure you're reporting, you have to track the hours, you have to make sure you're paying workers' compensation, disability, insurance, over time," he said. "Even if they don't mind the expense, the fear of doing something wrong and the consequences of that can keep them from bringing on somebody full time." Further, Lieber said, frustrations about the time and monetary cost of labor regulations have been mounting among small business owners as the U.S. economy has recovered over the last few years.
While it's perhaps unsurprising that self-employed people feel stymied and frustrated by rules and regulations, it's interesting that what respondents wanted most of all was more training "on developing a business and navigating the local economic and policy environment." In both city and state evaluations, good training was the top factor in determining the friendliness of a government toward small business.
Last month, Thumbtack hosted Republican presidential candidate Jeb Bush in the company's San Francisco office. The former Florida governor delivered a short speech to media and Thumbtack employees — and some Thumbtack service providers who tuned in via video conference — on, among other things, regulation, the entrepreneurial spirit, and the future of work. "The more complicated society gets," Bush said at the time, "the more burdensome the rules are, the harder it is for the small business with two to three employees to be successful."
Though, according to Lieber, survey respondents were fairly evenly distributed across the political spectrum, it would seem that when it comes to regulations, they are in agreement with Bush.