Search Plumber In San Francisco, And Google Will Find You A Plumber
The company has begun experimenting with a paid search product that could compete with Handy, Taskrabbit, and other on-demand labor startups.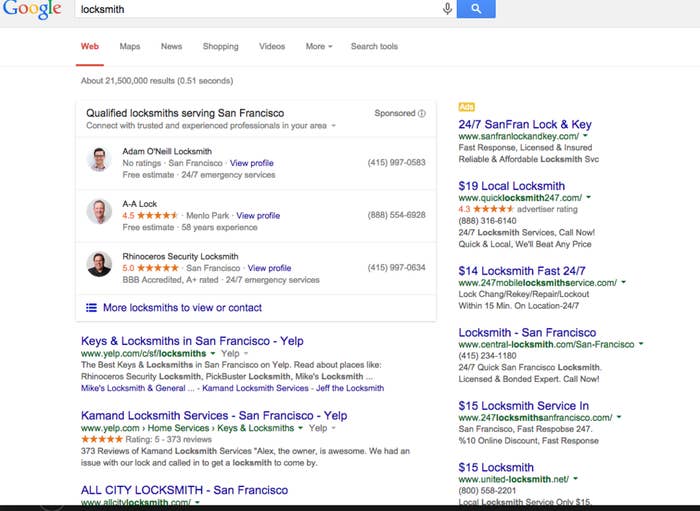 Google is now testing its new local home services product in San Francisco.
As BuzzFeed News first reported in April, the search giant has been experimenting with launching an advertising product that would connect search users with local home services providers such as plumbers, roofers, and cleaners.
In the San Francisco pilot, some search results for queries such as "plumber" will feature head shots of potential professionals for hire who have been vetted by Google, according to these guidelines, along with basic business information such as phone number and hours. Much as with other Google advertising products, home-services professionals will pay for placement in search results.
Earlier this month, after on-demand cleaning service startup Homejoy shut down, Google hired a number of its engineers. This rollout of paid listings appears to be a concrete step in the direction of a Google answer to Amazon Home Services, which launched in the spring and expanded to fifteen new cities last week.
Some investors have said that the local, on-demand startup space is potentially over-saturated in certain verticals, and predicted that the market will have to consolidate in the coming months. That economic reality could provide an opportunity for larger companies like Google and Amazon, which have considerably more generous margins, to use their larger native user bases to dominate this space.