A leading legal services group providing aid to immigrant families facing separation at the US border, the Refugee and Immigrant Center for Education and Legal Services (RAICES), rejected a $250,000 donation this week from Salesforce because the software company has an ongoing contract with Customs and Border Protection (CBP).
"When it comes to supporting oppressive, inhumane, and illegal policies, we want to be clear: the only right action is to stop," RAICES Executive Director Jonathan Ryan wrote in a letter to an unnamed Salesforce employee obtained by BuzzFeed News. "The software and technical services you provide to CBP form part of the foundation that helps ICE operate efficiently, from recruiting more officers to managing vendors."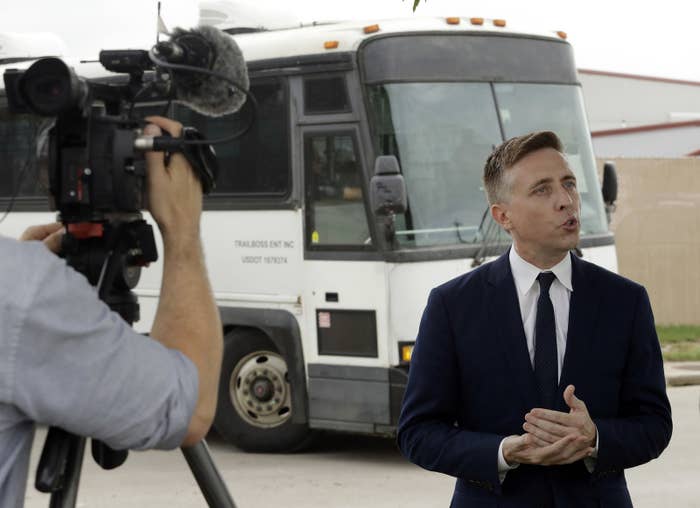 Salesforce has so far declined to cancel its contract with CBP, following this letter as well as employee petitions, protests, and outcry from a coalition of advocacy groups.

After news spread that immigration authorities were detaining immigrant children and separating families at the US–Mexico border, the public backlash was swift. RAICES quickly became one of the most active and widely mentioned organizations providing these families with legal support. It recently raised $20 million via a crowdfunding campaign, which it has so far used to pay off $82,000 in bonds for detained parents, according to the Washington Post.
Salesforce declined to comment on RAICES' rejection of its donation, pointing BuzzFeed News to CEO Marc Benioff's previous tweets on the issue of the CBP contract.
Benioff is adamant that the work Salesforce does for CBP is unrelated to President Trump's family separation policy. In a tweet, he said Salesforce is "true to our core values" and doesn't "work with CBP regarding separation of families." He also said Salesforce had donated $1 million to aid groups.
Salesforce declined to identify the names of other organizations to which it made donations.
Earlier this month, Salesforce employees and local activists protested outside Salesforce's new San Francisco headquarters, demanding that the company end its contract with CBP. At the time, the company warned employees to be aware of and report any security threats.
One tech company did recently agree not to continue a government contract following pushback from employees in recent months: Google said it will not pursue a renewal of its current drone technology contract with the Pentagon after 12 employees resigned in protest.
Other tech companies that contract with agencies within the Department of Homeland Security, including Microsoft and Amazon, have been the subject of employee petitions and public protest. Neither of those companies have canceled their respective contracts with Immigration and Customs Enforcement.
The full text of letter from RAICES to Salesforce is below:
On behalf of RAICES, we are writing to acknowledge your offer of a $250,000 donation to our organization.

After careful consideration by our staff, we have decided to decline this gift unless Salesforce commits to cancel all direct or indirect contracts with Customs and Border Protection (CBP), as principled Salesforce employees have demanded.

In response to these employee demands, Salesforce has so far deflected. Instead of cancelling its contract and withdrawing supporting technology from CBP, the company pledged $1 million to "help families affected by the Trump administration policy." We understand that the $250,000 we are being offered is a portion of this $1 million.

When it comes to supporting oppressive, inhumane, and illegal policies, we want to be clear: the only right action is to stop. The software and technical services you provide to CBP form part of the foundation that helps ICE operate efficiently, from recruiting more officers to managing vendors. While you justified continuing your contract with CBP by claiming that Salesforce software "isn't working with CBP regarding the separation of families at the border", this is not enough.

Your software provides an operational backbone for the agency, and thus does directly support CBP in implementing its inhumane and immoral policies. There is no way around this, and there is no room for hair splitting when children are being brutally torn away from parents, when a mother attempts suicide in an effort to get her children released, and when an 18 month old baby is separated from their mother in detention.

Pledging us a small portion of the money you make from CPB contracts will not distract us from your continuing support of this agency. We will not be a beneficiary of your effort to buy your way out of ethical responsibility.

We ask you to commit to ending your contract with the U.S. Customs and Border Protection, and we hope that we will be able to accept your donation under these terms. We look forward to hearing from you.

Sincerely,

Jonathan Ryan