Pick Your Next Job Based On What You Actually Care About
CareerLabs wants to help prospective employees get answers to the questions they're afraid to ask in job interviews.
Some people are lucky enough to find jobs via informal networks — through friends who already work for a company, or former coworkers who make a recommendation. But lots of people go into a job search cold, with very little information about their prospective employer. And job interviews — ostensibly the best place to get straight-from-the-source information about a company's policies, values, and culture — are often an awkward place to ask questions about the things job-seekers really want to know: how much vacation will I get? do people here share my political beliefs? how fast is the company growing? For a lot of people, the application process can be awfully opaque, says Anthony Van Horne, founder of CareerLabs, a new job search site. "Most folks are applying blindly," he told BuzzFeed News.
Van Horne won't say who's backing CareerLabs, and the site launched publicly today, so it's had to say how much of an impact it might have on the working world. But the conceit is an interesting one. For example, women are more likely to rise in the ranks of a company if there are already women in positions of authority. What if that information was available in a job search? What if potential employees could look at data from discrimination lawsuits as a means of predicting how welcoming a work environment might be?
Of course, no algorithm can predict whether someone might get harassed at work, but there are a lot of things you might want to know about a company before you take a job there. Van Horne described one user, a designer in his 30s, who had worked for a succession of "early stage companies that had failed, and the equity was worthless." For his next job, he needed something more stable. A user like that that, Van Horne says, would want to take advantage of CareerLabs ability to predict company growth, which uses a number of data sources to analyze the financial health of a company.
Job seekers can sign up for CareerLabs with a LinkedIn profile. The more you want to know about a potential employer, the more an account will cost you. The site pulls in job listings from dozens of other jobs boards, and claims to have independently surveyed employees from over 70% of companies in the U.S.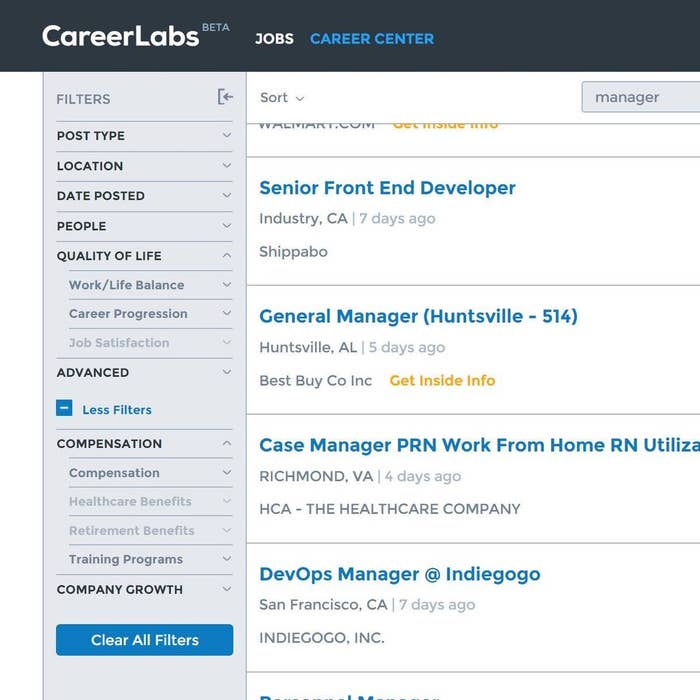 Van Horne said CareerLabs' engineers and business development team work together to gather data, whether that means mining public databases — such as the SEC or the Bureau of Labor Statistics — or cutting private deals with companies. A team of data scientists then cleans this data, structuring it so it can be searchable and, in some cases, trying to come up with a sentiment score or "directional signal" about, say, whether a company is made up of mostly conservatives or liberals, or whether it is more or less friendly to new parents, or how cost of living in the neighborhood corresponds to compensation. These vectors can be selected as search filters depending on what the searcher is looking for in their next gig.
Some information, though, remains hard to come by. For example, few companies publish diversity numbers, or demographic info on their workforce — which would be helpful if you don't, for example, want to be the only black woman or gay guy in the office. Companies are also loath to share specific information around benefits, like retirement packages, health insurance, or paid time off.
We tend to think about careers as having a linear progression — increasing compensation that corresponds with changing titles. But the reality is that people want different things at different points in their career. Retirement benefits and length of parental leave may not matter as much to someone just starting out as they do to an industry veteran. The ability to get a visa matters to some but not to others. If CareerLabs is successful, it'll make a previously opaque process a little easier.