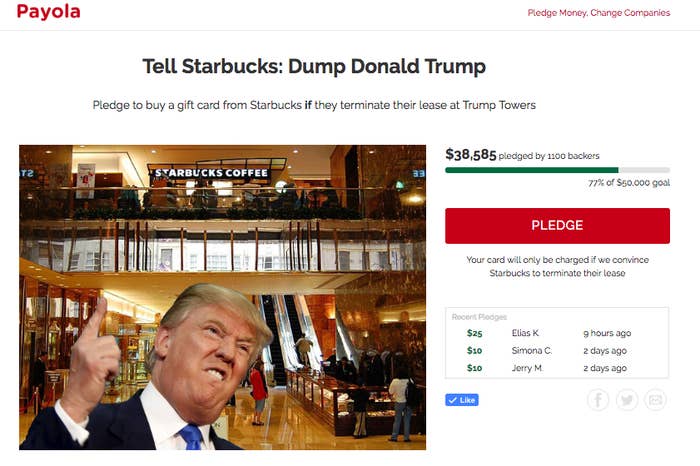 More than one thousand people have pledged to buy Starbucks gift cards if the coffee chain agrees to shutter its store in Donald Trump's Trump Tower in Manhattan.
It's a crowdfunding effort with a unique strategy: pay a company to stop doing something.
"It's kind of like a reverse Kickstarter," says Ivan Pardo, the man behind the movement.
Pardo is the CEO of Buycott, a company whose app flags products for the socially conscious to avoid. One of Buycott's most popular campaigns targets genetically modified foods by suggesting concerned shoppers steer clear of brands like Kellogg's and General Mills.
The popularity of the Trump Buycott inspired Pardo to attempt a more pointed and potentially impactful type of campaign, one in which customers promise to buy a company's product if the company changes its policy. This is hardly the first time concerned citizens have turned to digital platforms to voice their displeasure with Trump, but Pardo hopes the new strategy might make a difference.
"Part of what we're trying to do with Buycott is go behind these tactics with no teeth, like petitions, where you don't really have skin in the game," Pardo told BuzzFeed News. "I wanted to see if we could leverage people who were already passionate about this in a more concentrated manner."

Payola is the result of that thought experiment. Separate from Buycott, Payola is a simple web page — it took about a week to put together — that tells visitors to "pay money, change companies."
For now, though, "Tell Starbucks: Dump Donald Trump" is Payola's only active campaign. "The money Starbucks gives Trump every month is used to fund the bigotry and racism that he broadcasts across the country," the website explains. "Macy's, NBC-Universal, ESPN, Apple, and NASCAR have all cut ties with Trump, but Starbucks continues to hold out, forcing us to unwillingly fund Donald Trump's hate with every latte bought."
Backers can pledge to buy $10, $25, $50 or $100 Starbucks gift cards by signing up with their email addresses, which Pardo says will be used to collect the promised pledges should Starbucks actually respond.
Around 20% of the 1,100 backers supplied credit card information along with their contact info, according to Pardo who says $38,585 has been pledged so far. The campaign's goal is currently $50,000, though Pardo says that amount increase as more pledges accumulate. The real goal, he says, is closer to $1.5 million. No money will be transacted until Starbucks actually leaves Trump Tower.
"It's kind of like a reverse Kickstarter."