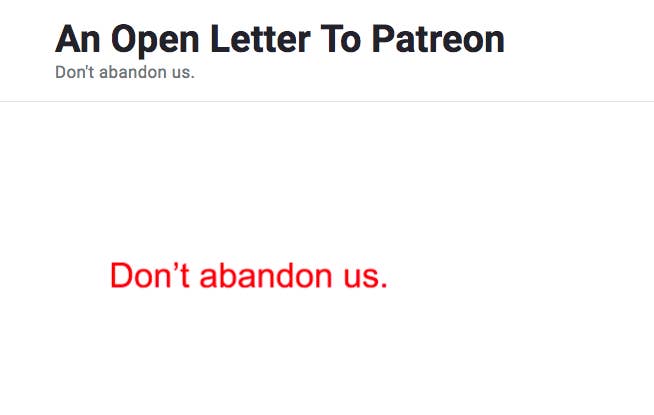 After the crowdfunding platform Patreon announced changes to its rules about adult content on its site, creators are airing their frustrations and concerns in an open letter that's already collected more than 800 signatures.

Patreon updated its terms of service last week, explicitly prohibiting the sale of pornographic material or sexual services, and telling creators, "You can't use Patreon to raise funds in order to produce pornographic material such as maintaining a website, funding the production of movies, or providing a private webcam session."
In an email to adult content creators sent Wednesday afternoon, Patreon CEO Jack Conte said that the new language simply clarified its existing policy on pornography. "We did update four (and only four) areas of our actual content policy: incest, bestiality, sexual depiction of minors, and suggestive sexual violence. If you're just reading the headlines, you'll be under the impression that we're 'cracking down on adult content.' Again, this is not what's actually happening," he wrote.
But some content creators say the move is a crackdown on creators who offer patrons access to content like erotic films, nude photos, private Snapchat feeds, and video chat sessions in exchange for monthly fees.
In a response to Conte's email sent to reporters, the authors of the open letter say they're disappointed in Conte's response, which they say essentially means "sex workers unable to change or censor their work to fit new requirements should lose their income and that legal expressions of sexual creativity do not have a home on their platform."
"[Conte] both moves to come out strongly against specific forms of expression, such as 'real people engaging in sexual acts,' while going on at length about how good a home Patreon is to creators," the statement reads.
Patreon has a reputation for having long been a digital haven of sorts for creative types who operate in the gray area between sex work and artistic production. As the open letter points out, Patreon pushed back when payment processors like PayPal tried to ban adult content creators on the platform from using their services. For these reasons and others, adult content creators believed the platform was supportive of their work.
Patreon has experienced enormous growth from 2016 to 2017, doubling the number of patrons and creators on the site, according to a May press release. Last month, the site raised $60 million in a Series C funding round, landing it a valuation of $450 million. But that rapid expansion hasn't been without controversy. Some of Patreon's most popular creators are products of the current political moment (think dirtbag leftist podcast Chapo Trap House), and the site has banned creators on both the right and the left for violating its terms (in the former case, for seeking funds for a project that could lead to loss of life, in the latter case, for doxxing and publishing instructions on how to sabotage a railroad). Like other tech platforms, Patreon has struggled to clearly delineate how it made those decisions.
Now it seems the company is having a similar problem communicating its policies around what counts as pornography, and what doesn't, causing frustration and financial concerns for some of its 50,000 creators.
"My personal belief is that online content policy is in its infancy right now — most of tech doesn't do content policy well," Conte wrote in his email to creators. "In fact, I think tech on the whole under-invests in content policy."
The creators who composed the open letter to Patreon had emphasized that communication around these issues has been poor. "We're deeply disappointed in your handling of clarity with regards to adult content on your platform, and the mixed messages we have been receiving," the open letter reads. "Not only that, the most vulnerable among us — disproportionately queer, trans, disabled, people of color and those whose first language is not English — are literally scared for our lives."
The letter goes on to say that adult content creators "have been courted by [Patreon], worked closely with [Patreon] on promotion, creation, and even website features," and as a result are confused about why the terms are changing.
Conte first acknowledged the letter with a tweet on Tuesday evening.
And in his email to creators on Wednesday, he said the perception that the company's policies on adult content are changing is inaccurate. "Patreon's stance on pornography has not changed," he wrote. "We have never allowed pornography or sexual services on Patreon and that stance has been clear in our guidelines since they were first published a few years ago."
But currently on Patreon, there are plenty of NSFW creators who offer "risque photos," "erotic films," one-on-one video chats, access to private Snapchat feeds, and even clothing that they've worn while working out. Creators who rely on Patreon for some or all of their income say the problem comes down to the fact that Patreon gets to define the difference between what is erotic art and what is porn, which means that erotic or adult content that appears more "artsy" is more likely to survive on the platform, whereas content that is more explicitly pornographic will not.
In his email, Conte said he realizes "that 'pornography' is difficult to define, and 'you know it when you see it' is a totally inadequate policy. So we've added additional detail to the pornography section of our content policy, and the team will be spending even more time clarifying our guidelines in the future. As of this morning, the guidelines state that we don't allow 'real people engaging in sexual acts, such as masturbation or sexual intercourse on camera.'"
So far, Patreon hasn't removed any creators' pages based on these new rules. In his email, Conte said he "won't pull the rug out from a creator's income, even in the case of a policy violation."
But gaming website Kotaku reports that some erotic games that raise funds on Patreon, including one with an incest storyline, have already been flagged as "under review."
"The team actually built a new system, a suspension tool, over the last few weeks, to avoid sudden removals," Conte said. "Suspension may still seem harsh — I totally understand that perspective — but in the case of a policy violation, it gives the creator a chance to talk with a team member and get their page back up and running."
But creators who spoke with BuzzFeed News said they worried that Patreon would decide their content was pornography rather than art, and ask them to either change their business model or leave the platform.
Erika Lynae, a Patreon creator who makes sex ed films and reviews sex toys, said the ability of artists like Four Chambers, an erotic film collective that joined Patreon more than three years ago, to make nearly $27,000 per video via Patreon made it seem like Patreon was okay with adult content.
"It seemed like porn (both funding it through the site and offering it was a patron reward) was perfectly fine as long as it wasn't explicitly called porn and it was marked as NSFW. They've always seemed very supportive of adult creators earning money through their site," she said. "So this is definitely a change, not a clarification, because it doesn't mesh with what their policy has actually been in practice thus far."
This support for adult creators was what convinced Patreon creator River Lovett to quit cam-girling on MyFreeCams.com and move her business over to Patreon. In the five months since she joined Patreon, Lovett has acquired 110 patrons, most of whom pledge $9 or more per month.
"As of right now my only income is through Patreon," Lovett told BuzzFeed News via a direct message on Twitter. "Adult workers such as myself came to Patreon because it was the only payment platform that did not discriminate against sex workers. It is very hard to fund adult content and art independently because most major payment processors refuse to work with adult workers, forcing them to sell through third-party companies who take 50–60% of our profits."
For now, while she builds her adult film brand, Lovett is living off her savings. "I was hopeful that in a few months I would be making enough to make films full-time and start a career, but it's getting more difficult for me due to the fear of being banned from Patreon," she said.
The open letter has only two specific demands: that Patreon promise to protect the incomes of creators who aren't doing anything illegal, and that it "end the system of arbitrarily judging what is and isn't acceptable expression."
Liara Roux is one of the NSFW creators who helped draft and circulate the letter. She said her concern is less for herself, and more for other creators of adult content, whose pages are more explicit about offering porn, or who don't have other ways of making a living. (Roux's Twitter account was deactivated not long after the open letter to Patreon began circulating.)
"I had a dedicated fanbase before Patreon," Roux wrote via email. "I previously worked in tech and can make a paysite myself. They've already encouraged me to make my own paysite. I chose to work with Patreon because I believed in Patreon. That's what makes this so disappointing."
UPDATE
This story has been updated to include an additional statement from the authors of the Open Letter to Patreon.