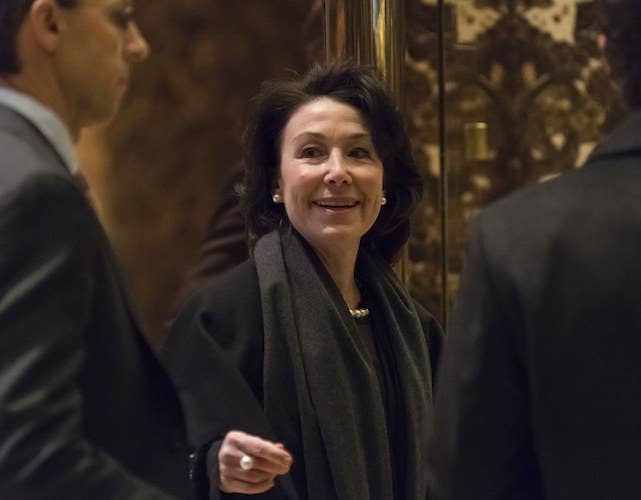 Oracle employees concerned about the company's silence on President Trump's executive order on immigration are circulating a petition on the issue. So far, 366 individuals have signed the letter, asking Oracle — whose CEO, Safra Catz, served as an advisor on Trump's transition team — to add its name to an amicus brief in support of a lawsuit against the order by Washington state Attorney General Bob Ferguson.
"We want them to stand with the other leaders in tech that have taken a firm stance on this," said Oracle employee Irene Scher, who posted the petition to Coworker.org. "Oracle has been built on the backs of many immigrants. The company is incredibly diverse. That's one of my favorite things about it, and I think it makes sense for them to get involved as others have."
Neither Oracle nor IBM — whose CEO serves on Trump's economic advisory council — has signed on with a coalition of 130 tech companies opposing President Trump's immigration order, which is currently on hold as its legality is debated in appellate court.
Employees at both IBM and Oracle have resigned over ties between their CEOs and Trump.
Created by Oracle employees Rachel Kane, Irene Scher and Lara Beers, the petition — which has been live for only a few hours — has just 377 signatures. That's small compared to the over 1,800 that have amassed beneath the IBM petition, and minuscule compared to Oracle's global staff of 140,000. But the three are hopeful that it will gather momentum and carry concerns about Trump's immigration order to management's ears.
The Oracle petition, which is being circulated internally and on Coworker.org, is gaining momentum among employees who've been trying to send a similar message of concern to the company's leadership. "What I've heard from other employees is, because we have people in leadership who are immigrants themselves, it's an opportunity for Oracle to be a leader to stand up and talk about this executive order being so far reaching and broad," Beers said.
The petition's authors cited Tesla and SpaceX founder Elon Musk as an example of a tech leader who agreed to advise Trump, but has nonetheless added Tesla and SpaceX to the list of tech companies that oppose the immigration order. "It was inspiring to see that Elon Musk, despite being on the transition team, signed on behalf his companies. So we're hopeful Oracle will take a similar stance," Scher said.
Even if the company doesn't take a stance, Beers hopes the petition will at least elicit greater transparency between management and employees. "I think it would be great to know why they aren't joining our peers," she said, "why Oracle feels we shouldn't be joining them and standing against the executive order."
Oracle did not respond to a request for comment.