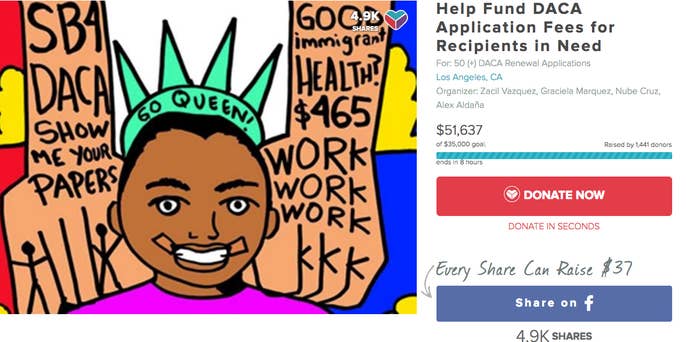 In the immediate aftermath of the Trump administration's repeal of DACA — the Obama-era rule that allowed some immigrants to work and go to school in the United States — activists, undocumented immigrants, and nonprofit organizations have taken to crowdfunding platforms like YouCaring and GoFundMe, raising thousands of dollars in only a few days to support those impacted.
The new rule gives some DACA recipients, or DREAMers, just one month to renew their documents. The application costs $495. According the Federal Reserve, nearly half of all Americans would be unable to come up with $400 in the face of an emergency.
Prior to the Trump administration's announcement on Tuesday, a number of DACA recipients were already using crowdfunding platforms to raise money for application fees, airfare and lodging to join a DACA rally in Washington, DC, or school tuition. But the amount of money being directed at these causes has spiked dramatically since the weekend.
Ernesto Lopez is a development manager with the Puente Human Rights Movement in Phoenix, which has so far raised $5,264 on YouCaring.
"I put this up at 8 p.m. [Tuesday] night, and in less than 24 hours, we were close to $5,000," Lopez told BuzzFeed News. "People are energized, and want to do something, but sometimes people don't know what to do. This is an opportunity where money actually makes a big difference."
Puente helps undocumented immigrants file their paperwork with US Citizenship and Immigration Services (USCIS); Lopez said the money the organization raises, which so far is enough to cover about 10 applications, will be distributed directly to people coming into their offices looking for help.
Another group, this one called Fuerza Colectiva in Seattle, raised more than $10,700 in less than two days. One of the group's members, Leo Carmona, said the inability to afford the application fee is one major reason that undocumented immigrants don't renew their permits.
"I myself am a DACA recipient. Thankfully, I just renewed my permit, but as someone who has been a student or who has lacked the resources to fund a $500 application, I saw the need of fundraising," he told BuzzFeed News. "I think given the timeline, knowing it's only a month that they have to renew their permits, I felt it was extremely urgent for us to act."
Rather than cover application costs in full, Carmona said his organization is asking applicants how much they can afford to pay and offering to cover the rest.
In the case of one GoFundMe campaign, just a single tweet made a major impact. Muna Mire of BET tweeted about Cecilia Sierra's request for $1,000 to help cover the cost of her DACA renewal. Mire's tweet was retweeted more than 500 times, and Sierra met her goal in just a few hours.
(BuzzFeed News reached out to Sierra for comment, but didn't immediately hear back.)

A spokesperson for YouCaring said the number of campaigns related to immigration issues has increased by 75% since last week. "We are also seeing that these campaigns are gathering momentum faster than usual and hitting their goals and even surpassing their funding goals in a matter of days, most likely thanks to the elevated profile of this particular cause in the news cycle and a heightened sense of urgency around it," she wrote in an email statement.
GoFundMe said it has also seen an increase in campaigns supporting undocumented immigrants. "We are working with the campaign organizers to ensure the Dreamers receive the funds transferred as soon as possible," a GoFundMe spokesperson wrote via email.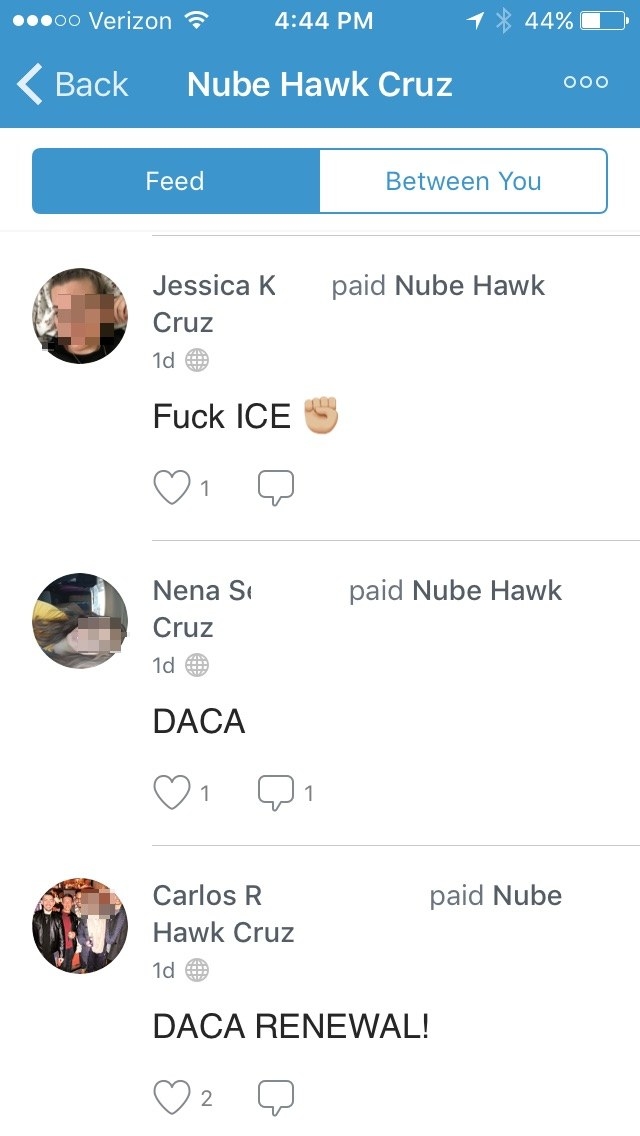 Other campaigns have raised far more with the help of social media. A group of activists named Zacil Vazquez, Graciela Marquez and Nube Cruz posted a campaign to YouCaring over the weekend. In less than a week, it had raised $57,372 from over 1,500 donors after being shared 6,000 times. Vazquez attributed the success of the campaign so far to the fact that all four organizers are undocumented immigrants or DACA recipients with roots in the activist community.
"We grew tired of nonprofits and others taking advantage of this to further their growth and decided to fundraise on our own," said Cruz. "By us for us."
In addition to wanting to help other DACA recipients, Cruze himself was worried about being able to get together enough money to pay for his own application. He used his Facebook page to ask for donations via Venmo; his fees were covered by donations from friends within 24 hours.

Meanwhile, in Texas, a campaign led by Dr. Dona Kim Murphey raised over $43,000 in just a week. Murphey started the campaign after Hurricane Harvey devastated a number of undocumented families in Houston. Murphey's original goal was to set up a fund that would support four families with donations of $5,000 each, which they could use at their discretion for things like rebuilding homes, buying cars, covering lost wages, or paying lawyers. Having exceeded her initial goal, Murphey now hopes to support as many as 10 families, if donations continue apace.