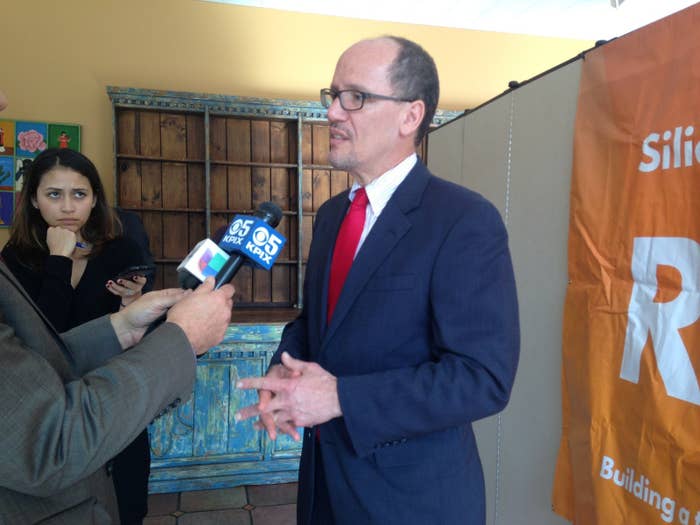 East San Jose, in Santa Clara County, California, is a town of pickup trucks, strip malls, and single-family homes just a short drive from the mythical campuses of billion-dollar companies like Facebook and Google. And it's where workers and organizers gathered to meet with Department of Labor Secretary Tom Perez at the Mexican Heritage Plaza, across the street from a row of abandoned storefronts, on Tuesday afternoon.
The group discussed what has become a popular, if not exactly pleasant, topic in the Silicon Valley region: the widening inequality gap between white-collar tech workers and the janitors, drivers, cooks, and landscapers Perez came 3,000 miles to meet. The mood was hopeful.
The event was hosted by a coalition of labor groups calling itself Silicon Valley Rising, which this week proposed a ballot initiative in San Jose that would require employers to give more hours to the people who already work for them, rather than hiring additional part-time workers. Perez was there because President Obama, in his last 357 days of office, has decided to make economic security for American workers a priority — and he's starting with Silicon Valley.
"We work in a very important part of the country, where there are very important companies," said Inmar Liborio, a janitor with the SEIU who spoke through a translator."But the reality for janitors and their families," he went on to say, "is that we can't live here. Sometimes we have to commute up to two hours just to come to work."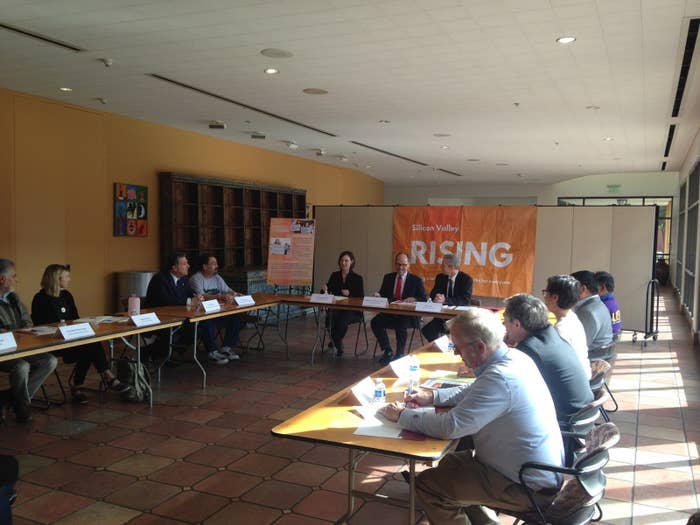 This week, a lot happened in Washington that could impact people like Liborio. On Monday the Department of Labor announced that, for the first time in 10 years, it (along with the Bureau of Labor Statistics) will try to make an accurate count of how many people are sustaining themselves and their families on part-time, gig, and contract work. And on Tuesday, the administration announced a $100 million pilot grant for an idea that has already built some momentum in Silicon Valley: portable benefits, essentially a pooled fund for things like workers' comp and paid time off that follows a worker between jobs.
Throughout the week, Secretary Perez will be talking to tech companies about exactly who would pay into such a fund. He told BuzzFeed News that he feels "employers need to have skin in the game."
"I hear people say, 'The only way we can innovate is if we have unfettered discretion as employers to do whatever we want,'" Perez told BuzzFeed News. "I don't agree with that."
One of the people watching Secretary Perez speak about the White House's plan for "inclusive innovation" was a cafeteria worker who serves daily meals to employees on Intel's campus, not 10 minutes from the Mexican Heritage Plaza.
Wednesday, she joined 79 of her colleagues at Guckenheimer Corporate Dining in petitioning for a "fair right to organize." A spokesperson for the union told BuzzFeed News that cafeteria workers bring in around $22,000 a year, a sum that simply can't cover the cost of living in San Jose, where he said at least one Intel cafeteria worker is living five to a bedroom.