Do you know your Uber passenger rating? Now you can see it right in the app.

Just as Uber passengers get to rate drivers on a scale of one to five stars after a ride, drivers get to rate passengers. And just as passengers have their dislikes, such as a driver who has overly strong air freshener or who exceeds the speed limit, drivers do, too — like when passengers eat in the car or puke.
Drivers have always been able to see passenger ratings, and so have passengers, if they knew where to look. But starting today, those ratings will be front and center, right under your name and avatar in the app.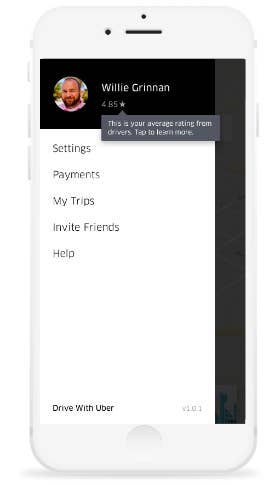 In a blog post, Uber says the update — which will roll out globally by Monday — is part of an effort to "make [the] rating system fairer."

"Many riders forget that their driver is also rating them," the blog post reads. "We hope this update will remind riders that mutual respect is an important part of our Community Guidelines."
It's true that, with a constant reminder of the rating, riders are liable to be a little more polite. It's also possible that, as they watch their own rating rise and fall, they might be a little more thoughtful about the ratings they dole out.
In addition to the rider ratings change, Uber is also introducing a tweak to how ratings work in Uber Pool, Uber's carpool feature that involves multiple passengers sharing a car on a mutually efficient route.
Starting today, if a rider rates a Pool ride anything less than five stars, they'll be prompted to say why — options include "poor route," "too many pickups," "co-rider behavior," "navigation," "driving," and "other." If the rider selects something that was outside of the driver's control, that rating won't be counted. (Riders aren't required to explain themselves, however.)
Uber has been experimenting with changes to its five-star rating system, which some people say is broken, for years, and said the tweaks that rolled out today have been in the works for some time.

Netflix just switched its rating system from a five-star scale to a far simpler thumbs-up/thumbs-down. With so much confusion over what star ratings actually mean for the gig workers that earn them, is it time for Uber, Lyft, and Instacart to do the same?