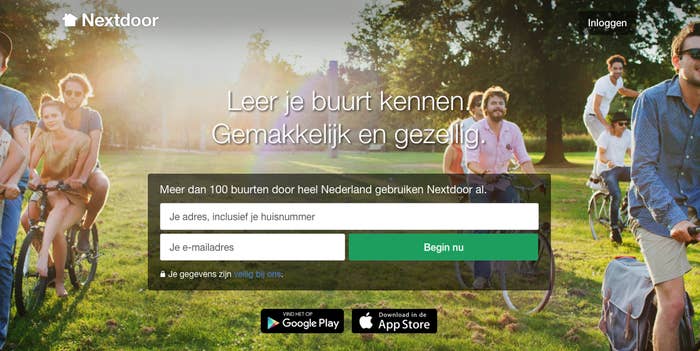 The Dutch word for farmer — boer — sounds very similar, when said out loud, to the Dutch word for neighbor, which is buur.
This isn't an issue for native Dutch speakers, but it's proving problematic for Nirav Tolia, the American CEO of Nextdoor, the social networking platform for neighbors that launched in the Netherlands today. "It is a tricky language," Tolia said, speaking with BuzzFeed News from Amsterdam.
"For us, it wasn't as simple as taking our product, converting all the English to Dutch, and launching it," Tolia said. "Everywhere we launch, we need to take on the experience of that country."
The Dutch launch is Nextdoor's first foray into neighborhoods outside the United States, where it has active communities in all 50 states. The app has been in private beta in the Netherlands for three months and has members in 93 communities. In fact, Tolia said that because the Dutch tend to be civic-minded early adopters, Nextdoor is actually growing faster in the Netherlands than it originally did in the United States.

Nextdoor, valued at $1.1 billion in March, has had "global ambitions" since its 2011 launch, according to Tolia. The company hired an executive to lead its international efforts in 2012, but didn't get the effort off the ground until now.

Part of that was logistical. Like it or not, local news and events are often as much about crime reporting as they are about yard sales, which means Nextdoor, by necessity, has had to interface with local law enforcement and local government in the United States. But these agencies work differently in other countries, which means when launching internationally, Nextdoor has had to adapt its existing software to new rules and regulations. The process is not wholly dissimilar to the ground game that companies like Airbnb and Uber have been forced to adopt in their parallel quests for global expansion.
For example, Tolia said, in U.S. cities the naming of neighborhoods tends to be organic and ground-up, so Nextdoor has a feature that allows residents to come up with names themselves. But in the Netherlands, cities and villages are split up into neighborhoods in an orderly fashion and named by the government, so the app works a little differently there.
Similarly, in the U.S., Nextdoor has relationships with more than 1,400 police, fire, and other civil agencies nationwide; the Netherlands, on the other hand, has a single national police force. As Nextdoor continues to expand internationally — an English app could launch in the next few months — the company will have to rely on local teams for an understanding of local government and customs.
International regulatory matters also slowed Nextdoor's international launch. "When you expand to the EU, there's a whole different set of privacy requirements. There was quite a bit of work that needed to be done on the platform to measure up to the bar the EU has in terms of collection of data," Tolia said. (Nextdoor recently circulated an updated privacy policy for U.S. users, too.)
What's more, major social media sites including Facebook and Twitter have been pressured lately by the government to weigh their responsibility when it comes to crimes such as terrorism. Nextdoor is more associated with missing cats than car bombs, but as it expands, it, too, will have to contend with international regulation. Whether it's international privacy law or the subtle differences a vowel makes, Nextdoor's first experiment abroad proves that global expansion is never simply copy, Google Translate, paste.