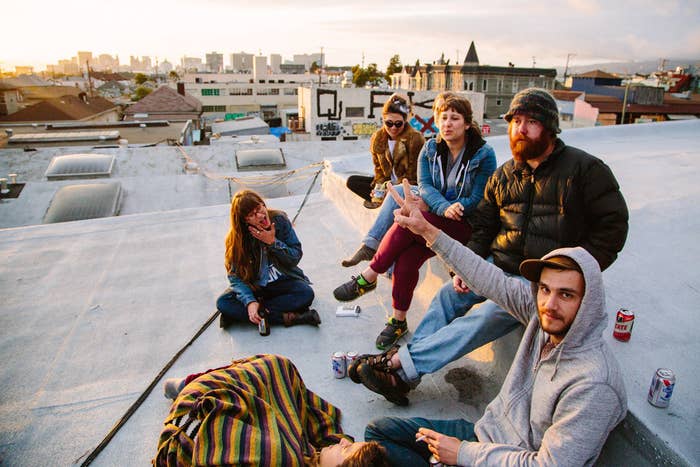 It's 5 a.m. on a Wednesday in San Francisco's Outer Richmond district, and Kyra Joseph is wide awake, making breakfast for her roommates — a feast, they call it. Chris Ledet, another resident of the little yellow house on a hill, likes to be awakened with a cup of coffee brought to him in bed, and Joseph is happy to oblige.
Joseph, Ledet, and Jake Gonen, Joseph's boyfriend, are up at dawn to attend Morning Gloryville, a trendy, sober, early-morning rave popular among a certain set of glitter-forward San Franciscans. There, Ledet works the coat check, holding on to the valuables of revelers looking to jump-start the workday with a little bump and grind. Meanwhile, on the dance floor, Joseph and Gonen consider it their personal responsibility to get the party started. ("We lose our shit," Joseph tells me later that day.)
By 10:30, the party's over, but the day is only just beginning. Joseph washes off her face paint, gets in her truck and, iPhone in hand, sets off to her first gig of the day.
Like Gonen and Ledet, Joseph makes her living on TaskRabbit, an on-demand platform on which workers set their own hourly rates for gigs that range from the quotidian (installing TVs and moving furniture) to the more bizarre (delivering thousands of donuts and pranking tech executives). All told, there are seven people in Joseph, Gonen, and Ledet's informal group, and all of them are living off of TaskRabbit. Most, but not all of them, live in the same house, with a rotating spot on the couch available as needed. All seven of them work collaboratively, connected by a constantly running group text message thread that enables them to ask for and offer help with tasks. And all, perhaps crucially, are of the age (22 to 34) and family structure (single and childless) that enables them to take on this kind of precarious employment model.
In some ways, the seven of them are the perfect embodiment of sharing economy ideals, working cooperatively to support themselves while following other passions and adopting a schedule that works for them. But spend enough time with the Taskers and it becomes easy to wonder if they don't also embody something more sinister than all the glitter might indicate: An unsustainable, shortsighted work model that sacrifices decent pay for the promise of "flexibility," facilitated by the so-called "on-demand economy" and perpetuated by the tech industry's insistence that the nine-to-five grind (plus the stability and benefits that come with it) is a thing of the past.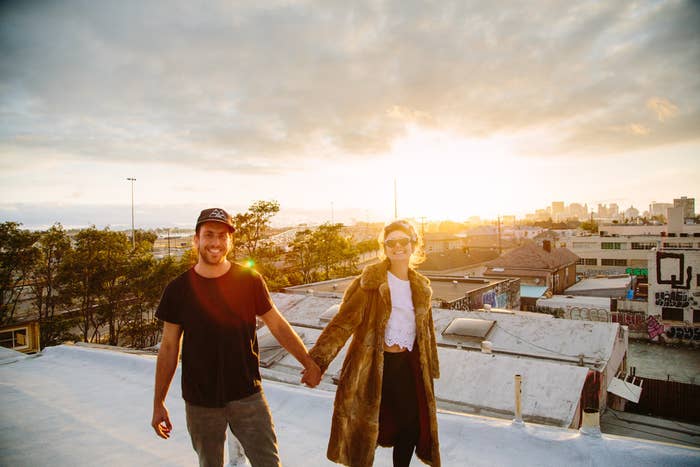 For his part, Ledet has two jobs lined up post-rave. The first ends up being a cinch: When he arrives, there's already a second Tasker there; they spend three minutes moving a table, and he gets paid $60. Ledet's second job of the day ends up being a bit more intense, and involves a lot of driving back and forth between neighborhoods. As the afternoon drags on, the early morning starts to catch up with him, but the job still isn't finished and he doesn't want to bail. So he sends a text out to the group thread, asking if anyone wants to pick up a task. As luck would have it, another group member, Thor Wilcox, is in the area and able to pick it up, which means Ledet can head home and take a nap.
Not every morning starts with a rave, but a daily mix of work and play is typical. For example, on a given morning, Andrew Macrae — another group member — might wake up with one or two jobs scheduled. After that, he might scroll through the app and pick up another gig if it's convenient. Or, if it's not, he might grab lunch with the other Taskers downtown. If they're not around, he might head home to work on personal projects. What happens as the day unfolds is up to him.
In addition to working as a TaskRabbit, Macrae is a painter with semi-regular shows throughout the city. He's also an experienced backpacking guide, a surfer, and an amateur mycologist. And for him, the beauty in tasking is that daily unfolding: Any given afternoon could find him painting, or working on the website for the guided backpacking company he's trying to start with fellow Tasker Andrew Delaney, or gathering mushrooms to sell to restaurants, or catching waves. Other house members spend their non-task time making leather goods, building furniture, starting advocacy groups, practicing their DJ sets, taking photographs, writing — the list goes on.
This, Macrae says, is perfect. "Forcing us into a 9-to-5 would be the worst thing you could do to us."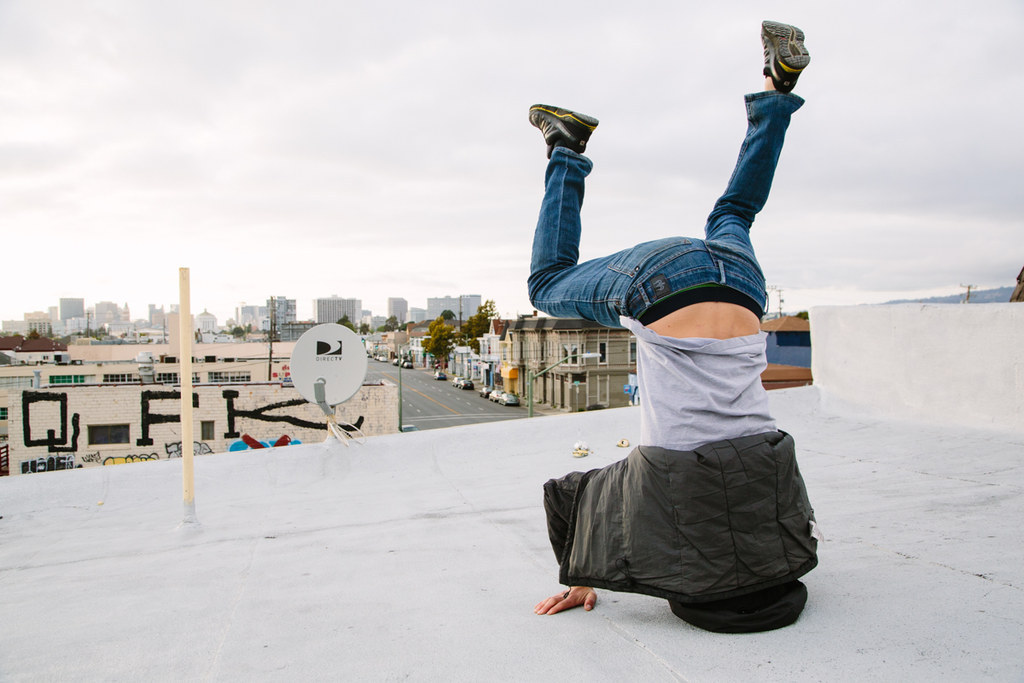 Indeed, even if TaskRabbit didn't exist, it seems unlikely that the members of the group would be working desk jobs. Four of them met in Yosemite, where Ledet was tending bar in ski lodges, and Macrae, Delaney, and Wilcox were working in the High Sierra Camps, a secluded linkage of remote lodges that are only accessible in the summer months (and even then only by donkey), and that have no cell phone service, no Internet, and no electricity.
Being off the grid is a perfect kind of freedom, but, because winter weather closes the camps down, it can't last all year. In the off-season, each of them would have to find other work, and then quit that job come summer. Macrae worked as a tax preparer. Wilcox installed solar panels and fought forest fires. But soon, they started experimenting with the on-demand economy, taking gigs on platforms including Lyft, Uber, Postmates, and Instacart.
In the end, they all found that TaskRabbit afforded them the most independence and the best pay. The deals they enter into are kept strictly between themselves and the customer, and the 20 percent the company takes seems minimal compared to the services it offer in terms of billing and marketing.
The perks of TaskRabbit, and the lifestyle that working the platform afforded, quickly spread through what is now a solid, if informal, group. Soon enough, the seven also started swapping tips — for example, they realized that those who had trucks were booking higher paying jobs because they could haul more stuff.
In some ways, the Taskers' work lives — which wouldn't be possible without the infrastructure of the tech industry, and which necessarily keep each of them tethered to their phones — couldn't be more different from the off-the-grid, checked-out, free-spirit lifestyle that brought them together. But, in another way, they say, the communality and flexibility of their existence within the on-demand economy is just another version of that world.
"It's the same type of thing as the mentality you get from Yosemite," says Ledet of the group. "You have a place, and it's where your friends are all at. You check in, you check out. It's almost like a hostel for all of us in a way."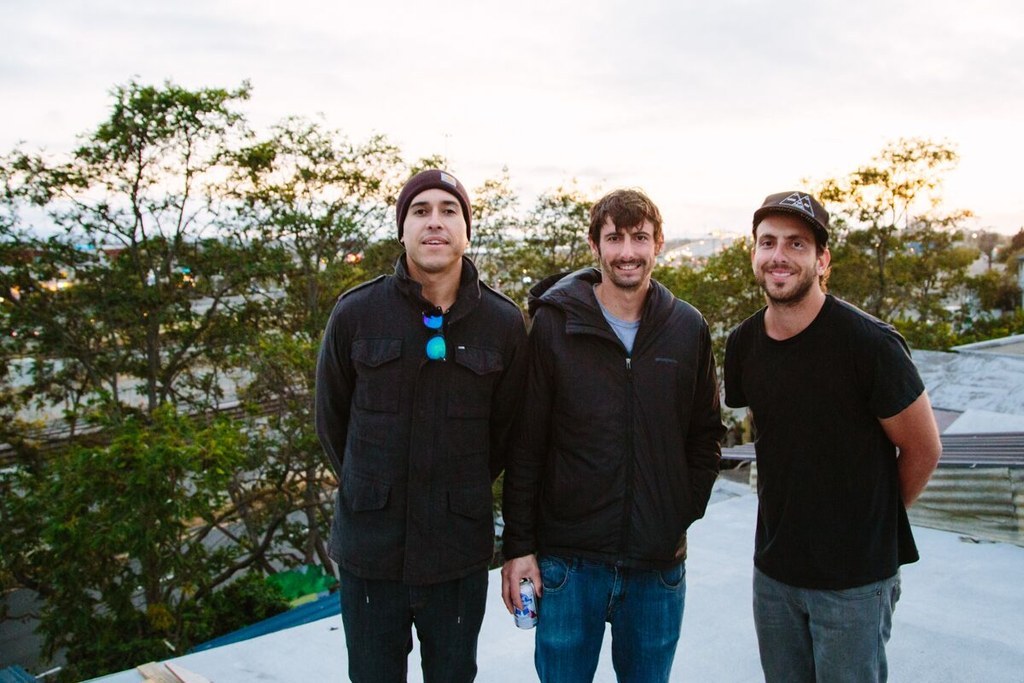 Don't let the free-spirit talk distract, though — these Taskers mean business. By meticulously guarding their high ratings and swapping tips around pricing, they've been able to steadily increase their hourly rates since they started tasking.
"Your picture has a lot to do with it. How you write your profile. All these things factor into it," says Jordan Laughlin, a childhood friend of Ledet and Goren's and another member of the collective. "You start at the bottom. My rates have gone up twenty percent since I started, maybe more than that."
Most of the tasks fall in the roughly $50-an-hour range. For that amount, Gonen helps a woman whose therapist suggested she try TaskRabbit do her bills and other household chores. Macrae charges around the same to do deliveries in his truck. Other jobs are more complicated. Macrae and Ledet moved a piano together. Jake, a trained photographer, charges top dollar — as much as $3,000 — for wedding photography.
And by working as a group, the Taskers can call on each other for backup — which customers love, because it means they don't have to find someone themselves — and get a sense of what a fair price is. "We rap about this a lot," says Macrae. They can also share skills, guaranteeing them more jobs, better ratings, tips, and higher wages.
The Tee Off is a local bar favored by the Taskers for its ping pong, friendly staff, and resident canines. One Tuesday night, over cheeseburgers, chili, and a pitcher — not nearly as many of the roommates are vegetarian as one would think — the conversation turns to business. Wilcox opens the TaskRabbit app on his phone and tries to confirm a gig for the next day. But he hesitates, not sure if he has the skills required to install a new doorknob, and asks the table for advice.
Macrae and Delaney have immediate answers. Anyone can do it; it's easy; just don't bash it in too hard. Delaney talks about Allen keys. Macrae makes a diagram with his fingers. Just like that, a new skill is gained.
The Taskers have created for themselves a system with some familiar-looking perks: training, the ability to effectively call in sick, even wage negotiation. They've figured out how to replicate some of the most salient perks of the nine-to-five job — the very thing they joined TaskRabbit to get away from — without, they say, taking on any of the drawbacks.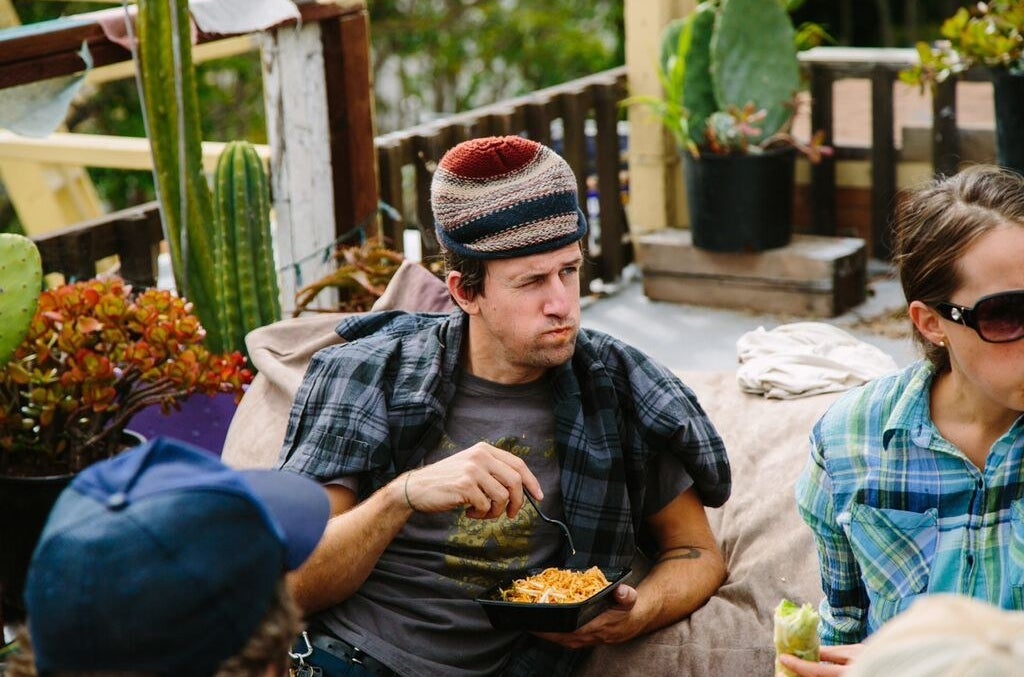 But of course, there are a lot of costs they have to cover as self-employed contractors that they wouldn't at regular jobs. Gas is expensive, as is truck maintenance, as is parking downtown during the week, which is when a lot of the jobs happen. They also don't get health insurance, or 401(k)s, or paid vacation, and they don't paid if they get sick and can't work — all of which adds up. Plus, they're at the whim of the company — if TaskRabbit goes under, or becomes dramatically less popular for task requesters, or increases its commission overnight (as Amazon Mechanical Turk, another on-demand platform, recently did), they're out of luck.
Though, for these reasons, it's hard to say how, exactly, the Taskers' incomes stack up, apples to apples, with those of their full-time employed neighbors, they say they feel secure. And if they feel exploited by TaskRabbit's commission, or nervous about their financial futures, they don't show it. In fact, they find it funny that, in a city that's supposed to be prohibitively expensive to live in, they're getting by doing mostly whatever they want. And, in some cases, doing more than getting by.
"I work seven days a week because I'm saving up for a house. I want to get a house in San Francisco and then Airbnb it," says Laughlin. One of the great joys of the on-demand economy, he says, is that "there's unlimited work. You can work as much as you want, save as much as you want. You can literally like rent you car on GetAround when you're not doing jobs, make money that way. It's insane the amounts of ways to make money in this city."
Ledet says, back home in San Diego, it can be hard to explain to friends and family how, he's making a living in San Francisco. The idea that a person could make enough to survive on off of an app seems ludicrous. Macrae has had a similar experience. "My parents laugh at me," he says.
Gonen, meanwhile, says his parents, who get the communal lifestyle to an extent because they grew up on a kibbutz, just want him to be happy — though Joseph does interject to remind him that his mom would also really like him to take advantage of his expensive art-school degree. Joseph herself plans to return to school in the fall after a summer of TaskRabbit in San Francisco. The youngest of the bunch at 22, she says she doesn't see TaskRabbit as a long-term plan, but as something she's enjoying for the time being.
In point of fact, for basically all of the Taskers, the platform is still just a means to an end. Whether it's buying a home or starting a business or, ultimately, getting out of the city forever, no matter how much gratitude they express for TaskRabbit today, none of them seems to plan on sticking with it forever.
"There really is no security. There is no guarantee," says Ledet in a moment of rare reservation about his lifestyle. "This platform hasn't failed us in any way, but you still don't have that security."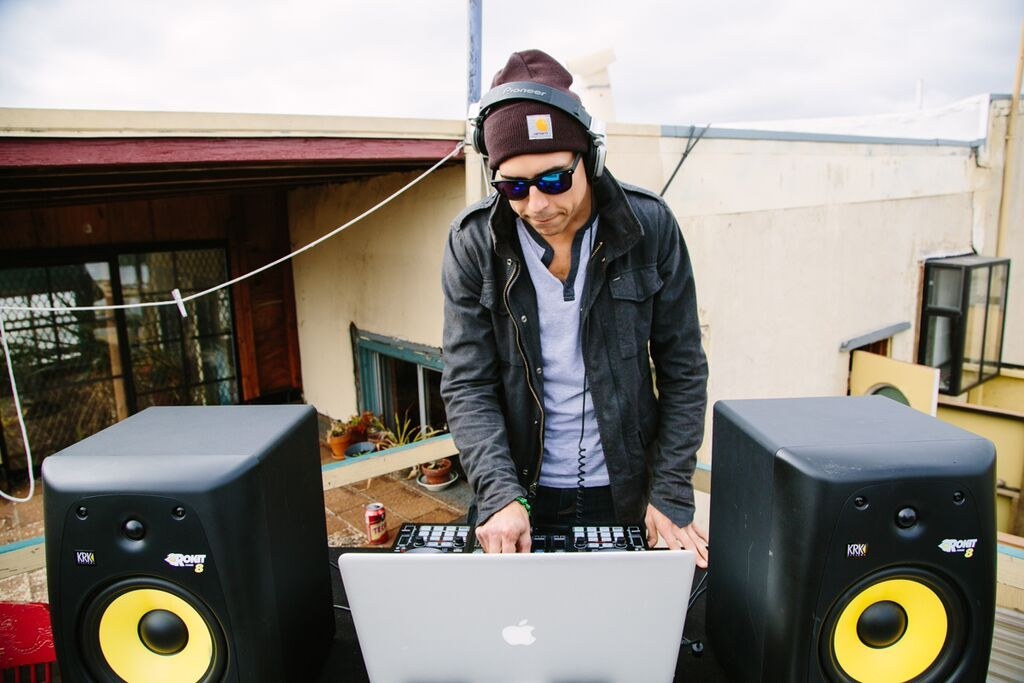 Many of the jobs that come up on TaskRabbit are requests from inside the tech industry — an industry that the Taskers, in one way of thinking, are part of, but whose wealth is foreign to them. Delaney once delivered 2,000 donuts to an event on the San Francisco waterfront. Ledet hid a surprise delivery for a CEO from his executive team under a desk. Every tech company headquarters in the city means office furniture that needs to be disposed of, parties that need to be set up, and deliveries that need to be made. TaskRabbit allows people like Macrae and Joseph and Gonen to pick up some of that work and, from their point of view, redistributes some of tech's centralized wealth. To the Taskers, TaskRabbit and the sharing economy more broadly are mechanisms through which economic imbalance in San Francisco can begin to be reset.
TaskRabbit have brought the Taskers face-to-face with the kind of wealth and fantastical corporate lifestyle that most people only hear about secondhand. "I've been on the top floor right behind the Transamerica Building, one of the craziest views ever, unwrapping trophies for the CEO," says Gonen. Repeated office visits have, they say, proven to the Taskers something that they already suspected — that their freedom and flexibility has the desk-bound, nine-to-five life beat. But for Gonen, that trip has proven over time to be particularly memorable.
"I was unwrapping trophies," he says, "and he was the most miserable man I've ever seen in my life. I was like, 'I'm happy as fuck, and you're miserable, making the most money you can.' It was kind of an epiphany."
A previous version of this story misstated Kyra Joseph's surname. This article has been updated to reflect that.