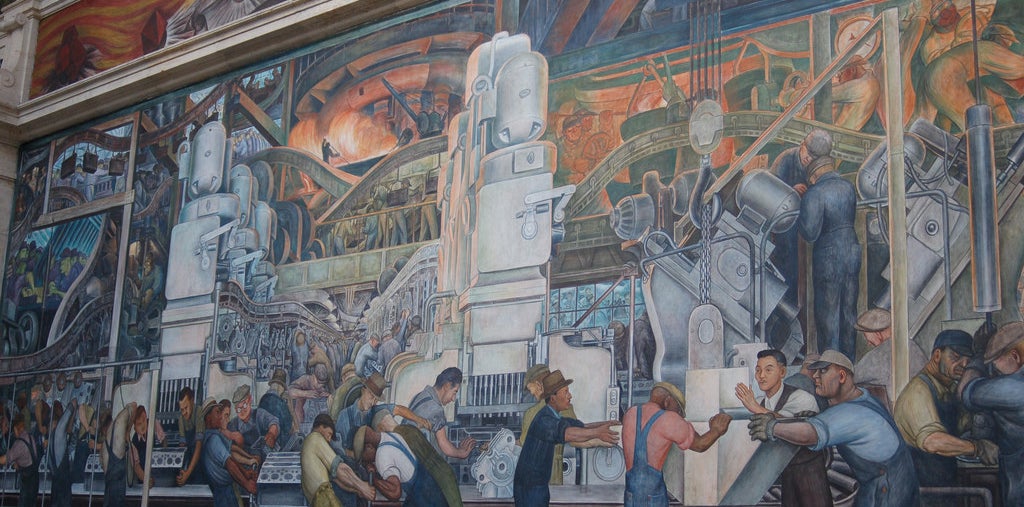 A scene from Diego Rivera's 1933 mural "Detroit Industry".
The tech industry prides itself on innovation: Startup founders and Silicon Valley entrepreneurs are praised for their capacity to create entirely new things we never knew we needed. Tech's latest creation, however, is more social policy than sci-fi: an entirely new type of worker, the first of its kind in America in decades.
Over the last few years, the on-demand, Uber-for-x economy has created an enormous need for cheap, flexible labor — a demand that heretofore has been satisfied by a growing number of contract workers. But increasingly, some of those contract workers have become dissatisfied, putting legal pressure on the founders of companies like Lyft, Handy, Homejoy, and Instacart to take better care of them. Just this week, the California Labor Commission found that Uber driver Barbara Ann Berwick should legally have been classified as an employee all along, with all the protections (minimum wage, overtime) and benefits (unemployment, workers' compensation) that an employee is legally guaranteed.
Cases like Berwick's could portend very bad news for the on-demand industry: Employees cost a business roughly 30% more than contractors do. The finding in her case could create precedent for class-action lawsuits across the country and seriously threaten the sustainability of these companies. Faced with this possibility, the tech industry has set about doing what it does best: disrupting the status quo.
Throughout the on-demand industry, chatter about creating a new legal designation — one that blends the protections afforded employees with the flexibility afforded contractors — has grown increasingly noisy. At a recent on-demand economy event, Simon Rothman, a venture capitalist and advisor to companies like Lyft and Taskrabbit, said, "I think it's not 1099 versus W-2. I think the right answer is a third class of worker."
The rise of companies like Uber have created thousands of new on-demand jobs around the world that, so far, have failed to offer a single person the protections that employment is supposed to guarantee. As questions about whether or not those workers are being treated fairly grow louder, the possibility of creating a new worker — sometimes called a "dependent contractor," based on an existing designation in some European countries — is beginning to garner national attention. If the proliferation of on-demand labor is actually revolutionizing work in America, defining this new classification — which could allow multiple employers to pool funds to cover a worker's benefits, or extend basic wage protections to contractors — is an opportunity to ensure fair treatment for future generations of laborers. But as the debate is unfolding now, it's more likely to benefit the businesses, who are lobbying aggressively in Washington, than the workers, whose voices, outside of the courtroom, are going unheard in regulatory conversations.
The idea of introducing a dependent contractor in the U.S. has been rapidly gaining momentum. When the news of the finding in the Berwick case broke, U.S. Senator Mark Warner immediately released a statement calling for new legislation around classification, rather than allowing the issue to be "litigated on a case-by-case and state-by-state basis." Just a few weeks prior, Warner gave a speech at the New America Foundation in Washington, D.C., calling for a new worker classification. Meanwhile, the Department of Labor recently announced that it will issue new guidelines for determining who is and isn't an independent contractor, and the Federal Trade Commission held a workshop on the law and the so-called "sharing economy" that touched on misclassification.
But as the drumbeat grows louder in Washington, there's a risk that workers' voices will be drowned out. It's easy to assume, given the lawsuits, that Uber drivers and Instacart delivery people don't want to be contractors. But just because they're suing for some of the benefits and protections of employment doesn't necessarily mean they want to be employees. In fact, according to a recent survey, 63% of on-demand workers consider themselves independent contractors. By and large, they want what all workers want — money and a degree of stability without having to sacrifice their independence and flexibility.
Sometimes, those contradicting desires and reality come to a head. Before Jose Gálvez became a driver for Uber and Lyft, he worked in a restaurant in Santa Barbara, a job that afforded him benefits and even vacation time. But when he got into an accident as an on-demand driver, he didn't get any kind of compensation. "I had no income for two months," he told BuzzFeed News. "That's something I really worry about."
Having to pay out of pocket for things like gas and car washes is also a frustration for Gálvez. If he doesn't wash his car, he worries that his rating on Uber could drop below 4.6, which could get him booted off the platform. He's also concerned about making payments on his new car, which he bought before Uber cut rates in L.A.; right now he's making around $500 to $600 a week, but without any guarantee of stability, he's not sure he can afford it.
"I do understand that it would be a little more expensive to have everyone as employees," he said. "At the same time, it's not fair the way it's set up right now." Gálvez said that if a third classification could offer him the benefits and protections of his old job, he'd be all for it. "I think that would be progress."
But while a third classification sounds progressive, nobody's really sure what it would mean in practice. The hope is to find find a way to distribute the responsibility of employment over multiple employers, making it possible for them to jointly contribute to a single benefits package that is linked to the individual, wherever that person happens to be working at any given time.
Senator Mark Warner has yet to make any formal policy proposals, but he has laid out a few possible models for a third classification. Warner told BuzzFeed News that he's considered everything from a health care exchange–type system for workers' comp and unemployment to somehow trying to incorporate tips into contractor compensation. He also raised the possibility of an hour bank, based in part on the historical structure of some labor unions, in which both employee and employer would pay into a fund managed by a third party.
"I don't think this is one where we leap to judgment tomorrow," Warner told BuzzFeed News. "But I don't think that we're just going to punt on this and let the courts litigate it. That doesn't make sense either."
Ken Davis, founder of an on-demand lawn-mowing company called TaskEasy, thinks an hour bank could definitely help. "If a 1099 contractor individual works for four different on-demand companies, that person can't receive 25% health care coverage from each of them, and no single on-demand company can afford to cover 100% of health care for a 25% work effort," he said. Creating a "nationally standardized" system for withholding funds for worker benefits could make the lives of workers better, without crushing the companies they work for.
Meanwhile, as federal policymakers weigh a third classification, private companies are already taking action.
In 2013, after stepping down at Relayrides, Shelby Clark founded Peers, a startup that builds tools and products for workers in the on-demand industry. Clark says the current laws make it impossible for employers to treat contractors well. "Even if they wanted to provide insurance to these workers, they can't, because as soon as they do, they became employees," he said. "This is one area a dependent contractor could make a lot of progress on."
In Clark's vision for this dependent contractor, government remains responsible for protecting workers, while benefits remain disaggregated from the employer. For example, Peers offers a service called Keep Driving that costs drivers $20 a month; in exchange, when a driver's car is out of commission for repairs, Peers will provide them with a loaner, allowing them to continue working for Uber, Lyft, Sidecar, or whatever on-demand platform they choose. "In a world where you don't get unemployment and you don't get workers' comp, can we create products that people can buy individually?" Clark asked. "What I don't want is for someone's benefits to change based on the app they have open."
Another big headache for contract workers that a new classification could make easier is income taxes: 1099 forms are much more complicated than a W-2 employee's annual filing; companies like Zen99 and Intuit have stepped in with software meant to make this process easier. Intuit's Quickbooks Self-Employed product, for example, helps workers track deductions for things like gas and maintenance. But Alex Chriss, Intuit's general manager, said a technological solution alone is not enough, pointing out that France has a new classification of "auto-entrepreneurs" who are not quite employees, but have fewer tax requirements than small business owners. As Intuit's policy team steps up its advocacy efforts for self-employed workers, he said they'll be keeping those policies in mind.
Exactly how new policies could come into being, however, is hard to predict — the path toward standardization is a long and winding one. Diane Ring, a tax law professor at Boston College and author of Can Sharing be Taxed?, explained that there's no one-stop shop in terms of creating new labor regulations; to begin with, there's state labor law, federal labor law, state tax law, and federal tax law, and "no obligation for them to be the same."
"It's not as if all we have to do is change 'blank' and, boom — it will all flow through the system in an instant," she said.
On top of that, some experts, including National Employment Law Project Deputy Director Rebecca Smith, believe any meaningful regulation will be initiated on the state and local levels. "That's where change is happening nowadays in terms of policy," she said.
The court system also has a role to play in this debate, especially given the number of lawsuits that are currently ongoing. It's possible that, given the number and variety of cases, the misclassification issue could ultimately end up in the Supreme Court. While the courts can't create a new classification on their own, what a string of litigation can do is light a fire under the owners of the businesses that are being sued. On-demand companies, led by Uber, have increasingly begun to lobby lawmakers in hopes of finding a solution that won't cripple them. Given the recent attention given to the issue in Washington, it would seem that the lawmakers are starting to listen.
If there's going to be action on the third classification issue at the federal level, it's essential that the perspective of workers, and not just industry, be incorporated into that process. But workers themselves tend to be underrepresented during higher-level conversations, such as the FTC's gig economy workshop earlier this month.
Some on-demand workers are taking steps to amplify their voices. Uber drivers, for example, have started to organize, a move that would increase their negotiating power and give them greater leverage in future debates over benefits and protections. In Denver, drivers are trying to build an on-demand driver platform that's run as a worker-owned co-op.
In Oakland, California, The Worker Lab is trying to figure out how the on-demand economy can continue to grow in a way that "isn't contingent on exploiting workers," director Carmen Rojas told BuzzFeed News. One option Rojas is interested in is home services platforms that are managed cooperatively; for example, workers on a platform like Homejoy could pay dues in exchange for the right to directly negotiate with management. Internal organization — or even cross-app organization — could help workers take collective actions, such as buying group insurance at a discount. "People are using these platforms," said Rojas. "We can't be Pollyannaish and think these platforms are going away." The idea is to ensure that on-demand jobs are good jobs.
Even if a new classification of worker is ultimately what's needed, it would take years before it was officially on the books. In the meantime, employers should be held to the current laws, no matter how much it costs them. But the conversation happening now about the future of what workers are expected to do, and can expect to receive in return, will have lasting implications.
While the titans of the on-demand industry have been quick to embrace the idea that their innovation has birthed an entirely new worker, they also seem to want to define it in such a way that relieves them of ensuring certain protections. What's clear is, for both the benefit of workers and the fate of the on-demand economy, we need a law that will protect the growing number of on-demand workers as both they and the industry mature.
"Right now I'm in my prime years of work," said Gálvez, the ride-hail driver, "and I'm not putting anything into my social security. What's going to happen to all these people when they don't have a pension or anything to back them up in their old age? Are they all going to be driving until they're in their nineties?"