LinkedIn Is Trying To Replace Your Company Directory
Can't remember what department Mark — or is it Mike? — works in? No problem. LinkedIn just launched an app for that.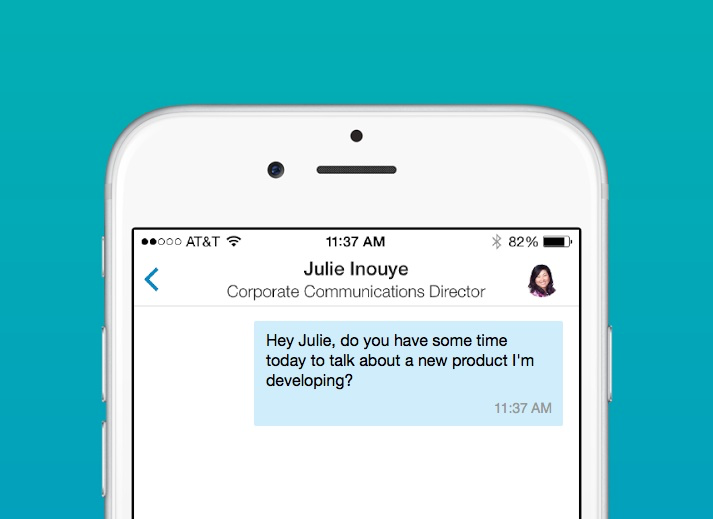 If you've ever bumped into someone in the office elevator and wondered who they are or quickly googled a colleague on your way to a meeting — or, for that matter, wondered what department the cute guy from last night's happy hour works in — LinkedIn feels your pain. The company has built a new app, out today, called Lookup, and it does pretty much what you might imagine it does.
Lookup has a very narrow focus, meant to operate in tandem with LinkedIn's suite of other apps for workers. Employees download the app and log in with their work emails (you have to have a business domain to be on the platform, and individuals can only log in as employees of one company at a time). From there, they can search for other employees at their company by location, school, past employers, and even skills. So, I could, for example, search for who else at BuzzFeed besides San Francisco Bureau Chief Mat Honan is endorsed for the skill of gun-running.
Lookup isn't really designed for workers to keep using the app for very long. "It's not a social network," team lead Ankit Gupta — who joined LinkedIn when his personalized news startup Pulse was bought by the company — told BuzzFeed News. "It's not a communication tool. It's not an internet software. It's just a very simple app to find someone very quickly, learn about them, and start the conversation."
Of course, if Bloomberg terminals can be used to facilitate sexual liaisons, it's not hard to imagine Lookup being subverted for similar purposes. Gupta said his team didn't really take that notion into consideration, but they did think about the potential for people sneaking into the internal networks of places they don't actually work. This could be compromising for a number of reasons, not least of all because the app makes it possible to get direct contact information for individuals. For that reason, Gupta said, anyone can report someone else on Lookup who doesn't really work where they claim to work and get them immediately kicked off the platform. (Again, the opportunities for pranks abound.)
LinkedIn owns an expansive and fairly unique data set about where and how people work. But many people only think of updating their LinkedIn when they've decided to start looking for a new job — so the company needs to find new ways to insert itself into users' lives. That's why, when you visit the site, it's constantly prodding you to add new skills, tasks, projects, and titles; the more data you put in, the more powerful LinkedIn is. In that reading, Lookup is an attempt to leverage LinkedIn's data, and make workers more aware of the power of its network.
"That's an area we want to grow into," said Gupta. "How do we learn more about what you're actually doing on a day to day basis?"