A group of LGBT activists sent a letter to members of the Glamazons, an LGBTQ+ employee resource group at Amazon, on Monday asking them to pressure company management to fight anti-LGBT laws in Tennessee.

Amazon announced plans last November to open a 5,000-employee office in Nashville, where legislators are currently debating bills that would ban same-sex couples from adopting and getting married, and that would restrict transgender people's access to public bathrooms.
"These laws are horribly anti-gay and would hurt Amazon employees and their families for years to come," said Marc Solomon, a gay rights advocate and signatory of the letter. "I expect a lot more leadership out of Amazon, and that's why we're asking the Glamazons for help."
The activist group is asking the Glamazons "to demand Amazon publicly condemn these anti-LGBT bills and fight to repeal existing state laws that discriminate against you and your families."
"If Amazon is going to be PROUD to invest in Tennessee, if Glamazons are to remain PROUD Amazon employees of a company standing for LGBT equality, please use your power and voice to fight — PROUDLY — for your rights," the letter reads. "For Amazon to be serious about LGBT rights, they should financially support the Tennessee advocacy groups fighting these bills, and they should put their own social and political capital to good use. Amazon has the power to make a difference."
Conor Gaughan, the director of the campaign, which is called "No Gay No Way," said the group addressed the letter to the Glamazons because it believes some activist employees are willing to put pressure on management.
"Given that in particular Tennessee and Texas have laws that are discriminatory and are looking at adding more, and the company is looking to bring employees into that marketplace, it made sense to ask the employees who would be affected to ask them to make change," Gaughan told BuzzFeed News.
The letter is the latest in the No Gay No Way campaign's efforts to pressure Amazon to use its political weight in the fight for LGBT rights. During Amazon's search for a second headquarters last year, it became clear that local government officials were more than willing to make concessions to entice the company, which spent $14.2 million on lobbying last year. Last March, No Gay No Way published a letter to Amazon CEO Jeff Bezos demanding that he restrict the HQ2 selection to LGBT-friendly states. Amazon ended up announcing plans to open offices in both Virginia's Crystal City and New York City, as well as a smaller office in Nashville; in February, the company pulled out of New York under pressure from local activists and politicians over tax breaks.
More recently, the No Gay No way campaign bought ads on mobile billboards in Seattle and in print and online in Tennessee and Virginia that urge Amazon to speak out against anti-LGBT laws.
One such mobile billboard shows an Amazon Alexa device reading out headlines about Tennessee's proposed political bills, including "Tennessee targets gay marriage, bathrooms for LGBT individuals," "Tennessee bill would allow adoption agencies to discriminate," and "Tennessee lawmakers propose anti-LGBT 'slate of hate.'" Another said, "Hey Amazon, can your LGBT employees, families, and customers in Tennessee count on you to deliver?"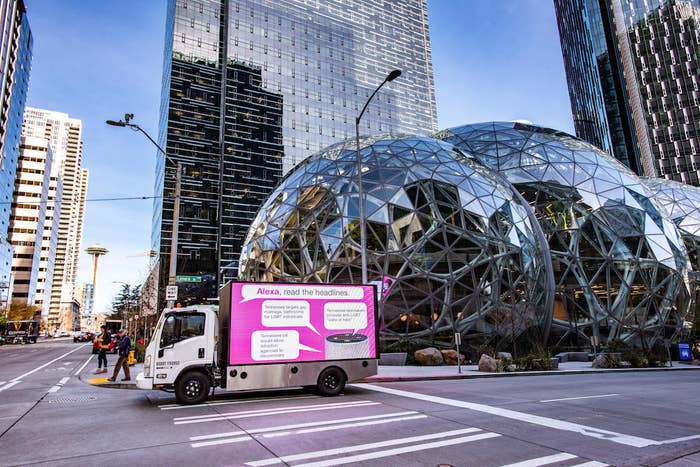 In response to the ads, an Amazon spokesperson told the Tennessean, "Amazon has a long history of supporting equality and we're opposed to laws that discriminate or encourage discrimination."

Tech employees and external watchdogs have increasingly pressured companies over the last year to make ethical business decisions. Amazon employees presented executives with a letter in November demanding reconsideration of the company's deals with government agencies to build surveillance technologies. Google, Microsoft, and Salesforce (San Francisco's largest tech employer) have also come under similar pressure. Salesforce CEO Marc Benioff has previously threatened to cancel lucrative conferences in states such as Georgia and Indiana that pass anti-LGBT legislation.

According to the No Gay No Way letter, Amazon has advocated for LGBT rights in Texas, along with Google and Facebook. Bezos himself previously donated $2.5 million to support an LGBT rights campaign in Seattle in 2012.
"This is a huge company with tremendous political and financial capital, in every state in the country," Gaughan said. "We want them to use that power to really drive positive change. I think that means donating to groups on the ground doing the hard work, that means making public statements, that means leading with other business coalitions who are working hard in a lot of these places to defeat these bills."
Here's the full text of the letter LGBT activists sent to Amazon employees:
Dear Glamazons,


We know you take PRIDE in who you are, take PRIDE in your company, and take PRIDE in fighting for LGBT Rights. So do we.



As you've seen in the news, Tennessee is considering new anti-LGBT legislation to further minimize LGBT existence in the state. Here is the "Slate of Hate" currently proceeding through the state legislature:




HB 836, SB 1304, HB 1152, SB 848, bills to create a license to discriminate for taxpayer-funded adoption and foster care services to refuse to place children with qualified families if the family doesn't share all of the agency's religious beliefs.


SB 1282, HB 1369, bills to defy the Supreme Court ruling and try to ban the freedom to marry for LGBT couples.


HB 563, bill to give businesses a broad license to discriminate against LGBT people, preventing local municipalities from implementing policies that bar taxpayer funds from being used by businesses and contractors, to discriminate against LGBT people.


SB 1499, HB 1274, bills to require the Tennessee Attorney General to either pay for legal costs, or itself defend, discriminatory anti-transgender school policies.


HB 1151, SB 1297, bills to enable harassment of transgender people in public places.

These are on top of the existing archaic statutes that ban cities and counties from passing non-discrimination laws, explicitly exclude transgender health coverage and care through Medicaid and transgender inclusive health benefits for state employees.

They don't need more.

As Amazon invests millions of dollars in Tennessee, the state legislature is currently debating new state laws that will discriminate against LGBT people. That could have real impacts upon Amazon customers, colleagues, friends, families, and neighbors.



Imagine if you wanted to start a family, but you can't because you aren't eligible for adoption because you are LGBT.


Imagine being denied an apartment in the neighborhood you want to live in because you are transgender.



Imagine your partner being fired from their job for being married to you.

The time is now to demand Amazon publicly condemn these anti-LGBT bills and fight to repeal existing state laws that discriminate against you and your families. Amazon has done this in Texas, and the threat in Tennessee is just as real.

If Amazon is going to be PROUD to invest in Tennessee, if Glamazons are to remain PROUD Amazon employees of a company standing for LGBT equality, please use your power and voice to fight - PROUDLY - for your rights.

For Amazon to be serious about LGBT rights, they should financially support the Tennessee advocacy groups fighting these bills, and they should put their own social and political capital to good use. Amazon has the power to make a difference.

But, that power starts with you — the LGBT employees; we are here to support you for doing it.

Regards,

Diane Abbitt John Aravosis Mary Breslauer Bruce Cohen Chris Cormier Maggiano James Dozier Blake Franklin Conor Gaughan Rufus Gifford Neil Giuliano Patrick Guerriero Aditi Hardikar Lane Hudson Dave Hughes Kevin Jennings Surina Khan Sharon K. Malheiro Terrence Meck David Mixner Charles Myers Christine Quinn Todd Sears Omar Sharif Jr. Michael Silverman Bill Smith Marc Solomon Camilla Taylor Urvashi Vaid Bernard Whitman Evan Wolfson Peter Yacobellis