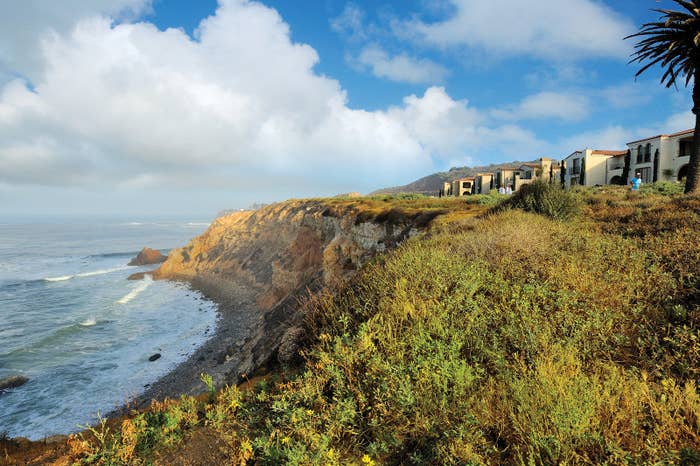 Recode's annual Code Conference should find a new venue, says a group of pro-labor coders, designers, and engineers known as the Tech Workers Coalition.

The Terranea resort in Rancho Palos Verdes, California, where the event is scheduled to be held in late May, is also where a hotel dishwasher alleges she was fired after she reported that she was sexually harassed on the job. The former employee, Sandra Pezqueda, sued the hotel and the staffing agency that placed her there; the trial is currently set for June.
"Any organization should think hard before giving its business to a hotel that treated me in the way I've described in my lawsuit," she wrote in a statement. "Why do they need to hold the conference there? Los Angeles has so many hotels to choose from."
Recode is a tech news website owned by Vox Media that hosts a number of high-profile events throughout the year, including the annual Code Conference, which has previously been held at the Terranea. Tech journalist Kara Swisher is the event's co-executive producer; this year's headliners include Uber CEO Dara Khosrowshahi and Airbnb CEO Brian Chesky.
In a blog post addressed to Swisher and Recode's Peter Kafka, the Tech Workers Coalition asked Recode to break with the Terranea Resort:
It is time for us in the tech industry to use our power and privilege to support those struggling for respect on the job and oppose bad bosses with all the means at our disposal. Now, Recode and tech workers must stand with Sandra and Terranea workers and cease business at the Terranea until Sandra's claims are addressed.
Moving the Code Conference from the Terranea may seem challenging, but it must be done.

Recode has covered the #MeToo movement, as well as leaders in the tech industry accused of harassment and discrimination. Swisher has also repeatedly spoken out against harassment in the tech industry. But due to "logistical constraints," the conference is still scheduled for May 29–31 at the resort, Swisher said on Twitter Monday night.
"Both Vox Media and Recode support safe and inclusive workplaces, and we take all labor-related matters seriously," she tweeted. "We have expressed our strong concerns about issues at the resort that have arisen in recent months to Terranea management, and are urging Unite Here Local 11 union and Terranea management to reach agreement in their ongoing negotiations."
Vox said it is "actively exploring alternatives" to Terranea if the matter isn't resolved by 2019.
Pezqueda's public complaint, for which she was featured on Time's Person of the Year cover, is not the only allegation of labor violations the Terranea faces. In October 2017, former workers sued the company for wage theft. In December, the hotel workers union Unite Here helped interns from Malaysia, India, and the Philippines on temporary work visas file a complaint with the State Department, alleging human trafficking. The union is also pushing for hotel employees to get panic buttons, devices that would allow them to alert authorities in case of an assault.
On a statement, Terranea said the UNITE Here Union "has been reaching out aggressively to those who have important events coming to Terranea, pressing them to cancel their events, boycott our resort, and take their business elsewhere – all for the union's self-serving interests."
Terri A. Haack, Terranea's President, also wrote, "We celebrate the individual and work hard to create an environment that gives each associate a sense of personal value. And we continue to build a strong and diverse culture, one in which our recruitment policies, diverse workforce, in-house training programs, and inclusive environment reflect a workplace in which we all can be proud."
Recode has used its conference as a platform to discuss sexual harassment and gender discrimination in the past. Ellen Pao, the venture capitalist who sued Kleiner Perkins for gender discrimination in 2012, was a speaker at Code Conference in 2015, the year she lost the case at trial. And Susan Fowler, the engineer who blew the whistle on Uber's toxic culture when she alleged the company had a pattern of sexual harassment, was named one of the inaugural Recode 100, as were the reporters who finally outed Harvey Weinstein as a sexual predator.
Here's the full text of the blog post asking Recode to move the upcoming event:
To Kara Swisher, Peter Kafka, and the Organizers of the Code Conference:

Before Harvey Weinstein became the symbol of sexual harassment, Susan Fowler "detailed the sexism and harassment she faced at" Uber. "To paraphrase Uber SVP Frances Frei: As more and more people speak out about harassment in tech, the industry has a chance to capitalize on that openness. Whether it has the willpower to follow through remains an open question," wrote Eric Johnson for Recode. As workers in the tech industry, we could not agree more! Consequently, it is disappointing to see that Recode, Vox Media's tech business news site, is holding its Code Conference at the Terranea Resort.

A dishwasher who formerly worked for a temporary agency at the resort, Sandra Pezqueda, was named one of Time' People of the Year for 2017 as a "silence breaker." After she reported sexual harassment by a supervisor, Sandra was fired. She is currently suing the Terranea and the staffing agency that employed her alleging violations of her civil rights. A court trial is scheduled for June.

What kind of message does it send to the tech community if our bosses and coworkers spend several days and thousands of dollars to wine and dine and celebrate themselves at the Terranea Resort while these allegations remain outstanding? Is it enough to challenge patriarchy and racism in our industry, but not support the people challenging these structures who clean our hotel rooms, wash our dishes, or cook our food?

For too long, workers fighting for dignity at work have quietly taken their employers to court or to the government, seeking restitution which sometimes demanded their own silence. The explosion of attention to Tarana Burke's #MeToo hashtag has shown the potentially transformative power of solidarity. It is time for us in the tech industry to use our power and privilege to support those struggling for respect on the job and oppose bad bosses with all the means at our disposal. Now, Recode and tech workers must stand with Sandra and Terranea workers and cease business at the Terranea until Sandra's claims are addressed.

Moving the Code Conference from the Terranea may seem challenging, but it must be done. We know that companies often care more about their customers and their bottom line than their employees. Already, AOL/Oath moved its MAKERS Conference out of the Terranea under public pressure. Will Vox Media and Recode follow their lead and stand with Sandra?

Sincerely,

The Tech Workers Coalition