Jeb Bush Becomes Latest Politician To Take On The Gig Economy
In an appearance in San Francisco yesterday, Jeb Bush said the U.S. government should be more like a tech company.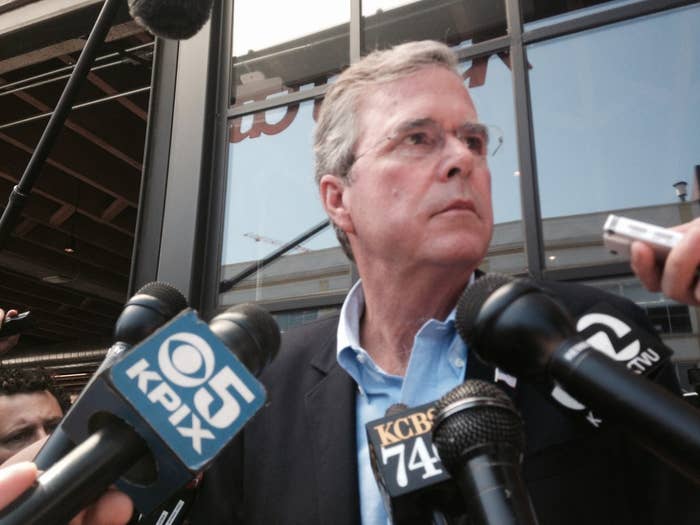 Millions of people use Uber every day. Very few of them likely ask themselves whether the service is Democrat or Republican. The same goes for the millions of workers who pick up paying gigs on Taskrabbit or Lyft or Handy or Instacart. Until now, these platforms have been without politics. That's rapidly changing.
On Thursday, Jeb Bush, the former governor of Florida, became the latest presidential candidate to cruise through San Francisco, addressing the tech industry and arguing that fewer rules and regulations would increase productivity and innovation, thereby driving growth in the American economy. Standing next to a cooler full of standard startup fuel (yogurt, seltzer, beer), he held a town hall for employees of Thumbtack — a Google Capital-backed startup that connects photographers and handymen with people who want to hire them — plus a sizable scrum of reporters. Sporting khakis, a blue blazer, and an open collar, he jokingly warned the young engineers, marketers, and designers before him not to get too caught up in campaign season. "There's like 65 people running," Bush joked. "If they all show up, you won't be working much."
Indeed, whether they like it or not, electoral politics have been thrust upon Silicon Valley's engineers, marketers, and designers — the people at Thumbtack, and people like them. They — and their industry, and the products they make — have become avatars in a proxy battle between Democrats and Republicans over economics, regulation, innovation, and labor. Over the last several months, Democrats Mark Warner, Elizabeth Warren, Hillary Clinton, and, now, Bush, have each publicly addressed the on-demand economy; as 2016 approaches, it has become clear that tech — and in particular the issue of how companies like Airbnb and Uber should be regulated — is going to be play out on a national stage.
Bush appeared partially as a response to Clinton's remarks, which were delivered during a speech on economic issues and were quickly framed as the candidate "blasting" on-demand business models pioneered by companies like Uber (a framing Clinton's camp rejected). Bush actually rode in an Uber car to and from the San Francisco event, in a literal display of his support for creative business models and that Silicon Valley elixir, "innovation."
Despite considerable lobbying expenditures and well-known socially liberal mores — the tech industry often strives to present itself as somehow above the political fray. Thumbtack CEO Marco Zappacosta told reporters that the decision to host Bush wasn't borne out of deep-seated ideology or personal allegiance to the candidate — if Donald Trump or Hillary Clinton rang, he'd take the call, too. "Technology isn't inherently partisan," Zappacosta told BuzzFeed News shortly after Bush's speech. But that doesn't ring entirely true after watching Bush talk cheerfully about being driven around L.A. by a UCLA undergraduate and then, minutes later, seeing him clamber into an Uber yet again and zoom away. Technology may not be inherently partisan, but that doesn't mean it can't be used as a symbol or a tool or a prop for partisan purposes.
Bush tried to draw direct lines between the way these on-demand companies operate and his politics. "The government of the future," he said, "needs to look more like Thumbtack." Through platforms that facilitate gig work, he said, workers are "customizing their lives" and pursuing the American dream.
There are real consequences for these companies in the way the government regulates them. The gig economy, or 1099 economy as it's also known, relies largely on independent contractors, rather than full-time, benefitted employees. Many of the companies in the sector have argued that the jobs they have created defy traditional categorization, and that forcing them into traditional models of full employment will hamper their ability to operate. There may be some truth to this. On Friday, the day after Bush's speech, the on-demand home-cleaning company Homejoy shut down and pointed the finger at lawsuits that have made it hard for contract labor–reliant companies to raise money.
Indeed, a wave of recent lawsuits claiming that on-demand companies have intentionally misclassified their workers as contractors in order to save money on labor costs could force on-demand labor companies to reclassify their employees — and if that happens, the cost of running an on-demand business could rise dramatically. Bush acknowledged these lawsuits but said that, in his personal experience with car sharing, Uber drivers seem to enjoy the practice, and aren't worried about their employee status.
"If they're violating legitimate law along the way — if they're exploiting workers in some fashion — there's ways to address it," Bush told reporters. "But the fact is this is disrupting the old order."
The challenge that politicians who support the on-demand economy face is finding a way to replace the social safety net that full employment typically provides.
One way Bush said he would set about working on that problem is by repealing the Affordable Care Act. Right now, the cost of health insurance for individuals is too expensive, he said. In its place, he'd like to see portable healthcare plans that aren't tied to employers at all — what he called a "consumer-driven model" of insurance. Overall, he said, he believes, as many tech executives have also argued, that new businesses demand new laws, and that the next president needs to take on the responsibility of crafting those laws.
"We have a static set of rules on top of the most innovative, dynamic country on the face of the Earth," he said. "What I'm envisioning is a 21st-century set of rules on top of 21st-century enterprises."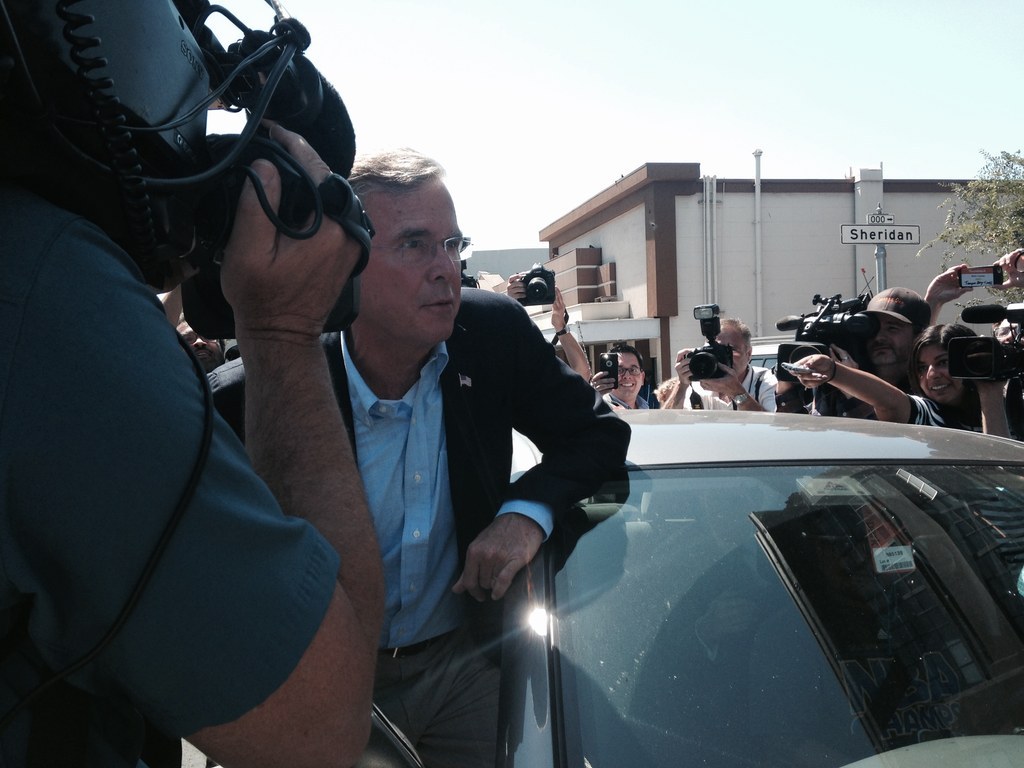 The Department of Labor, however, isn't on board. On Wednesday, the DOL released a set of fresh guidelines aimed at helping both businesses and their workers understand the difference between what makes a contractor and what makes an employee. In the majority of cases, the DOL report said, workers should be fully employed and afforded basic protections such as minimum wage, overtime, and family leave.
David Weil, administrator of the DOL's Wage and Hour Division, and the author of that report, told BuzzFeed News that the issue of worker misclassification had become a high-priority issue for the department long before presidential candidates started riding around in Ubers.
The shifting of certain responsibilities away from employers and onto workers started with outsourcing, which allowed companies to cut labor costs by slimming down on staff; Weil called this "the old new economy." The gig economy — what Weil called "the new new economy" — might be drawing political attention to the issue, but it's hardly the root of the issue, he argued.
"Whether it's the old new economy, the new new economy, or the old old economy, there are basic principles about how we have determined who is a legitimate independent contractor and who is an employee," he said. "And it's applicable across all those different business models." The idea that the law as it currently stands is somehow the enemy of innovation, Weil said, is a misinterpretation.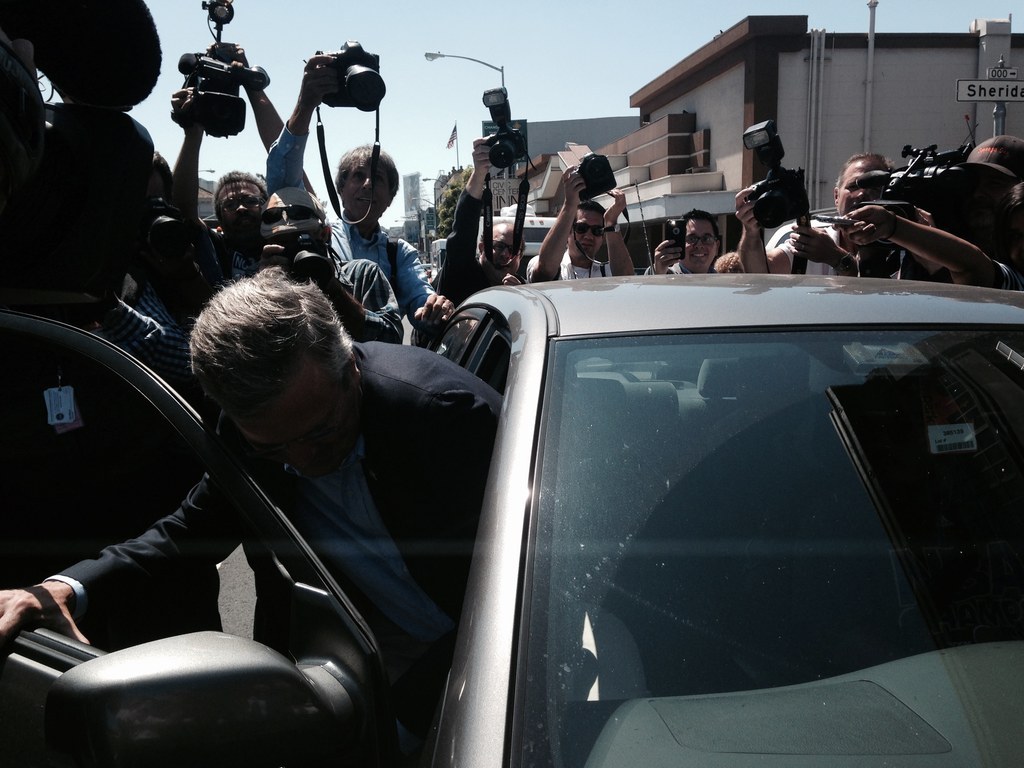 When he finished taking questions from the eager gaggle of reporters standing under an unseasonably hot San Francisco summer sun, Bush headed into the passenger seat of his waiting Uber. Inside Thumbtack headquarters, the startup's staffers were sitting down to a catered lunch; outside, cameras and microphones crowded the Uber car, spilling into the street, where obstructed vehicles honked angrily. The driver turned out to be a Democrat, but Bush didn't care. After all, almost everyone in San Francisco is a liberal, he pointed out, grinning. His glee in the face of the cameras, the attention, and the general clamor reminded me of what he'd said earlier when asked why he was running for president.
"I have joy in my heart," he told the crowd. "I believe we're on the verge of greatness again."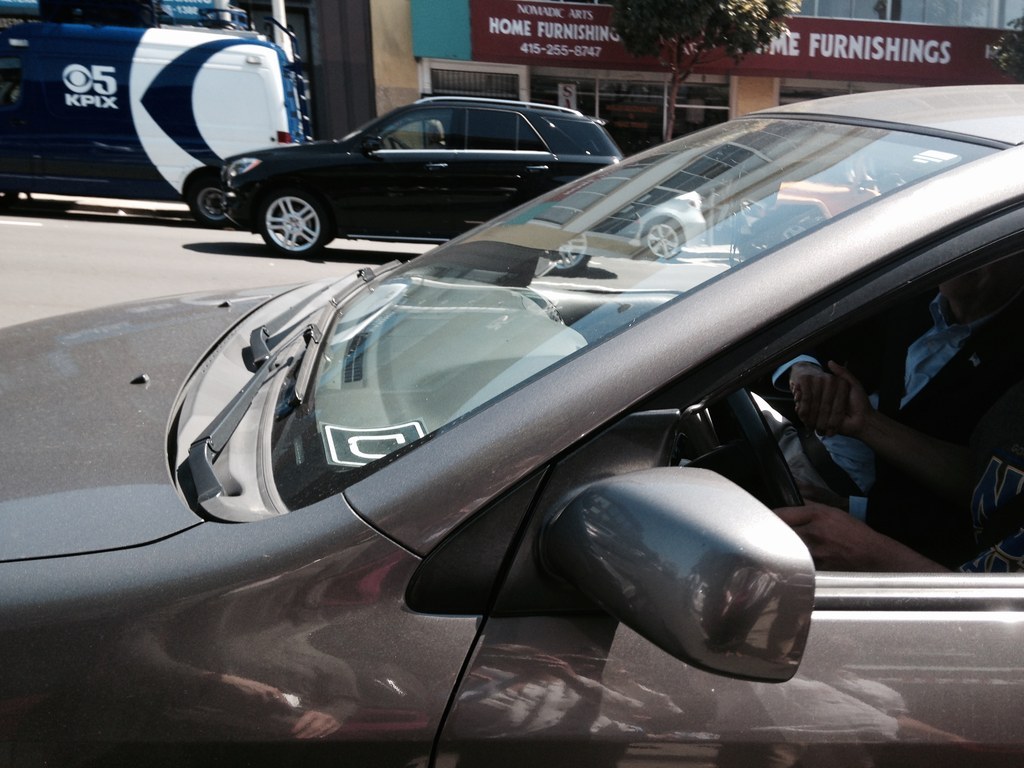 Thumbtack is backed by Google Capital. An earlier version of this article misstated the name of the firm.