Instacart is rolling back an app update that would have prevented delivery workers from seeing a customer's address before accepting a job.
The update, which started rolling out for most delivery workers this week, caused an uproar on social media, where some workers said it put them in danger of harassment and even assault.
Multiple delivery workers told BuzzFeed News that they use the addresses to screen customers who've made them uncomfortable in the past.
"By the way, Instacart gave my attacker my location through the app!"
In a public Facebook comment made Tuesday on a delivery worker's post to Instacart's Facebook page, a company representative identified as "BR" apologized to workers who were unhappy with the change, writing, "I'm sorry not being able to see the addresses in advance is bad for you. One of the reasons it was removed was to be fair to customers in all neighborhoods incase a shopper didn't want to drive to a less than desireable [sic] neighborhood."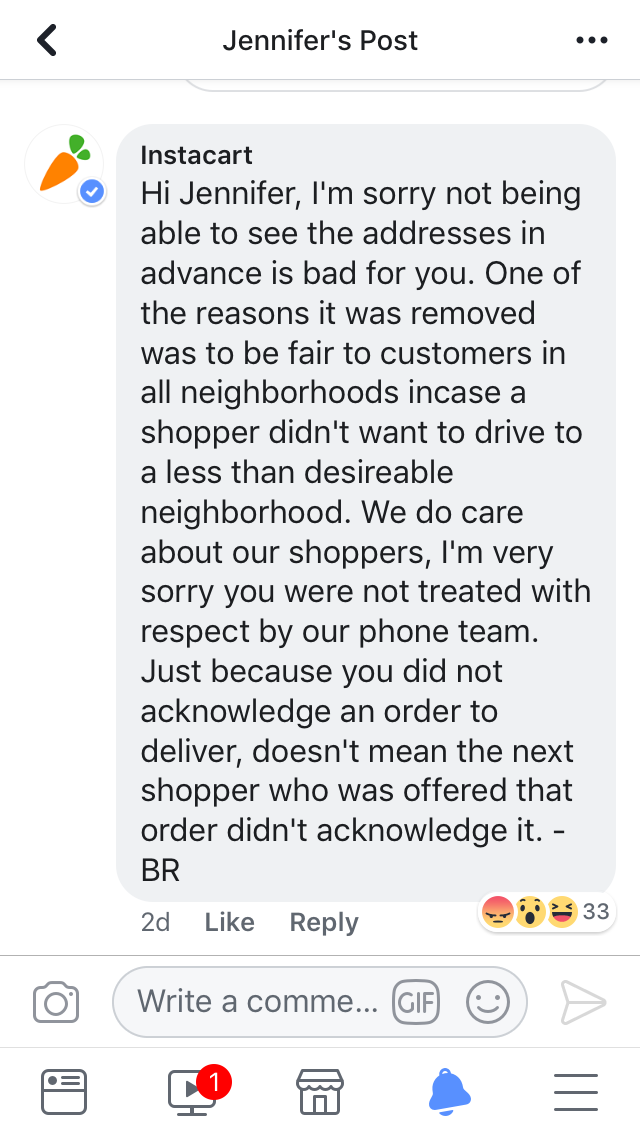 In an email to BuzzFeed News, Instacart spokesperson Lane Kasselman said that the "address error" was caused by "a software bug" that has since been fixed. He said messages from Instacart customer support representatives stating address previews had been removed "to be fair to customers" were misstatements.
But as of Thursday morning, customer service representatives were still telling Instacart delivery workers that hiding the addresses on the app was an intentional move to protect customer privacy.
On Thursday morning, some shoppers started receiving app update notifications that say "fix: show customer info for delivery type orders."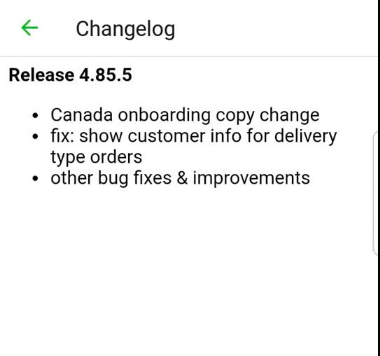 On Facebook, shoppers detailed the inappropriate and sometimes dangerous encounters they'd had while working for Instacart. One Philadelphia-based shopper, Patti Weiss, claimed in an interview with BuzzFeed News that she was harassed by a customer.
"I had a man expose himself," she said. Weiss said she reported the incident to Instacart and was told "they were filing a police report and banning him from the platform." But later, Weiss said she discovered a report was never filed, and that a friend of hers who also works for Instacart was sent to the same address. "My friend got an order from him. And she went. And he was in his boxers again when he opened the door," Weiss said.
Another shopper, Kristina Fokken, who lives in Minnesota, claimed she was physically attacked by a customer in December whose order was canceled by Instacart just as Fokken was about to deliver it.
"When I told the customer the order was canceled and to call IC she tries to assault me and once I got in my car and locked my doors to leave she jumped on the hood of my car tried to break my windshield and then pulled the mirror on the passenger side backwards as I was pulling out of the parking lot," Fokken told BuzzFeed News.
Fokken, who said she filed her own police report, claimed she called Instacart customer service before the attack to say she was uncomfortable leaving her car, but was told to inform the customer anyway.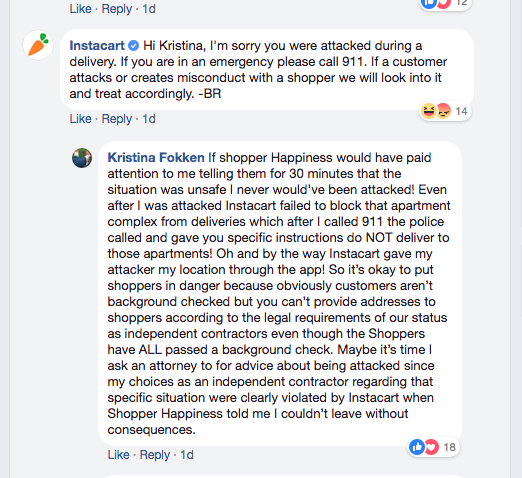 Instacart didn't respond to a request for comment regarding these incidents.
Gig economy companies like Lyft and Uber have wrestled with problems similar to the one Instacart is facing. As independent contractors, Instacart workers legally have the right to choose where and for whom they work. But for Instacart, failure to provide services to certain neighborhoods can be illegal discrimination.
Instacart delivery workers said the ability to view addresses before accepting a job not only helps them avoid delivering to customers with whom they'd had negative interactions, but also to avoid accepting jobs that are far away, and would take longer to complete, reducing their per-hour earnings.
On Facebook, Instacart delivery workers also argued that, as independent contractors, they have a right to know where a job will take them before agreeing to do it. If Instacart wanted to conceal facts about a job, then the drivers should be employees, and receive a guaranteed minimum wage and benefits, they said.
Earlier this week, the California Supreme Court issued a ruling that sets a sweeping new precedent for determining how workers should be classified. The new test, which says workers are only to be deemed contractors if the tasks they're doing are "outside the usual course of the hiring entity's business," is predicted to have severe consequences for the gig economy.
The issue of how much a shopper gets to know before accepting a job is the latest in a long string of complaints workers have made against Instacart, which has raised $350 million so far this year and is valued at over $4 billion.
Instacart delivery workers are paid as independent contractors, but have sued in a class action to be classified as employees. Workers have said that Instacart's pay rate is too low for the amount of work they're expected to do, and accused the company of collecting some of the funds customers leave as tips. With its latest update, Instacart attempted to rectify some of those problems, but evidently introduced a few new ones along the way.