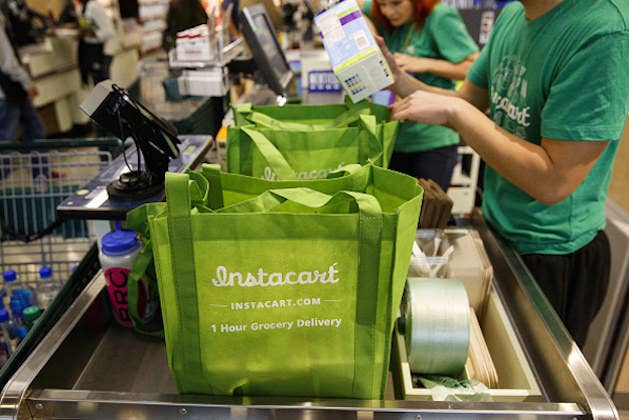 The Instacart workers who buy and deliver groceries just won a small victory — the grocery-on-demand startup just settled a class action lawsuit to the tune of $4.6 million.

The lawsuit alleged that workers were owed back pay because Instacart should have classified them as employees, not independent contractors; the payout, per Recode, will be as much as $5,000 for three workers named in the suit, while others will receive "a couple hundred dollars" at most, depending on a points-based system that ranks how much they worked. The settlement won't, however, grant workers employee status.
"We have settled a nationwide class action lawsuit, primarily over the classification of our shoppers as independent contractors. This is a positive, early resolution for the Company, and we look forward to finalizing the settlement," Instacart said in a statement.
In 2015, workers filed an initial suit against Instacart, claiming they had been misclassified as contractors, and were owed for the benefits and protections they would have earned as employees of the company. At the end of 2016, after the first case was moved to private arbitration, the same firm, Arns Law, refiled a second lawsuit, hoping to get the workers their day in court.
Since the first lawsuit was filed, Instacart has reconfigured its workforce, changing its in-store shoppers status to employees, while delivery workers remained contractors. But it has also repeatedly cut wages, and made it more difficult for customers to tip, which workers say has severely impacted their overall earnings.
Though Instacart workers will remain contractors under this settlement, they have won changes that might alleviate some of their concerns about tipping.
Specifically, the settlement says that Instacart must add a feature that makes "the differences between the Service fee and tip" more clear "as soon as is practical."
Last fall, BuzzFeed News reported that when Instacart added a pooled service fee in addition to tips, some workers wages fell by around 30%, because customers weren't tipping as much. Some workers were so frustrated with the pooled service fee they threatened to strike, and passed out flyers detailing how to tip in the new app to customers. When the second lawsuit was filed in December, it pointed to Instacart's control over how tips are distributed as evidence that delivery workers should have been classified as employees.
It's not clear how much time Instacart has to follow through on its promise to clarify the difference between tips and the service fee, or what will happen if it doesn't; the settlement says the deal only applies "to the extent that a service fee and tip remain a part of the user interface."
"I think the wording is very vague," said Jenelle Chabot, one of the named plaintiffs in the suit. "I think it leaves too much leeway for Instacart and I don't know how the court will be able to enforce this."

Some of the changes the company agreed to in the settlement have specific deadlines; for example, Instacart has thirty days to create a formal deactivation policy. Going forward, when a worker is deactivated, they'll be allowed to "ask Instacart to reconsider any such deactivation."
Other on-demand startups that have faced class action lawsuits over worker classification include Uber, Lyft, Postmates, Washio, DoorDash, Homejoy, and Caviar. Of those, the most high-profile settlements so far have been the Uber and Lyft cases. (Like Instacart, Uber and Lyft successfully avoided trial by jury because workers agreed to private arbitration when they signed their contracts. Instacart has since made arbitration opt-out, as has Postmates.) Uber's settlement, which could have forced Uber to pay out $100 million, is still being negotiated. Lyft recently finalized its $27 million settlement with drivers.

In October, Instacart CEO Apoorva Mehta told BuzzFeed News that, in order for the company to continue to grow, some delivery workers were going to have take a paycut. Earlier this month, Instacart finalized a funding round of $400 million, bringing the company's valuation to $3.4 billion.
In an email to workers announcing the funding, Mehta said he planned to hold a town hall to answer any questions they might have about the news. "This is a big milestone for our company. It will allow us to continue to make our product and tools better for you and the customers," Mehta wrote. "It will also allow us to invest in marketing as well as rapidly expand, so that many more customers across the country can use our service."
Some shoppers noted that the influx of cash did not bring with it news of a pay raise. In fact, in some markets, wages for Instacart workers have continued to fall since the beginning of the year. For example, screenshots of pay rates reviewed by BuzzFeed News show that in Hollywood, the per-order base rate has fallen from a little below $10 at the beginning of the year to as low as $7.50 by the end of February.
Deirdre Big, a worker in Boulder, said she "won't be sticking around Instacart much longer" after rates fell from around $7.55 per order at the end of January to $6.25 at the end of February.