Instacart Is Testing A New Interface For Tipping
Tipping has been a contentious issue between Instacart and its delivery workers. Now, the company is testing a more prominent tipping interface.
Instacart is testing an interface that makes the ability to tip delivery workers more obvious.
For now, the test hasn't been spotted in the app itself, but in the receipts emailed to customers. So far, only customers in Chicago and Boulder, Colorado have reported seeing it.
The new look — which features more prominent tip buttons and larger photos of what Instacart calls "shoppers," the workers who deliver your order — follows a $4.6 million legal settlement in which Instacart promised to make the difference between its service fee (which is collected by the company) and tips (which go directly to workers) more clear.
Here's how email receipts from Instacart usually look, with a small button that says "Rate & Tip":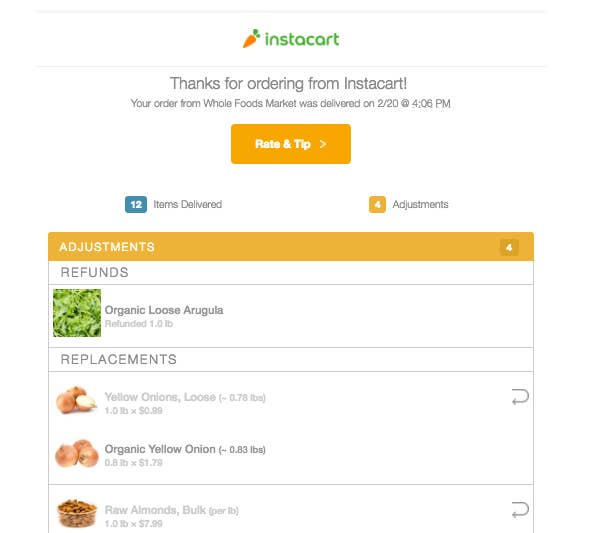 And here's how they look in the tests, with a big photo of the delivery person who's getting the tip, and much more prominent tipping options.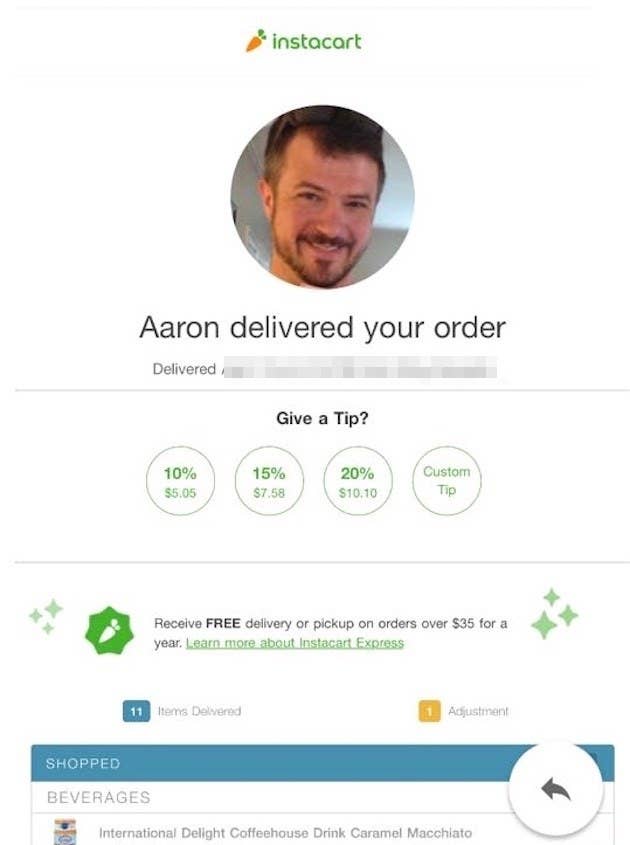 Instacart says the test is unrelated to the conditions of the legal settlement.
Delivery workers who shop for Instacart have been frustrated with the company since six months ago, when it replaced tips with a service fee collected by the company. It's still possible to tip on Instacart, but workers say changes to the app interface made it harder for customers to figure out how; as a result, they say their earnings have taken a permanent hit.

This dispute became a factor in a class action lawsuit workers brought against Instacart in December. According to the terms of the settlement Instacart reached last month, here's what the company promised to do:
As soon as is practical after the effective date, and following product review and testing, Instacart will modify the existing user interface related to the service fee to provide additional information to customers regarding the nature of the service fee, and the difference between the service fee and tip.
Some shoppers who saw screenshots of the new email receipt interface in a Facebook group for Instacart workers said they were hopeful that it would lead to higher tips. Many said they'd be updating their profile pictures, based on the size of the photo in the email.

But others, including Chicago shopper Matthew Telles, were worried that the test doesn't go far enough; he said only restoring tips as the default option in the app will be satisfactory. "The only thing that's going to get tips back to an adequate level is putting the tip in place of the service fee at checkout," he said.