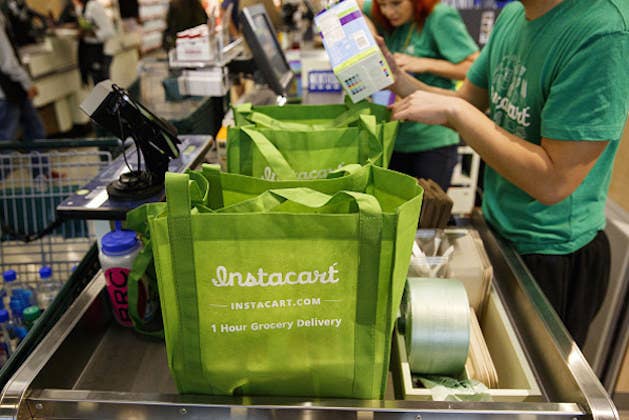 A group of Instacart delivery workers is waging an ongoing "soft strike" against the company to demand better pay this Thanksgiving weekend for the third year in a row.
The workers, who are independent contractors, say a recent change to the grocery delivery platform's pay structure was an effective pay cut that's threatening their livelihoods. As a result, they're refusing to deliver extra-heavy items, drive more than eight miles per order, or accept time-consuming, low-paying jobs.
"Everyday we discover new tricks Instacart engineers deploy to coerce hardworking contractors into giving you free labor," a group of delivery workers wrote in a letter sent to Instacart CEO Apoorva Mehta on Monday. "If you will not listen to our emails, our calls, our focus groups, then you will listen to our actions." The letter currently has more than 1,300 signatures on Change.org.
Labor organizing has been a hot topic in Silicon Valley of late. Over the last year, Google employees have successfully petitioned their employer to terminate a contract with the Pentagon and release victims of sexual harassment and discrimination from forced arbitration agreements. Their successes have encouraged employees at companies like Amazon, Microsoft, and Salesforce to confront management with ethical concerns over surveillance technology and deals with government agencies. These events have led industry observers to question whether a real labor movement in the tech industry could be on the horizon.
Workers in Silicon Valley are "just now starting to use their voice to look at the products they're building and their own working conditions, as well as further down the chain, how gig workers at their companies are treated," Tim Newman, campaigns director at Coworker.org, a digital platform for worker organizing, told BuzzFeed News. "They're ... using their position of privilege to speak for other people affected by their company who don't have the same leverage and influence within the company."
But Instacart workers don't have much to show for their years of demanding higher pay and lighter loads — and their plight is mirrored elsewhere in the gig economy. Four years after drivers filed class-action lawsuits against Uber and Lyft, the drivers are still classified as independent contractors, with their low pay determined by the platforms. Low-wage workers around the world are increasingly competing for thankless contract gigs like moderating content and training AI programs. Contractors make up over half of Google's staff, but none of them were invited to a recent all-hands meeting where the company apologized for its mishandling of executive sexual misconduct.
Instacart delivery drivers have been battling their company for years. In 2016, a group of Instacart workers attempted to organize a national strike, and succeeded in reversing a change to the company's tipping policy. Since then, a core group of workers has been vocal about low pay and other issues. In 2017, Instacart settled a class-action lawsuit brought by delivery drivers for $4.6 million. But overall, not much has changed, some workers say.
"There are NO UNIONS for independent contractors," the Instacart delivery workers wrote in their petition to Instacart's CEO. "So if the laws won't catch up, we will have to take matters into our own hands."
Though Instacart worker Facebook groups — one of which has over 9,100 members — have been buzzing with complaints about the new changes, there's no way to tell how many of the company's 70,000 delivery workers are actually involved in the soft strike.
Matthew Telles, one of the Instacart workers involved in organizing efforts, told BuzzFeed News that organizers are trying a different strategy this year. Workers are hoping that enforcing their own guidelines — including refusing jobs that involve carrying heavy and cumbersome items or hunting for parking — will compel Instacart to raise the amount of money offered per job.
The separate petition workers sent to Instacart's CEO also includes specific demands, such as the ability to see the exact address where deliveries are going before accepting a job, an "XL" option for large orders with a corresponding increase in pay, and an appeals process for worker deactivations.

Telles said he made $200 less than normal in the first week Instacart activated the changes in his zone. On social media, Instacart workers shared images of new earnings estimates — $10 to pick up 390 individual items and drive them eight and a half miles away, or $3.96 to pick up seven bags of groceries and deliver them over four miles away. An anonymous Instacart worker estimated in a post on Medium that under the new structure, some workers are earning as little as $3 an hour.
Patti, a 55-year-old Instacart delivery worker in Philadelphia, considers Instacart a full-time job and says she's made almost $32,000 so far this year. She's stuck with the work over the years because she likes the flexibility. "I'm not looking for a career anymore," she told BuzzFeed News. "I just want money,"
But news of the forthcoming changes at Instacart are worrying Patti, whose market hasn't switched to the new system yet. "I'm anxious to see how the changes affect me [because] people all across the country are reporting a 70% reduction in pay," she said.
Instacart told BuzzFeed News that the purpose of the new earnings structure, which it will roll out to all markets by the end of the year, was to make life better for the workers. When David Hahn joined Instacart as chief product officer five months ago, improving relations between the company and its delivery workforce was one of his top priorities. He said the changes he's made to the system — giving drivers more information about a job before they accept it, higher pay for heavier loads, and a more responsive customer service team — were all changes workers asked for. He said he was not aware of the ongoing "soft strike," nor of the demand letter workers sent to Instacart's CEO.
Hahn said the majority of delivery drivers he's surveyed like the new system. "At the very beginning … there are a lot of questions. But what we see is after a couple weeks is people who've actually been on new earnings — not just heard about it — they on balance prefer it," he told BuzzFeed News.
One cause for confusion in the rollout was a bug in some markets that initially caused some gigs to pay out only $2 or $3. The actual pay floor is $10 per job, Hahn said, and the new system "is designed to keep average earnings the same."
Instacart also said the new system is meant to give delivery workers more control by allowing them to accept or reject jobs based on how much they pay, how much items weigh, or how far they have to drive. But Patti, the driver from Philly, said the system marks drivers as "idle" if they skip more than four jobs in a row, which impacts their overall reliability score. "They're still punishing shoppers for not accepting batches that don't make economic sense," Patti said.
Hahn said the purpose of the feature is "to make sure there's a shopper on the other end that hasn't left their phone or app open."
Much of what the workers involved in organizing against the company are asking for is similar to demands Uber and Lyft drivers have previously made. Competition between platforms for drivers, and a concern about high turnover rates, have led both Uber and Lyft to enhance perks for drivers, including offering discounted gas and free online college tuition for high performers.
But while driver organizing has had some success — the New York Taxi Workers Alliance and the Uber-backed Independent Drivers Guild both celebrated when New York City capped the number of drivers the apps are allowed to register — other complaints seem to have fallen on deaf ears. Drivers have asked for years for the right to appeal deactivations; last month, when a group of drivers with Gig Workers Rising attempted to deliver a petition on the issue to Uber's headquarters, security tackled a driver to the ground.
"Despite the sporadic organizing, despite the efforts in both legislatures and in courts to create a more conducive environment for worker protections, they really haven't gotten that far," said Veena Dubal, a law professor at the University of California, Hastings who studies gig economy issues.
But Dubal said she has seen one potential avenue for progress: As contract workers like bus drivers at Apple and Tesla and security workers at Facebook and Google have sought to unionize, they've increasingly received help from white-collar programmers and engineers working on those same campuses. In one case, Dubal said, members of the Tech Workers Coalition, a pro-labor group in the Bay Area whose membership includes programmers and engineers from companies like Facebook and Google, actually accompanied security workers to the bargaining table.
"They consider Instacart drivers and Uber drivers part of their coalition," Dubal said.
In other words, solidarity between blue-collar contract workers, gig workers, and white-collar programmers and engineers could provide the impetus for change in the gig economy that legal and legislative avenues have failed to achieve.
Rebecca Smith with the National Employment Law Project said workers' movements at companies like Google, Facebook, and Amazon are helping create a culture shift around how the public views the technology industry, which could ultimately force firms to change their ways.
"The demands around the companies' relationships in the Trump administration, their work with ICE and the military, as well as the data breaches and recent revelations around Facebook are contributing to an understanding that tech isn't necessarily a force for social good," Smith wrote via email. "Folks are seeing that it's possible to love your apps and still care about human rights, and that's good for all workers in the sector."