As Monday morning arrives in Austin, Texas, the thousands of people who've come to rely on Uber and Lyft (as both passengers and drivers) in this car-oriented city are waking up to a new reality.
The two ride-hail leaders lost a major vote on Saturday, one they collectively spent more than $8 million trying to win. Their hope was to repeal a law that would, among other things, require drivers to be fingerprinted. Fifty-six percent of those who turned out voted against the bill.
As a result, both Lyft and Uber say they're pulling out of the market. And, an estimated 10,000-plus drivers in Austin who were using their ride-hail revenue to cover bills, pay off debt, and save money are out of a job almost overnight.
"Uber and Lyft are backing out, putting hundreds of people out of work," said Angelo Ilang-Ilang, who lives with his sister, her husband, and their two children. All three adults have been driving at least part-time for Uber and Lyft, using the income to cover some of the household expenses and, in Ilang-Ilang's case, pay off credit card debt, he said. Ilang-Ilang said he's looking for a part-time job, while his sister is considering signing up with Favor or GetMe, two of the remaining courier services in Austin.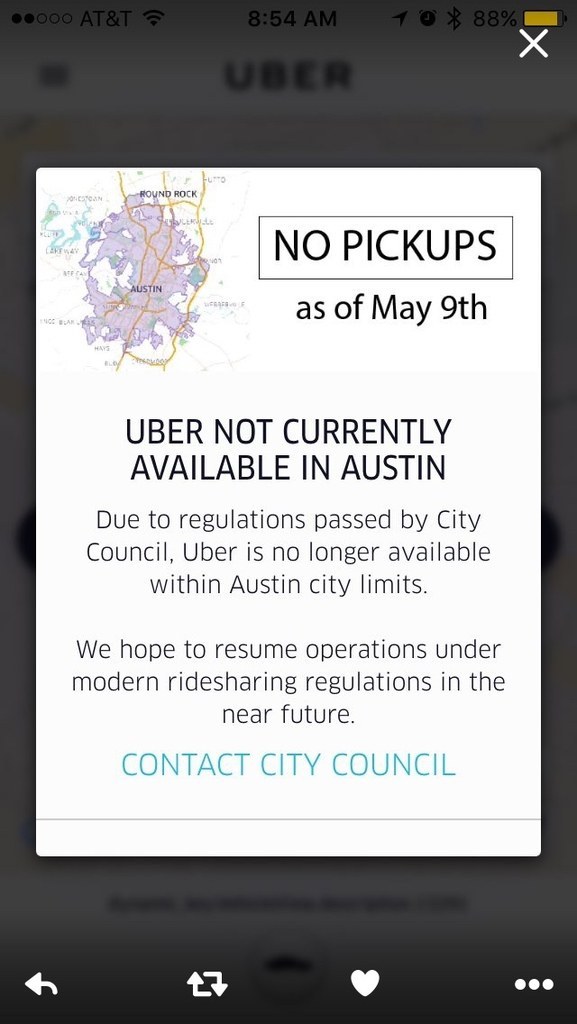 On UberPeople, a popular online forum favored by disgruntled drivers, drivers are swapping tips and starting threads with titles like, "LOL- Car sharing app battle In Austin ruining my life." Of all the Uber alternatives, GetMe is the most frequently cited, but some drivers who have experimented with it called the app "buggy." Others suggested that those looking for work apply to do Amazon Flex deliveries; a glimpse at Craigslist suggests that Postmates, Favor, and Luxe are also hiring. (Confusingly, as of Sunday evening, Lyft was still advertising driver jobs on Craigslist. A spokesperson for Lyft said these would be taken down soon, though five hours later, they remained.)
Though Uber had driver support for its bill — even recruiting them to work for its political action committee, according to some — not all of them wanted to see it pass. Brian Standard, 25, says he's been driving part-time since July as a way to cover his car payments, and to pay down his student loans. But, while the money was good, it wasn't enough to win his support of the bill. "Never in my life, spent entirely in Austin, have I seen a corporation unabashedly try to write their own laws through circumventing local government," he told BuzzFeed News in an email. Standard said he won't be driving for anyone until it's sanctioned by the city.
Another ride-hail company that's looking for drivers in Austin is zTrip, which has been around since 2014 and is active in multiple U.S. cities. The president of zTrip, Bill George, told BuzzFeed News the company has received 300 applications from drivers in Austin since Saturday, more than double the number of Austin drivers it currently has on the road. In an email, George told BuzzFeed News that all zTrip drivers go through a fingerprint background check, and the company "requires 100% compliance with the local ordinances."

That promise is appealing to Obed, who started driving for extra income during a music festival in fall 2015, but came to rely on ride-hail revenue completely after he lost his day job. Obed, who asked not to be identified by his full name, has been interviewing for a full-time gig and is hopeful, but unsure, of what's next.
"I've tried applying/signing up for other apps, I'll see how that goes," he wrote in an email. "I need to lose some weight and I like cycling; Favor delivery sounds good."
Some drivers are holding out hope that Uber and Lyft will eventually return to Austin, as Uber has in the past after pulling out of San Antonio. But meanwhile, follow through in Austin has people in both Newark and Houston concerned that, following regulatory votes, they too could see jobs disappear at the push of a button.