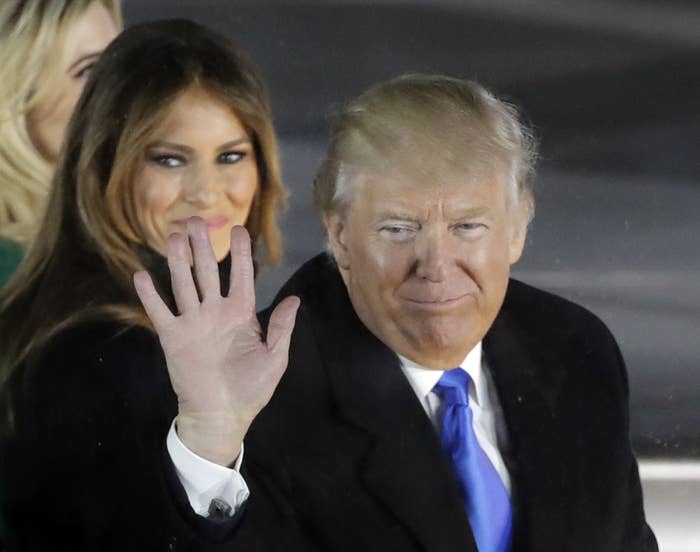 Attending the same college that Google CEO Sundar Pichai went to was Nisha's first step out of the poor neighborhood in India where she grew up. After graduating with a degree in computer science, she landed an internship at a tech company in California and, later, a job.

For Nisha — not her real name; she asked to remain anonymous because the company she works for doesn't allow employees to talk to journalists — that first job wasn't just a gateway to a career in tech, but also to a visa, and the beginning of a permanent life in the United States. "Do I regret coming to the US?" Nisha told BuzzFeed News. "Not at all."
But now, like many high-skilled immigrants working in tech, especially those from India, Nisha finds herself in a situation far more tenuous than she anticipated when she moved to the US six years ago. Immigrants in Nisha's position — she moved here at a time when President Barack Obama's ambitious immigration agenda promised to resolve the bureaucratic speed bumps around high-skilled immigration — are now facing an incoming Trump administration that has threatened to crack down on legal immigration. Already in the midst of a decade-long wait for a green card, they're wondering whether forthcoming policy decisions will make their lives in the US more difficult — or impossible.
"I've made peace the with the fact that I probably won't get a green card in my lifetime," Nisha said.
Currently, 65,000 visas for high-skilled workers — known as H-1Bs — are allotted each year. While engineers come from all over the world to work in the US tech industry, a particularly large number come from India. But a much smaller number of Indians are granted green cards, and this has caused a decades-long backlog in the system.
Since the election, Madhuri Nemali, an immigration attorney who specializes in small businesses hiring foreign workers, has been hoping to avoid telling her clients "it's going to get worse than it already is."
"I don't want to have to do that," she said. "But I'm thinking I'll probably have to, based on the rhetoric from last year."
An engineer at Cisco who asked to remain anonymous has been waiting for a green card for five years. He's optimistic that the recent gathering of tech CEOs at Trump Tower will mean more immigrant-friendly policies under the new administration. But even so, he plans to return to India within the next five years, where's he's confident that, given his résumé, he'll find a job with a US company. Many — including Google, Apple, Facebook, Intel, and Cisco — have campuses In India now.
"I don't see a possibility unless something drastic happens with regards to green card regulations," he said. "It's been an excruciating process."
How Trump's administration plans to handle immigration policy for high-skilled workers remains, on the eve of his inauguration, more or less a mystery. After declaring last year that he would "end forever" the use of high-skilled immigrant workers as cheap labor, Trump later hedged, acknowledging that we "need highly skilled people in this country." His administration is actively considering reforms for the program, with Reuters reporting that meetings with tech CEOs have nudged the president-elect further in favor of the program. The high-skilled immigration program does have a legitimate gray market fraud problem, which regulators have recently begun to crack down on. Meanwhile, Republican Congressman Darrell Issa has recently reintroduced legislation that would limit skilled immigration to the US.
One anonymous engineer who's three years into his green card wait described how, for immigrants in Silicon Valley, everyday financial decisions around taxes, 401Ks, and stock options are more complicated because of the precariousness of their positions. "Everything else all along was bad — but at least it was predictably bad," he said.
Already, this engineer explained, things like becoming a startup founder are more or less off-limits to him because of what investors perceive as unnecessary risk. Now, the possibility of further job insecurity and economic stability is exacerbating those frustrations. For example, immigrants who lose their jobs have 30 days to find a new one or leave the country, a predicament that would be much worse if the economy dips and major tech companies initiate hiring freezes, as they did during the 2008 recession. "If the economy goes south, the housing market will go down as well. In a month, you might have to do a fire sale of your house because you might never be able to enter the US again to sell it," he said.
Current visa holders are hoping new regulations won't impact immigrants who are already here. But given the current climate, they're not rushing to encourage friends and family back home to join them. Avinash Conda, an engineer and immigration reform advocate, said he recently cautioned a cousin planning to get his master's in the US against the idea, at least for now. "My suggestion for now is stay tight, at least for another year," Conda said. "Let the president walk in, and see what happens — on April 1, how many applications are filed — what are the new laws being passed, and we'll have to take it from there."
Others reported telling loved ones back home to consider getting an education in Canada, where tech companies have big offices and it's easier to get residency. "The job opportunities aren't as good as in the US, but are still pretty good," said one anonymous tech worker.
Nisha, the engineer who went to the same college as Google's CEO, shares the same concerns. If the worst should happen, she's confident her employer could move her to an office somewhere in Europe, or Canada — or even back to India. But she's also worried about moving away from headquarters in Silicon Valley, where "all the interesting stuff that attracts people" gets done. A move like that could delay her career goals — possibly forever.
"If I move back right now, it's sort of a dead end for me," she said. "But I grew up next to a slum in India. I've seen way more difficult times than anything that could possibly happen now."