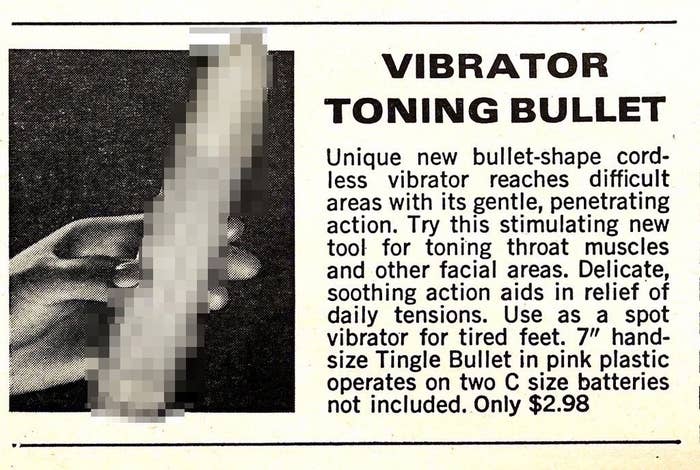 Liz Klinger first started selling sex toys four years ago, as a host of Passion Parties, in-home sales events modeled on Tupperware parties — only instead of Tupperware, vibrators and lubricant were for sale.
The experience made Klinger, whose background is in design and marketing, interested in manufacturing sex toys herself. So she rounded up some friends from companies like Google and Amazon and started building a "smart vibrator" that uses sensors to intelligently analyze what's happening during sex. Today she is the CEO of a startup called Lioness.
But if the Passion Parties made it easy to talk to women directly, selling online made it harder. Klinger, like other sex toy manufacturers, couldn't get the word out on Facebook and Instagram. They also can't raise money on Kickstarter, and struggle to sell their product on Amazon, thanks to those sites' rules about sexually explicit material.
"Vibrators — even vibrators that are positioned as a sexual health discovery product, as opposed to something that's pornographic — have a really hard time" selling online, Klinger told BuzzFeed News. Which is why she, along with a handful of other savvy sex toy slingers, decided the best way to deal with these rules is to break them.

Like many people, I first heard about Lioness via an Instagram ad — which is weird, because Facebook, which owns Instagram, doesn't allow adult companies to advertise on any of its platforms. ("Our ad policies don't allow companies to advertise adult products or services, which includes sex toys," a Facebook spokesperson told BuzzFeed News in an email.) But Klinger found a workaround.
Lioness shot a video of a woman reading positive customer feedback the company had received. The video doesn't have any sexual images, which makes it less likely to get flagged. But the real trick was having Lioness's Facebook page, which sponsored the ad, link not to the Lioness website, but to a Lioness YouTube account. The only way potential customers would even find the company's website was by clicking on an annotation inside the YouTube video.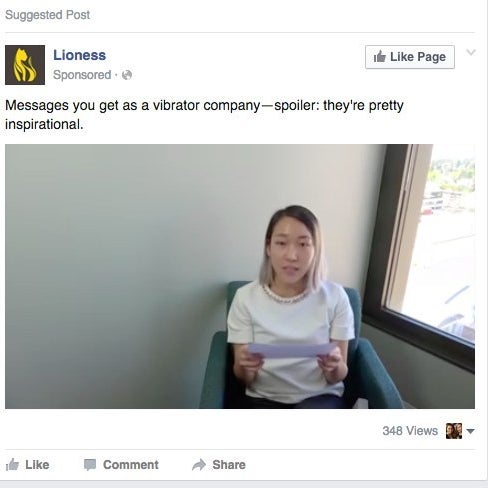 Another sex toy startup, Comingle, used a similar workaround (before shutting down in February due to lack of funds). Comingle itself didn't buy promoted posts — but Indiegogo, where the company raised the money to build its product, is a crowdfunding platform, not a sex toy sales platform, so it can promote whatever it wants. Comingle never gave Facebook a dime, but Indiegogo was able to circulate a post that promoted the Mod, Comingle's vibrator.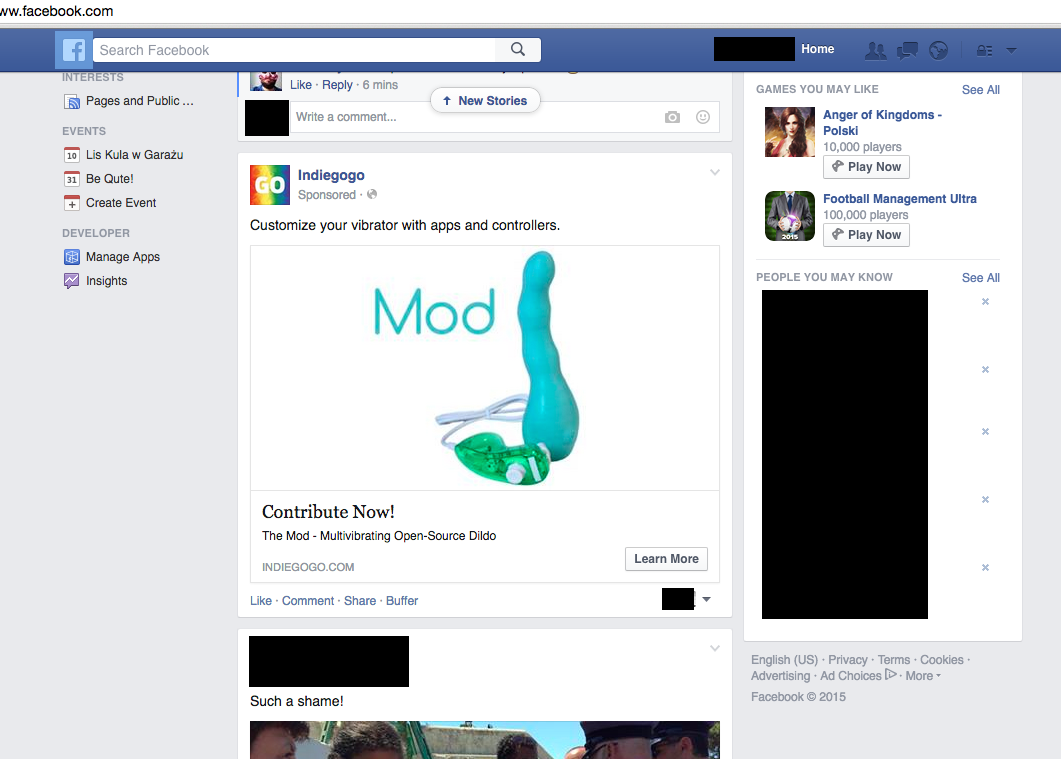 Hiding behind another company with a slightly different mission is another way to make it onto Facebook. Diamond Products, the parent company of Jimmyjane — one of the biggest and best known brands in the alternative sex toy market — recently bought Sir Richard's Condoms, an all-natural contraceptives company so popular that it's sold at grocers like Whole Foods.

"The reason I acquired the company is, it's my Trojan horse," Jimmyjane President Robert Rheaume said, laughing. "I can use condoms to advertise on Facebook and other social media feeds that don't allow sexual toys."
Both Facebook's and Twitter's advertising policies have loopholes that allow contraceptives to be advertised, regardless of sexual content. Customers who click through a Sir Richard's ad to the website can easily add Jimmyjane products to their cart before checkout, he said.
For most of these companies, finding the backdoor to Facebook was effective, even if it wasn't preferable. According to Klinger, during the time the ads were up, Lioness saw a tenfold increase in sales though Indiegogo, without any press or other significant events. But, she said, "if you talk to someone in e-commerce, this is a really, really inefficient way of selling product."
Facebook's and Instagram's weren't the the only algorithms Lioness and others like it had to beat. Getting the word out on social media is important, but if you want to sell goods to a mass audience, the obvious place to turn is Amazon.com. And that option is full of obstacles for sex toy makers.
Amazon does have a "sexual wellness" category, but sellers need to get "pre-approval," which means selling 50 units of something else before they can start selling adult products. A representative from Amazon told BuzzFeed News that this policy is meant to ensure quality and customer satisfaction.
But that can be a tricky hurdle if all your company makes is vibrators. Alex Fine, CEO of Dame Products, cleared it by having 200 bumper stickers made that said, "My other car is a vibrator." They sold well — but more important, they won Dame the Amazon page it wanted.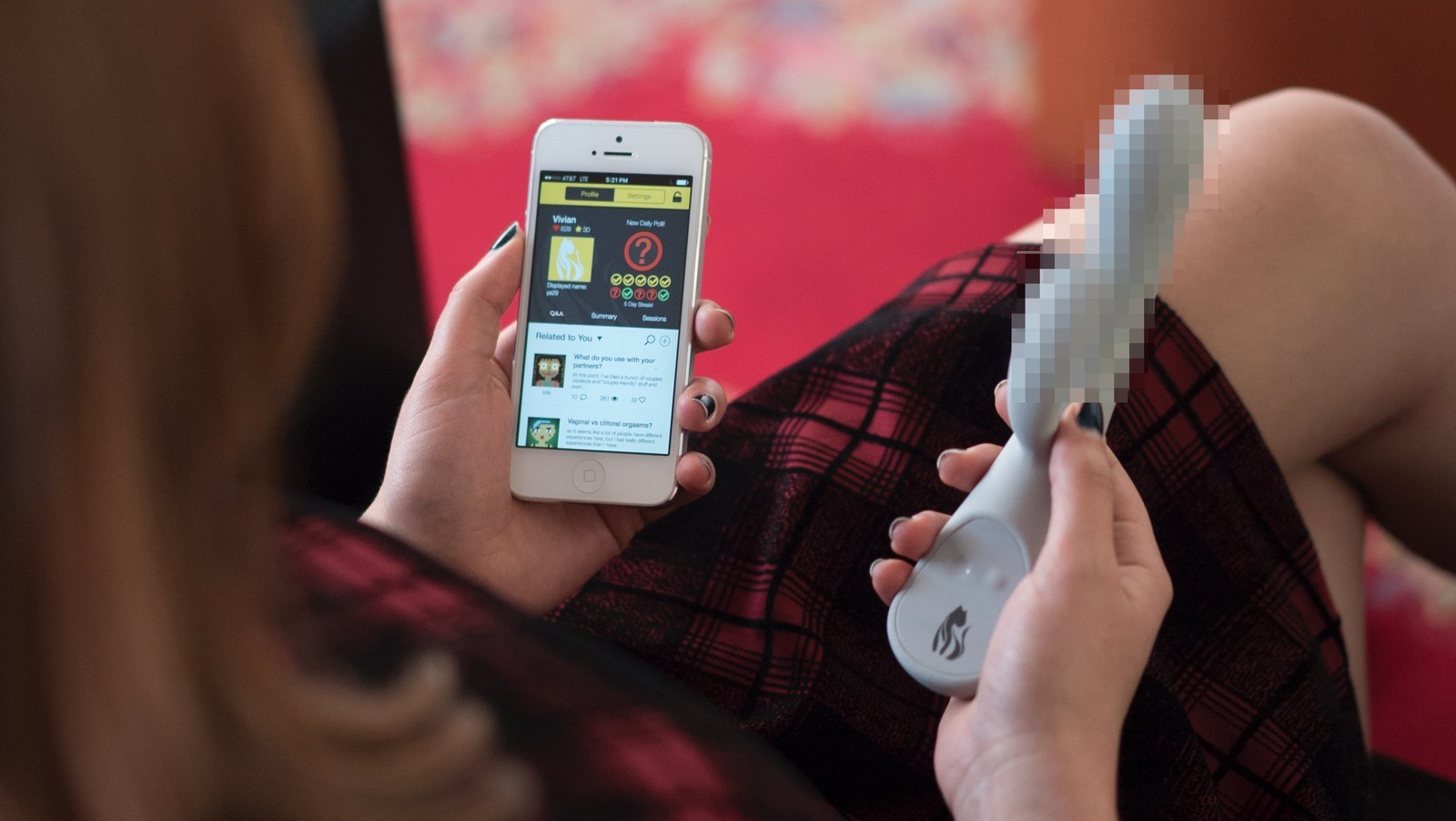 Even so, getting onto Amazon was just the start. The company also controls how sex toys show up in search results, to ensure that sex toys don't show up when that's not what the searcher is seeking. So, if you search "dildo" or "vibrator," sex toys are what you'll find. But if you search "Dame Eva" — the name of one of Dame's vibrators — you'll find cell phone cases emblazoned with Eva Longoria's face and albums by Dame Eva Turner.
Search "Minna Life Limon" — the name of another product — on Amazon's main search, and the top hit is Limon 7 Salt & Lemon Powder Mexican candy: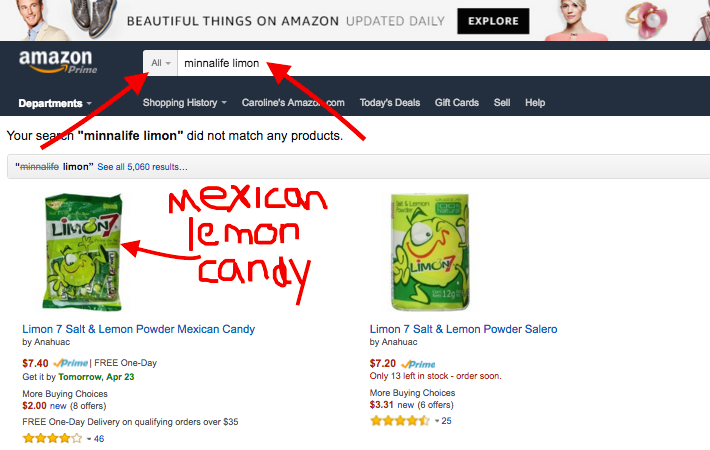 The same search in the "Health & Personal Care" department, though, returns Minna Life's Limon vibrator: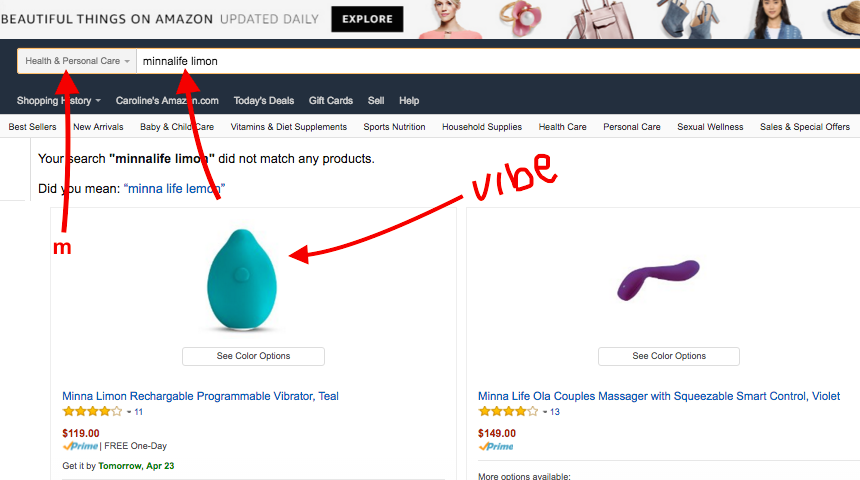 And there's a good reason for that — if you're shopping for a lemon squeezer, or a biography of Eva Perón, you probably don't want to be bombarded with a bunch of lemon-shaped vibrators.

But if you're a seller of sex toys, you don't want your potential customers to have to know where to look in order to find your products. Many of the search results when you just type "sex toy" into main search are from accounts selling brand-name sex toys, usually purchased wholesale, on the cheap. If they move enough product and get high enough ratings, they'll ultimately get top placement in Amazon search results, outranking the companies that actually make the toys.
To get around the rule that keeps them out of main search, some of the sex toy companies try framing their product postings in a way that makes them appear unlike sex toys — Revel Body's Robin Elenga said he would label the vibrators as sports massagers, muscle massagers, or yoga massagers, and sell them along with a water bottle. But many end up getting flagged as adult products in the end anyway.
"It's almost a full-time job just to manage your listing," Elenga told BuzzFeed News. And in fact, recently, Elenga got out of the sex toy game — sort of. Instead of selling vibrators to consumers, his new plan is to license RevelBody's vibrating motor technology to smartphone and smartwatch manufacturers, as well as other sex toy companies.
Between Facebook's terms of service, SafeSearch in browsers, and various other algorithm-driven impediments, it was just too much work to get the word out about Revel, Elenga said. "There's layers and layers of filters that block getting your content out," he said.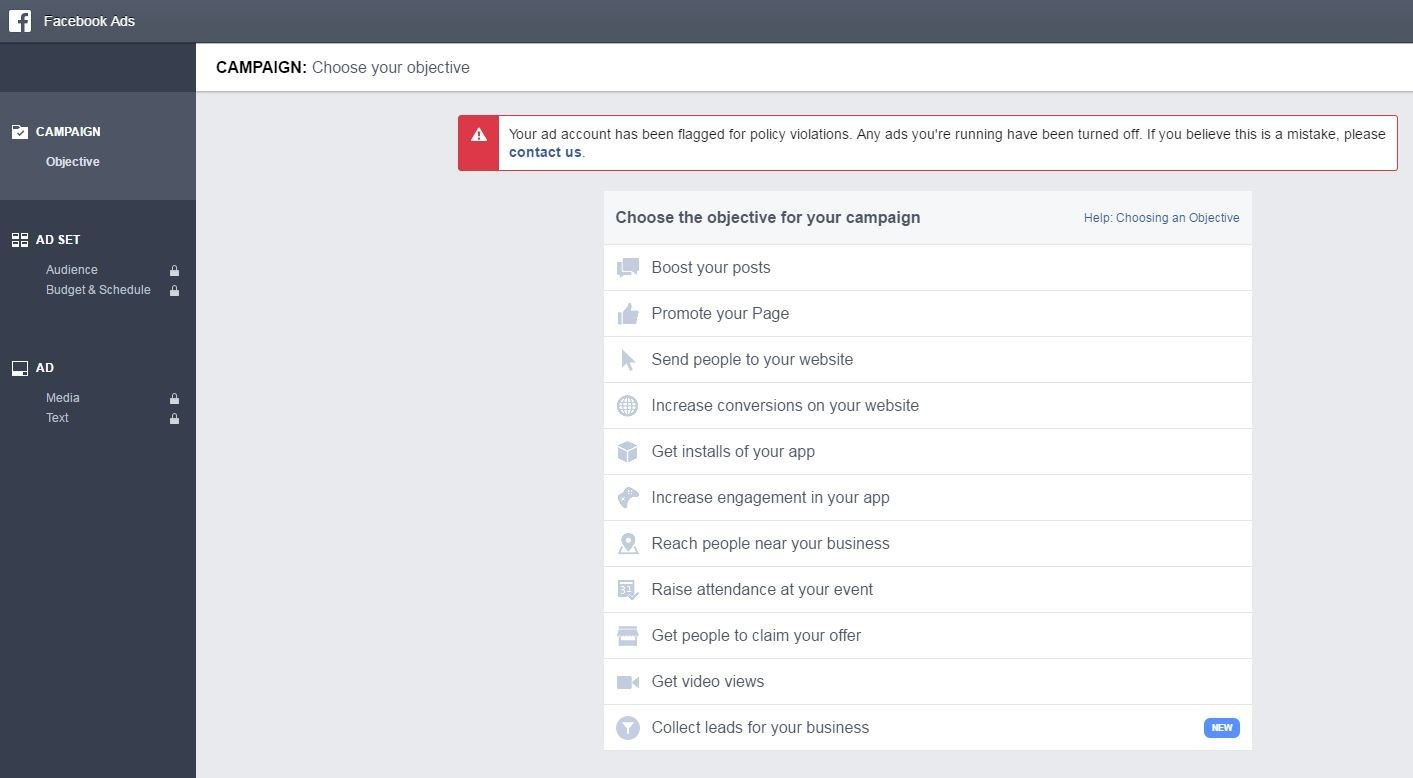 Minna Life is best known for the Limon, a couples vibrator, but about a year ago, it came out with kGoal, a device that's supposed to help women strengthen pelvic floor muscles. (There's a version for men that will hit markets soon.) Minna CEO Brian Krieger said the kGoal is decidedly not a sex toy, which is helping Minna grow brand recognition on platforms where it wouldn't normally be seen.

"We were definitely aware that if we broadened our purview a little bit it would strengthen our ability to argue with somebody like a Facebook," Krieger said. Indeed, kGoal launched on Kickstarter, which doesn't normally allow sex toys or other "pornographic materials." Minna Life was also able to run an advertising campaign for kGoal on Facebook for a few months before getting flagged by the site and, ultimately, deactivated — but not before scoring a distribution deal with Target.com.

Krieger isn't the only sex toy entrepreneur strengthening his brand with kegels. OhMiBod CEO Brian Dunham said his company has actually been selling kegel-exercising devices for years. But only the newest model, the "Krush," vibrates and pairs with an app. This year, it won best in show in health and wellness at the Consumer Electronics Show.
Dunham said he was denied when he first applied for entrance to CES six years ago. Now, he plans to use his company's victory there to continue pushing vibrators in spaces where they're technically not allowed. When the Krush launches in May, it will launch under a new LoveLifeToys brand, which Durham plans to promote on Facebook and other channels. "It will be a great litmus test if Facebook shuts us down," he said.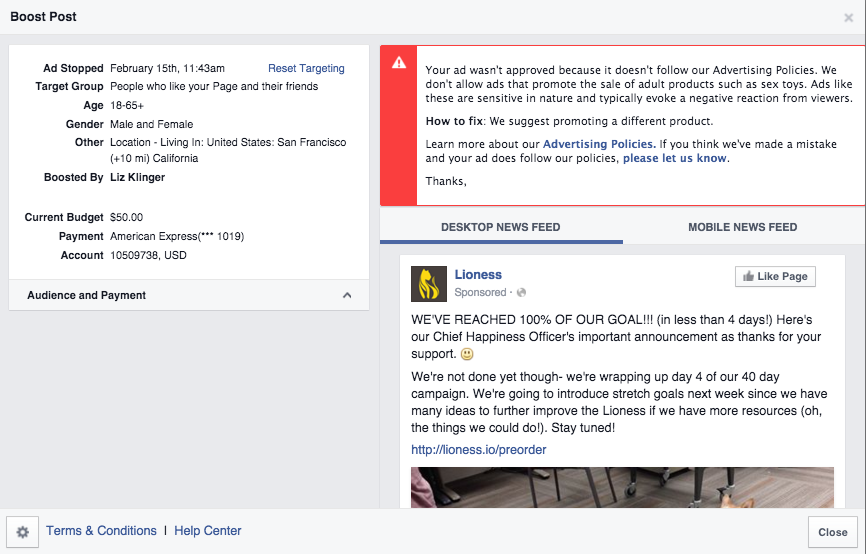 There are plenty of other ways to advertise sex toys online. Lelo uses blog posts that get shared on social media. Mysteryvibe syndicates content through a British media company called Unruly. But at the end of the day, the best way to get around content filters and terms of service might be satisfied customers, said Michael Topolovac, CEO of a sex toy company called Crave.
"If a customer says a product is great, they don't filter that out," he said, "because that's free speech."