The CEO of Hootsuite — a Canadian social media management startup — responded to a Bloomberg reporter's request for comment on Tuesday by directing him to a paid sex phone hotline.
Here's what we know: Earlier this morning, Bloomberg News reporter Gerrit De Vynck published a story making the case that Hootsuite is overvalued at $1 billion and is undeserving of its so-called unicorn status.
Hootesuite CEO Ryan Holmes (who maintains that the company is, in fact, worth more than a billion dollars) took to Twitter, decrying Bloomberg's headline ("Hootsuite: The Unicorn That Never Was") as salacious, and complaining that that the De Vynck published his story without comment from Hootsuite.
The Bloomberg reporter tweeted back at Holmes with his phone number, asking the CEO to call him. Here's what Holmes tweeted back: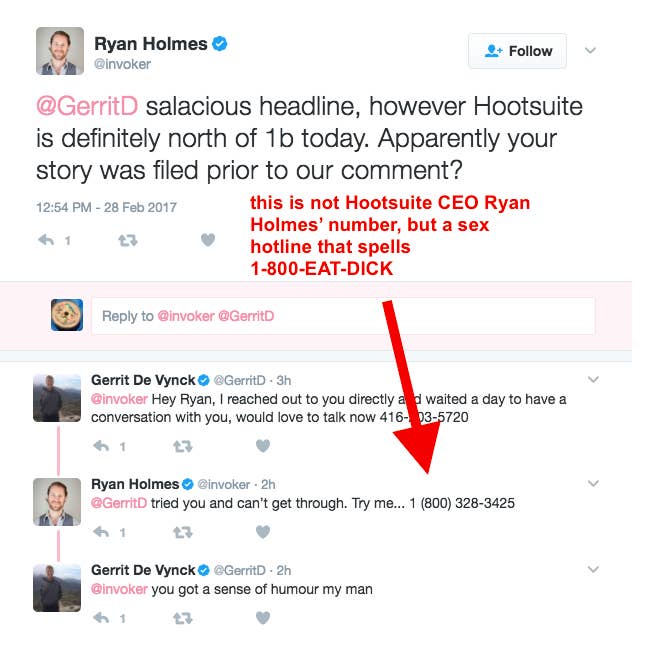 The thing is, that's not Holmes' phone number — it's the number for a paid sex hotline — 1-800-EAT-DICK. When you call it, a man's voice offers you unpublishable favors, if you simply enter a valid Visa, Mastercard or American Express credit card number.
After BuzzFeed News reached out to Holmes and his PR team, he deleted the tweet, and his PR person pointed to a followup tweet sent by Holmes that says, "apologies. wrong number."
The timing of Holmes' tweet is particularly ill-timed, considering the tech industry writ large is under fire this week for reports of pernicious sexism in the workplace. Earlier this month, a former Uber employee published a harrowing account of her time at the company, which detailed numerous allegations of sexual harassment and discrimination. The post sparked a public dialogue about how and why inappropriate behavior gets brushed under the rug at startups.
The reporter involved in the exchange declined to comment, but in an email, a Bloomberg spokesperson told BuzzFeed News that "we stand by our reporting."