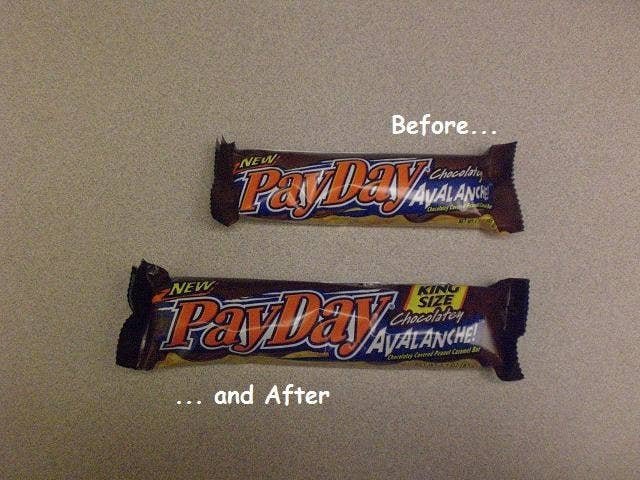 Glassdoor is putting its trove of user-reported salary data to use with a new tool that estimates an employee's "market value." Called Know Your Worth, the tool relies on a combination of personal information — including location, industry, education level, and years of experience — as well as the local demand for labor. It then spits out an estimated dollar amount workers can reasonably expect to earn at that moment in a given market.

The tool, which is available in beta as of Tuesday night, is powered by several million salary reports and over 4 million job postings, and is supposed to give Glassdoor users a sense of where they stand in comparison to peers with similar levels of experience.
It also compares this figure to average pay for people in your position, and provides a chart showing how market value for workers of your experience in your location has changed over time.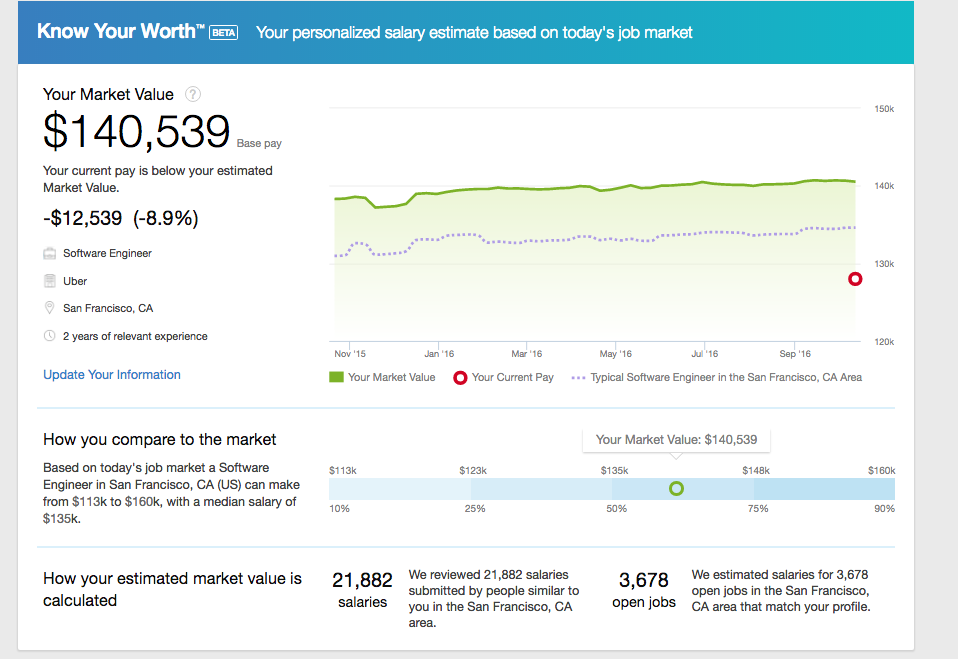 BuzzFeed News calculated market value for a small group of people contacted via Twitter and Facebook prior to the tool's beta release.

"I know I'm underpaid," said a 26-year-old project manager working for a tech company in New York City. She earns a base salary of $95,000 a year, but Know Your Worth suggested her market value was more like $108,000. Though the tool only confirmed suspicions she already had, it could serve another purpose, she said. "I would definitely bring this into a negotiation."
In Chicago, a project manager at a startup also making $95,000 a year echoed her sentiment, saying he plans to bring this Glassdoor data into a salary negotiation later this week. "It's always a bit unsettling to see it presented so badly: You are making less money than you should be. That being said, I knew I was a bit below market," he said. "Seeing it just output like that with only a comparatively small amount of information needed from me is pretty neat!"
Others were more surprised by the results they received. According to Glassdoor, a 26-year-old male software engineer at Uber in San Francisco with two years of experience and a bachelor's degree from Stanford is worth more than $140,000 a year. Given these results, an engineer who is actually making $128,000 a year said he "knew the base salary was less than market, but that is a more substantial difference than I expected." He, too, said the data from Glassdoor could play a role in future salary negotiations.
Know Your Worth was less helpful for those in less straightforwardly corporate jobs. For example, a microbiologist with a doctorate working for the USDA in the Bay Area and earning $70,000 a year was surprised to find his market value was actually lower than what the government was paying him. "I had figured I was more underpaid in order to work on what I value. But it turns out, I'm not worth shit," he said. "I know if I left my research job to do strictly data stuff, I'd be worth much more."
Other highly educated workers felt Glassdoor's tool underestimated their potential earnings. For example, according to Glassdoor, a 30-year-old public defender with a law degree from Harvard earning $60,000 a year in the Bronx has a market value of around $108,000. But she says the tool wasn't as useful as word of mouth. Plenty of the lawyers she graduated with are already making $160,000, she said, which she knows "because in law school, all everyone talks about is the starting salary at law firms."
Glassdoor's new tool was also ineffective for people who aren't traditionally employed. For example, a 35-year-old marriage and family therapist who charges clients $150 an hour in a private practice was unable to get any results from Know Your Worth. Glassdoor said that the tool should work for someone who is self-employed, but did say, for now, it won't work for a freelancer who works multiple jobs for multiple employers. "Our goal in future iterations of the tool is to take into account even more information to help all people and give them even more personal information," said Corporate Communications Director Scott Doboroski via email.
Of course, Know Your Worth is only as strong as the data Glassdoor receives, which means people in certain jobs might not be able to get an accurate quote. The company says its data set is constantly being updated, and that those who don't find it useful can still make sense of the more basic Salary Explorer feature.
Glassdoor says Know Your Worth will continue to learn over time as new data enters the system, and employees can sign up for regular updates as conditions develop.