If you watched TV in Bolivia or read a newspaper in Ghana or listened to the radio in Panama in the last year or so, there's a chance you saw an ad for something called Free Basics by Facebook.
Free Basics is available via app or mobile website, through which the Facebook-led organization Internet.org provides free access to some content, like Wikipedia, the weather, and of course Facebook itself. In an op-ed published by the Times of India, CEO Mark Zuckerberg writes that Free Basics is about helping people to "start using the Internet" and claims that its launch worldwide has brought 15 million people online.
But a BuzzFeed News survey of mobile operators around the globe — the companies that actually implement Free Basics — found that in several markets local telecoms largely see Free Basics as a way to give themselves an edge over competitors. While the grand idea might be an initiative to get people online for the first time, these telecoms view and market Free Basics as an alluring offering for digitally savvy but cash-strapped consumers.
Exact figures about who uses Free Basics, and for what, aren't readily available. BuzzFeed News requested data from Facebook regarding how many people are using Free Basics internationally and how many of those go on to purchase data plans, but the company did not release any additional information about who uses the program. The local telecoms said that such data is either not collected, or not immediately available.
According to Facebook, there are 37 other countries in addition to India where Free Basics is available to consumers — 20 in Africa, 11 in Asia and the Middle East, and 6 in Latin America. Two of those countries were added to the program within the last month. Facebook works with at least one mobile carrier in each country.
To get a better understanding of how Free Basics is actually used, and how people around the world are getting online, BuzzFeed News contacted each of these carriers with questions about who's signing up for Free Basics, how it's being marketed, what content they're accessing, and whether these users also pay for data. Of the companies contacted, only half a dozen responded with information about how the Free Basics program was launched, and none were willing to share data with BuzzFeed News on how their customers were using Free Basics.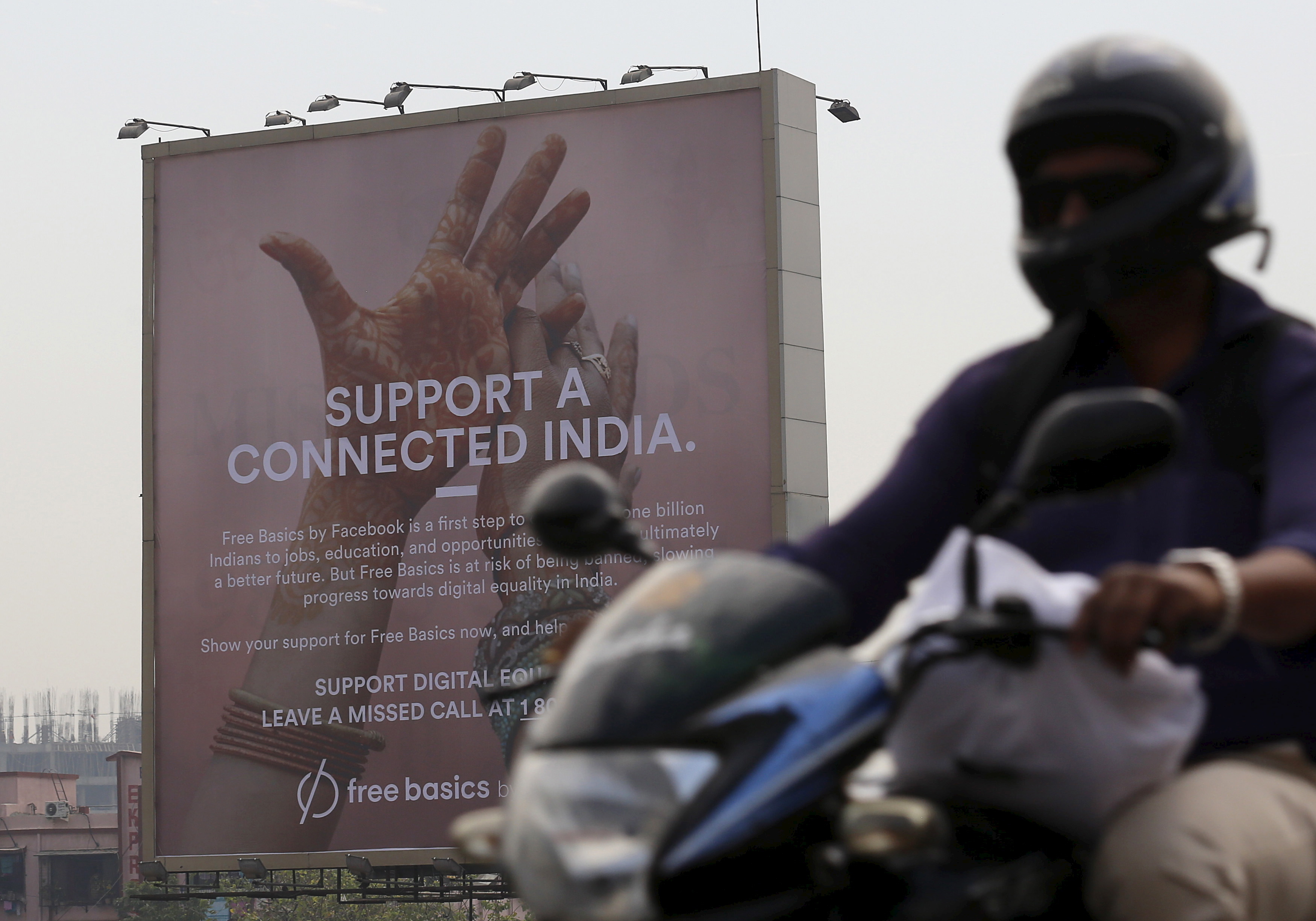 While Facebook is often said to be giving away "free internet" via Free Basics, it's actually the mobile operators in various nations providing the data subsidy, according to multiple carriers BuzzFeed News contacted. "Virgin Mobile Mexico pays to cover the cost of data," a representative said. Yuyo Nachali-Kambikambi, a spokesperson for Airtel in Zambia, where nearly a quarter million people are accessing Free Basics every month, also confirmed that the local carrier, not Facebook, covers the cost of the data.
There's a straightforward reason carriers are willing to foot the bill for a free, albeit stripped down, version of the internet: It's a winning customer acquisition strategy. Interestingly, several mobile carriers told BuzzFeed News that customers aren't using Free Basics to access the internet for the first time. A series of interviews with the employees of local mobile carriers in markets where Facebook offers Free Basics suggests that many users of the program already pay for cellular data and essentially use Free Basics as a way to reduce costs. Thus it might be viewed not as a way to go online, but rather as a way to remain online.
For example, in Panama, where 30% of Digicel subscribers use Free Basics, it seems to be used at least partially as a fallback option. "The majority of those customers also used paid data the month they used Free Basics," wrote Antonia Graham, Digicel's head of group public relations, in an email to BuzzFeed News. "They use Free Basics when they have no credit." Graham said when paying accounts run out of data, Digicel automatically pushes them to the Free Basics webpage.
Individuals responding to direct messages on Airtel Ghana and and Airtel Uganda's verified Twitter accounts both said that most customers already have internet access. An online sales associate named Gemma who works for Viva in Bolivia said customers there turn to Free Basics "when they run out of credit" on their paid data plans.
In Iraq, a manager at the Korek telecommunications company said that almost all of the customers who come in asking about Free Basics are already online. Out of the hundreds of customers he helps each week, he could only think of one or two who use Free Basics without a normal data plan.
"They want Free Basics as an addition to plans they already have," he said. "These are people who are already online. I would say that I have had no customers who are new to the internet who come in asking me about Free Basics."
Part of that, he added, might be because Korek only advertises Free Basics on their website, and in web-only videos. He asked to remain anonymous, as the corporate offices of Korek refused to answer questions from BuzzFeed about the program. "If you ask me, 'Is this program for people who don't have the internet?' my answer is no."
In his op-ed, Zuckerberg argues that Free Basics is a "bridge to," and not a replacement for, "the full internet." As evidence of this fact, he says that "half the people who use Free Basics to go online for the first time pay to access the full internet within 30 days."
None of the mobile carriers BuzzFeed News spoke with could confirm this figure. But it is clear that these local telecoms view Free Basics as a way to attract new customers — in some cases by stealing them from rivals. Graham said that in Panama, Digicel advertises Free Basics to users "on the competitors' network." In an email, a spokesperson for Tigo, which partners with Facebook in a number of countries, including Colombia, Guatemala, Tanzania, the DRC, and Senegal, described Free Basics as a "promotional offer that Facebook and Tigo created together."
Joel Kades, Virgin Mobile Latin America's chief marketing officer, made a similar case. Virgin announced in December that it would partner with Facebook to offer Free Basics to around 3 million customers in Mexico. "The local teams want to see if it's being used, which we hope it is," he told BuzzFeed News, "and then if those people are turning into more valuable customers over time." The way Kades sees it, Free Basics has both a social mission and a business purpose. So far, over half of those 3 million subscribers — most of whom are young city dwellers on their first job — are using Free Basics.
In Egypt, where Free Basics abruptly stopped working roughly two months after it was first launched, a local representative for the Etisalat company told BuzzFeed News that few customers had complained about the sudden end of the program.
"Nobody came into stores asking about it, as far as I know. People used it as a free service when it was on their phone and went back to buying data when it was gone," said the representative, who would not speak on record, as he said Etisalat was still in talks to restart the service in Egypt. "People were more angry and vocal when we changed our marketing logo."
Yet while Free Basics is free, it is not without controversy. At least one telecom BuzzFeed News contacted in Peru said that, because of ongoing policy debates at the national level, it was not possible to share information about how Free Basics is marketed and how widely it's used. Miguel Cassinelli, manager of institutional relations and sustainability for Entel, Facebook's partner in Peru, said the issue of whether Free Basics complies with Peruvian net neutrality regulations would be discussed by the nation's regulatory body in the coming months. Osiptel spokesperson Lenka Zajec Yelusic said the agency was unable to comment because the matter is "still under evaluation." Free Facebook is still being advertised by Entel in Peru.
Peru isn't the only Latin American country to have concerns about Free Basics and net neutrality. Chile's government banned zero-rating in 2014, and as a result, Free Basics is not offered there at all.