Google's Home Services Product Finally, Officially Launches Today
You can find a plumber on Yelp, book a cleaning person on Amazon, hire a handyman on TaskRabbit — or, as of today, do all of the above through Google.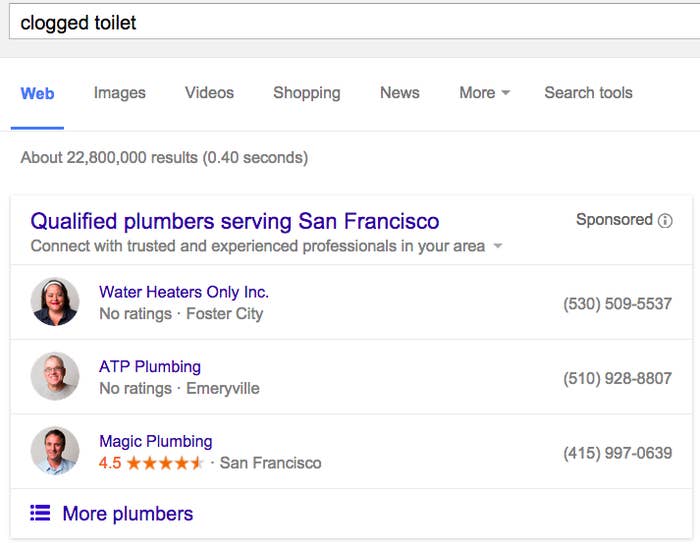 Today, after much anticipation, Google is finally launching (the beta version of) its local home services product, which will allow some San Francisco Bay Area residents to request the services of handymen, home cleaners, locksmiths, and other service professionals who have been prescreened and approved by Google. The product is an extension to Google's AdWords Express, a paid app for small business owners, and it is two-pronged. People living in the Bay Area who search for a plumber will see a sponsored widget in their search results, through which they can evaluate and contact said plumber without ever leaving the search results page. For the service providers, who pay for the placement, the product is an extension of the existing Google AdWords app and will allow them to receive service requests, book jobs, and contact clients.
BuzzFeed first reported that Google was working on such a product in April. As Re/code reported in July, some queries that implied the need for a service professional — e.g., "clogged toilet" — were already returning service provider info embedded in the search results. According to the blog post announcing home services, there are millions of such searches every day.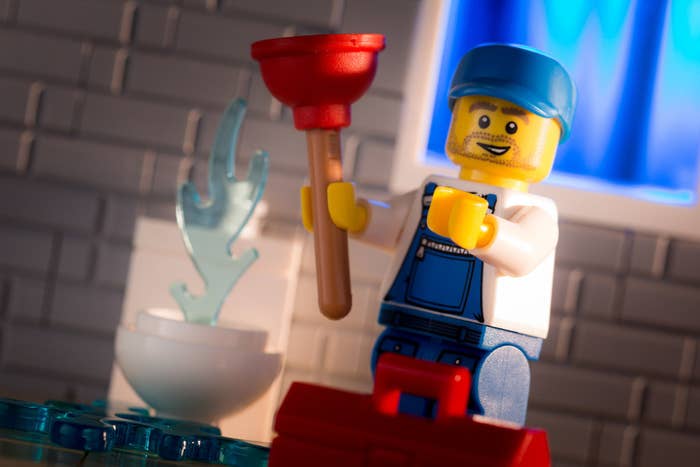 The product does more than provide a name and number. By choosing a given service provider and clicking "Send Request," users can actually directly contact a plumber, who can then come deal with the situation. (Or, if they prefer, they can just call them on the phone.) The customer and service provider can then arrange a deal outside of Google (unlike with Amazon, where the financial transaction actually happens on the website, making it harder to negotiate). Providing direct communication between the customer and "Magic Plumbing" or whoever else definitely makes AdWords Express home services more than the typical ad product.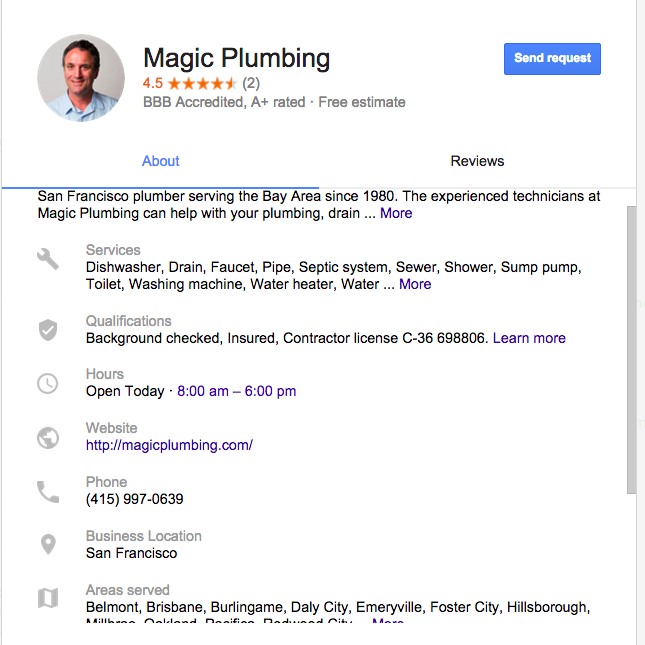 To be clear, Google's product won't mean much to the mom who cleans houses on the side or the handyman doing odd jobs on platforms like TaskRabbit. Because it will ultimately be a paid product, it's geared more toward small business owners — though how much it will cost hasn't been determined yet. Providers do get to use a mobile app that, according to Google, organizes requests, pushes reminders about appointments, and provides a platform for communicating with customers. Overall, that puts the product more in competition with Thumbtack — which matches higher-end professionals with customers for a fee — than with, say, Postmates or Handy. (Google has not announced plans for a rollout beyond the Bay Area.)
As Mark Zuckerberg pointed out at F8 in March, young people hate picking up the phone. If all the AdWords home services product allows them to do is deal with life's little annoyances — be they lost keys or clogged drains — without actually dialing any numbers, it could still be a fairly useful, viable product. And if it does take off, it's not too far-fetched to imagine a scenario, at least in the Bay Area, in which native Google search results could directly connect searchers with all kinds of services and businesses, beyond the occasional homeowner's emergency. If I could Google pizza and get a pizza delivered, would I ever open Seamless? Probably not.