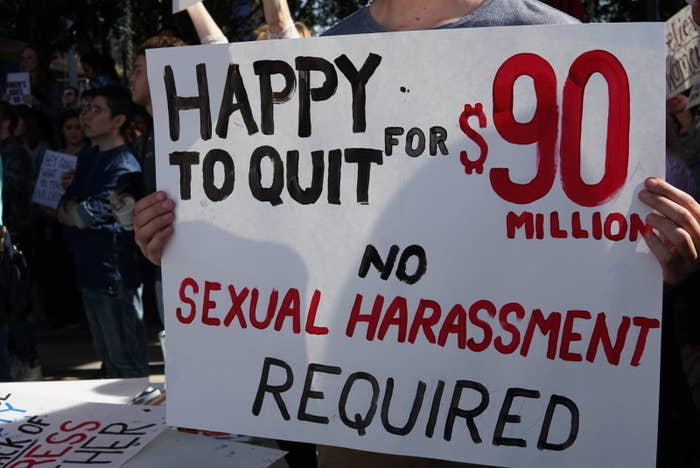 Google employees protested the company's handling of sexual misconduct in the workplace at an orchestrated global walkout today, telling stories of harassment and a corporate culture that does not respect women.

"Hey hey, ho ho, creepy dudes have got to go," protesters chanted. One brandished a sarcastic "Don't Be Evil" sign, mocking a clause that has been removed from the company's code of conduct. Another held a sign that read "Happy to quit for $90 million — no sexual harassment required," a reference to the exit package given to a senior Google executive alleged to have had a coerced sexual relationship with an employee.
"We started gathering stories on our internal website. We've gotten hundreds already," said Celie O'Neil-Hart, a Google employee who helped organize the walkout and spoke at the protest in Mountain View on Thursday, told BuzzFeed News. "Part of this is just about raising up those voices. The demands came together from hundreds of voices on an internal chain of emails. This is as grassroots as it gets."

"They told me to go to therapy. They said, 'Don't worry, keep working with this person.'"
"HR protects Google, not women," shouted a protestor in the crowd.

While the New York Times story that kicked off the walkout included the stories of a few people who worked at Google, those who participated in the protest said there are likely many more.

"For every story in the NYT there's thousands of other stories that aren't told," an anonymous Google employee told BuzzFeed News ahead of the protest. "That's why so many people are getting involved."
One YouTube employee who alleges her drink was spiked at a company event described a human resources department unsympathetic to her harassment.
"I went to HR," she said. "And the first thing HR did was to silence me. They made it clear that I was the problem. They told me I was no longer allowed to talk to anybody about what had happened. They told me to go to therapy. They said, 'Don't worry, keep working with this person.'"

Despite an investigation, nothing happened, this employee said, adding that she continued to work with her harasser for three months. During that time, she said she cried in her car every day before work.
"Time is up in tech. Time is up at Google," said O'Neil-Hart, one of the walkout organizers. "When we joined Google, you told us to have an owner's mindset. You said we weren't just employees, we were owners. So now the owners are saying time's up on sexual harassment. Time's up on abuse of power."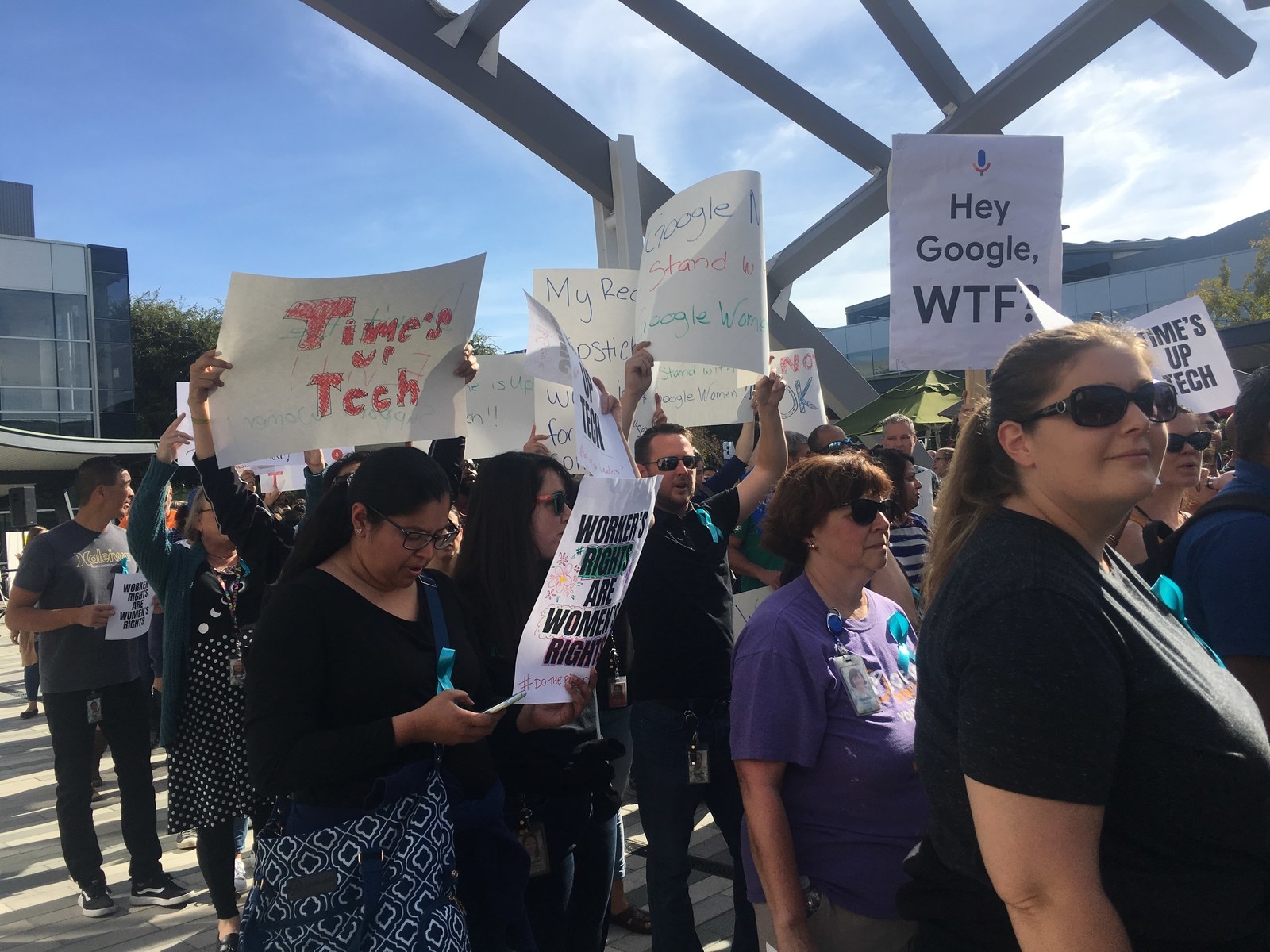 "I work on an Android app geared toward getting kids interested in STEM and I feel like I'm leading young boys and girls to the slaughter," one unidentified speaker said. "Why would you want to go into tech if it's like this?"
Another woman told a story of working as a barista at Google's Mountain View campus where an employee commented on her red lipstick. "Nice lipstick," the person said according to the woman. "Lick your lips for me."
Google employees walked out of work at over a dozen Google campuses across the world on Thursday. "I don't know what it's going to take to change the system, but I do know we are a crazy force to be reckoned with," organizer Meredith Whittaker said over a megaphone at the New York City walkout. "While leadership is listening to us, let me be clear. We are just getting started."