Google is going to help you find a job, starting right from the search bar.
CEO Sundar Pichai announced "Google for Jobs" — a new product that's supposed to make it easier to find a job, regardless of your skill and experience level — at the company's annual developer conference in Silicon Valley Wednesday.
"Whether you're in community college looking for a barista job, a teacher who's relocating across the country and wants a teaching a job, or someone who's looking for work in construction, the product should do a great job of finding that for you," Pichai said.
The new job search tool will roll out in the US over the next few weeks, with a global launch to follow. After that, job seekers will be served job openings natively within their Google search results, according to USA Today.
Here's a peek at what Google for Jobs will look like:
Google for Jobs will generate leads using data from job and career sites including LinkedIn, Monster.com, Glassdoor, and CareerBuilder. Facebook is also a partner.

But Pichai said Google's tool will return more accurate and useful openings to job seekers than other sites. "It turns out, employees and employers use many different terminologies. For example, retail could mean a store clerk, a sales representative, or a store manager," he said onstage Wednesday. "We use machine learning to cluster automatically, so we can bring all the relevant jobs for you."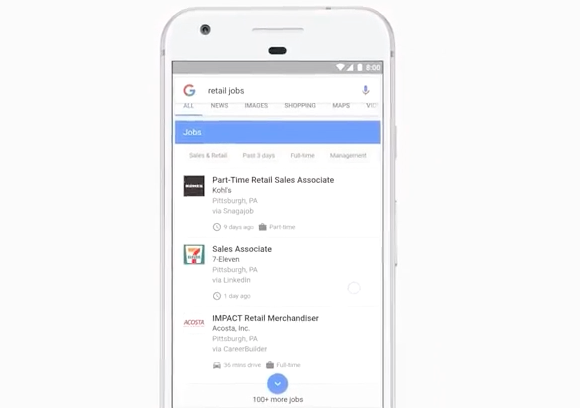 People looking for work can filter their Google for Jobs results by location, job title, or how recently the position was posted.

Google launched its Cloud Jobs API in November, a tool currently in "private alpha" aimed at making company job boards more efficient. On stage, Pichai said more 4.5 million people have used the API, and that in tests, the number of applications increased by 18%, "suggesting the matching is working more efficiently."
Unemployment has been hovering around a record low in recent years, but Pichai said the Google for Jobs announcement is part of Google's broader "commitment to use our products to help people find work."
Lots of tech companies have been making promises around US job creation and investment lately, including Apple, which pledged to invest $1 billion in advanced manufacturing, and Amazon, which pledged to create 100,000 new jobs in the United States. At a White House press conference earlier this week, press secretary Sean Spicer cited commitments like Apple's among the early successes of the Trump administration.