Google Is Using Your Location Data To Predict Holiday Shopping Trends
Google is using 2014 location data to predict which stores will be busiest during the 2015 holiday shopping season.
If you used Google Maps to coordinate a holiday shopping binge last year between Nov. 1 and Dec. 25, there's a reasonable chance Google is using your location data to predict 2015 shopping patterns.
Using anonymized data pulled from Google Maps, the search company is predicting when and where we are most likely to shop during the 21015 holiday season, and some of those predictions are surprising. According to Google, department store traffic this year won't peak on Black Friday, but on Thanksgiving itself -- and at the prime dinner hour, between 6 and 7 p.m.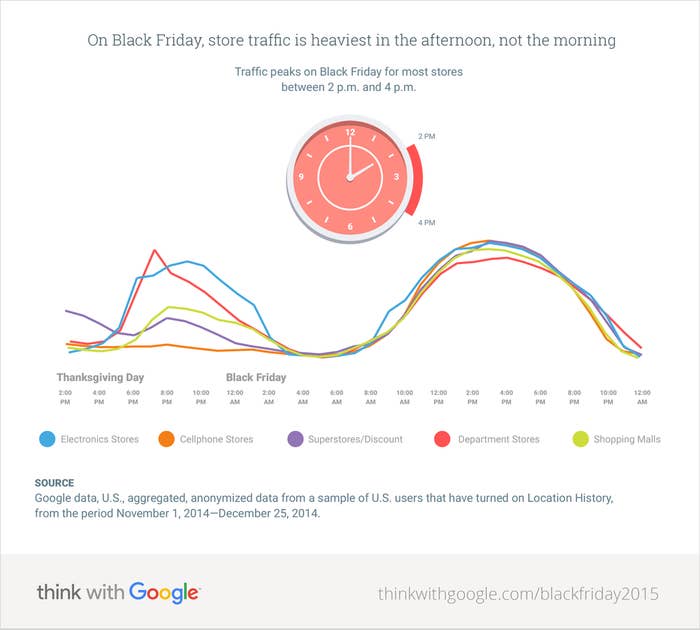 As helpful as that information might be to those looking to minimize the trauma of a Thanksgiving week trip to the mall, it's even more so to retailers looking for a better read on customer behavior. Via its AdWords program, Google already uses anonymized data to tell advertisers about "store visits" — how what customers view online correlates with where they shop in real life. In addition to surfacing information about holiday shopping habits, Google also announced today that it will be offering advertisers more granular "store visits" data, allowing them "to view visits by day, week, or month," among other things.
Google's Location History service is opt in, so the company's collection of anonymized location data shouldn't come as a surprise. That said, this seasonal shopping report hints at the sorts of things Google can and will do with it.