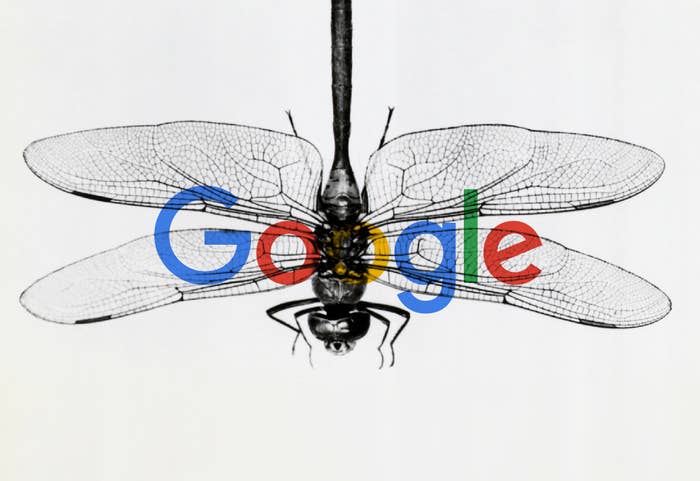 Google leadership addressed Dragonfly, the company's censored search product for Chinese markets that sparked internal furor when many employees first learned about it two weeks ago, for the first time at an all-hands staff meeting today.
But according to a source with knowledge of the meeting, after answering a few questions on the subject, executives present at the meeting changed the topic because reporters were live-tweeting what they were saying.
Since the existence of Dragonfly first came to light in a report from the Intercept, Google employees have been hotly debating both the ethics of building a censored search app and the perceived lack of transparency within the company. Over 1,400 employees signed a petition demanding more insight and control into what projects Google works on.
Google employees vote on what questions to ask executives ahead of their weekly meetings, which are called "TGIF" internally. This week, according to a source with knowledge of the meeting, the majority of those questions focused on Dragonfly. But before the discussion about Dragonfly could get very far, the executives at the meeting shifted gears, and asked the employees who were communicating with reporters to leave the room.
Google CEO Sundar Pichai did address some of the issues around Dragonfly at Thursday's meeting before it was interrupted, saying the product is in early, exploratory stages, and is nowhere near launch. Earlier this month, the Intercept reported that Google's mobile app had been demonstrated for the Chinese government and could launch within six to nine months.
Pichai also said that because of his upbringing in India, where his father worked for a UK-based company, he believes tech firms tend to have a positive impact when they engage around the world.
He also addressed the controversy over the secrecy of the project, according to a Google spokesperson. "I think there are a lot of times when people are in exploratory stages where teams are debating and doing things, so sometimes being fully transparent at that stage can cause issues," Pichai said. "So I do think there are genuine issues teams are grappling with. We are as a company, I think, more committed to transparency than probably any company in the world."

Google cofounder and Alphabet president Sergey Brin told employees that he'd only recently become aware of the Dragonfly project, according to a source with knowledge of the meeting. Brin added that it didn't seem to be a breach of trust, or to be that different from other products the company has considered launching.
According to internal posts on Google forums provided to BuzzFeed News, at least one employee who was uncomfortable working on Dragonfly plans to leave the company later this month, while a second employee who was working on the project requested a transfer to a different team because of his discomfort with the project.