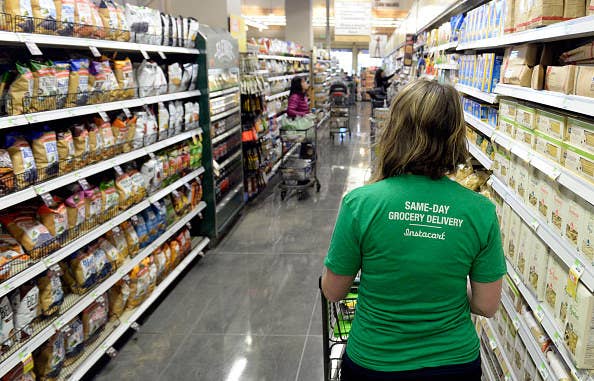 Gig economy workers, by definition, don't get health insurance through their employers. As a result, they are three times more likely than other Americans to be uninsured, an October survey by health care startup Stride Health found. Now, with the planned Republican repeal of the Affordable Care Act threatening to increase health insurance costs by as much as 20% in the next two years, some Uber drivers, Postmates, and Instacart shoppers worry they might not be able to afford health coverage in the near future.

"I am very worried that I will no longer be able to afford treatment and medication for diabetes plus a heart condition. Without these my life is at risk," said Jeff, who drives for Uber. He pointed to the Congressional Budget Office's estimate that 24 million people might become uninsured by 2026 under the new plan, and said he's concerned the bill could mean "less affluent and older people will suffer."
The Affordable Care Act was supposed to give all Americans access to health insurance. But Stride found that, as of last October, 35% of gig workers surveyed still didn't have any coverage. The majority of respondents said health insurance plans were simply too expensive; multiple people who spoke to BuzzFeed News for this story said their premiums under Obamacare were so expensive it was more affordable to pay the penalty for being uninsured.
Many gig workers aren't exactly raking in the cash: In 2016, a BuzzFeed News report found that Uber drivers in Detroit make as little as an average of $8.77 an hour; Instacart workers across the country say their wages are consistently falling. While 45% of uninsured gig workers told Stride that they planned to buy individual health insurance this year, equal numbers said they were undecided or considering going without coverage. For gig workers, higher premiums could put coverage even further out of reach.
Noah Lang founded Stride Health in 2013 to help freelancers and gig workers find easier access to health care. Lang says that for independent workers, the Republican health care plan has both good and bad elements. On the one hand, it retains an Obamacare rule disallowing penalties for pre-existing conditions; on the other hand, the poorest Americans will receive less assistance via tax credits than they did under Obamacare.
"Forget mammograms, etc. — those are out of the question.
Congress is set to vote on the Republican health care bill on Thursday. Despite President Trump's aggressive stumping and last-minute rewrites (including more generous tax credits) from the Republicans, it's unclear whether the repeal and reform bill will get the necessary votes.
Shannon Goodsell, 50, is an Instacart shopper who previously worked in the health care industry. Between her asthma and allergies and her husband's heart condition, she says there's no way the lower tax credits in the latest version of the health care plan could cover their medical costs, which are currently covered by insurance they bought under the Affordable Care Act. "This wouldn't even begin to cover any maintenance for [my husband] or the occasional doctor's appointment for me," she wrote in an email. "I mean forget mammograms, etc. — those are out of the question."
Lang said his concern is that higher costs, lower tax credits, and thinner coverage will mean fewer people buy health insurance. "Folks who need help the most are not going to have as much help as they have today," he said.
Never knowing exactly how much money they're going to earn can make it hard for gig workers to predict how much they can afford to spend on insurance. Gig workers also lack certain protections, like unemployment insurance or worker's compensation, which provide stability if something goes wrong. Because of this, said the National Employment Law Project's Nayantara Mehta, gig workers are "uniquely vulnerable to higher health care costs."
Mehta said the current health care bill's cutbacks to Medicaid — which 14% of uninsured respondents to Stride's survey said they planned to go on in 2017 — and subsidies could be most harmful to gig workers. "These workers … are already in a precarious situation financially, without the benefits that traditional employment brings," Mehta said. "Getting sick and having higher medical costs could be disastrous."
If the Republican health care bill passes, Taylor Dann, an Instacart shopper in Portland who qualifies for Medicaid because of her low income, worries it might not cover her mental health care anymore. "I'm afraid of losing health care to the point that I'm grinding my teeth like crazy all night," she said, "which is another problem, because I'm afraid of losing dental coverage, too."
One of the many on-demand workers who chose to remain uninsured under Obamacare is Susy Pow, a full-time Instacart shopper living in Denver. Pow says it's more cost-effective to pay the tax penalty and hope she doesn't get sick than it is to buy insurance. In January, Pow was playing roller derby when she tore the ligaments in her ankle. X-rays cost $300 out of pocket, and Pow couldn't walk, which meant she couldn't work at all. The situation made Pow realize how precarious her work life is.
Despite this, Pow said, unless the cost of buying health insurance on the individual market goes down under Trump, she doesn't plan to become a customer. "I think you'll see millions of Americans who can't get coverage because they have volatile incomes," she said. "Access will be increasingly difficult."
Other gig workers like Nancy Halseide, who works full-time in Portland as a freelance editor on Fiverr, won't take the risk of going without insurance. So far, her low income has qualified her and her two daughters for free health insurance from the state of Oregon. But as her income fluctuates and health care laws change, Halseide said she "might have to go back into the traditional workforce in order to have insurance through a job."
Brent Messenger, head of community at Fiverr, said if the ACA is repealed and health care costs become more prohibitive, a number of workers could be forced out of the gig economy. "Short-term premium hikes and lapsing coverage penalties will leave many skilled freelancers in a tough spot, choosing between running their own freelance businesses and risking their health coverage, or falling back into more traditional jobs," Messenger said.
"Neither Obamacare, nor Trumpcare, seem capable of truly helping out gig workers. We keep getting the short end of the stick."
Not all gig workers feel that President Trump has made their health care situation worse. In fact, some workers think he's the reason they won't have to pay a penalty this tax season for being uninsured. Trump signed a vaguely worded executive order in January instructing regulators not to enforce the penalty; as a result, some people who didn't buy plans are choosing not to disclose their status, thereby hoping to evade the fee indefinitely.
It's unclear whether that strategy will work in the long run, but it's reinforced some gig workers' sense of optimism around Trump. Ken Davis is a cancer survivor who used to do delivery work for Postmates in New York City. He said that compared with the cost of the plan he bought under Obamacare, it's easier to "pay my doctor bills out of pocket, pay whatever Obamacare penalty there is, and still save $200 a month." Via email, Davis said he's "hoping the new plan is actually easier for people like me."
Republican Congressman Jason Chaffetz remarked earlier this month that Americans who can't afford health care costs might have to forgo their iPhones. But for the workers who rely on their smartphones to book the gigs that pay their bills, volatility and low pay will likely continue to be barriers to actually purchasing health care plans regardless of the outcome of Thursday's vote. Instacart shopper Darlene Low said she couldn't afford health insurance through Obamacare, and doesn't expect to be able to afford it under Trump either.
"Many gig workers do this type of work because they need the flexibility that it offers, due to health concerns or other personal reasons," she said via email. "Neither Obamacare, nor Trumpcare, seem capable of truly helping out gig workers. We keep getting the short end of the stick."