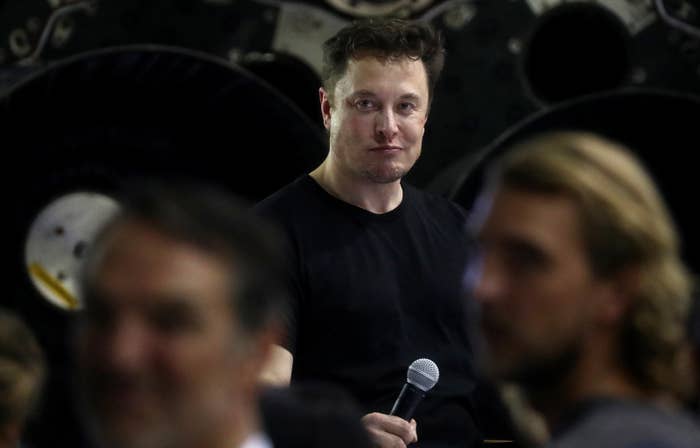 Tesla CEO Elon Musk is being sued by the Securities and Exchange Commission.
"This case involves a series of false and misleading statements made by Elon Musk, the Chief Executive Officer of Tesla, Inc. ('Tesla'), on August 7, 2018, regarding taking Tesla, a publicly traded company, private," the SEC said in its complaint Thursday.
Earlier this month, the Department of Justice began investigating Musk over a tweet in which he claimed he planned to take Tesla private if its stock price reached $420.
Musk claimed at the time that he had "funding secured" for the deal, and at first seemed to be serious about the plan. But later, it appeared Musk did not have the funding guaranteed, and he has since said that he no longer plans to take Tesla private.

"Musk's false and misleading public statements and omissions caused significant confusion and disruption in the market for Tesla's stock and resulting harm to investors," the SEC complaint reads.
According to the complaint, after Musk first tweeted about taking the company private, a Tesla investor texted Tesla's chief of staff, "What's Elon's tweet about? Can't make any sense of it. Would be incredibly disappointing for shareholders that have stuck it out for so long."
Later the same day, a research analyst apparently texted Tesla's head of investor relations, "Had some questions/clarifications Can either of you speak?"
The SEC is asking that Musk be ordered to pay civil penalties and "be prohibited from acting as an officer or director of any issuer that has a class of securities registered."
Musk responded to the suit in an email statement sent via Tesla's press department. "This unjustified action by the SEC leaves me deeply saddened and disappointed," it says. "I have always taken action in the best interests of truth, transparency and investors. Integrity is the most important value in my life and the facts will show I never compromised this in any way."
The company's stock price dropped immediately following the news and continued to fall Thursday afternoon.
On Thursday evening, Tesla and its board of directors offered this statement: "Tesla and the board of directors are fully confident in Elon, his integrity, and his leadership of the company, which has resulted in the most successful US auto company in over a century. Our focus remains on the continued ramp of Model 3 production and delivering for our customers, shareholders and employees."
Tesla has experienced a wave of executive departures over the last year, including its chief accounting officer. Tesla is also currently the subject of a National Labor Relations Board hearing because the company and Musk, in particular, have been accused of illegally interfering with workers' rights to organize.
At a press conference Thursday afternoon, SEC co-directors of enforcement Steven Peikin and Stephanie Avakian commented on their case against Musk.