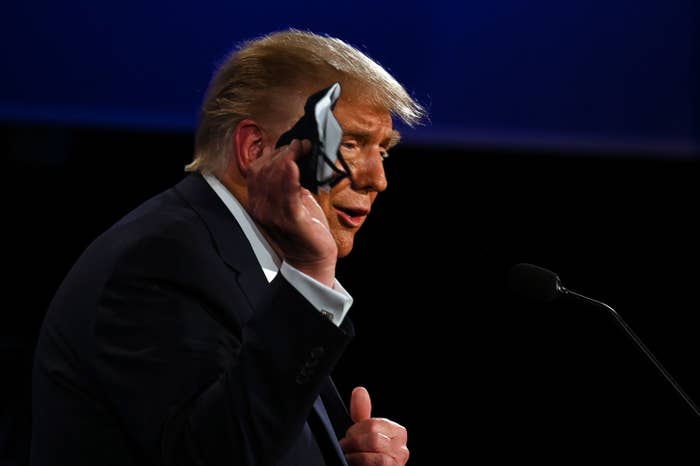 Even as President Donald Trump was installed at Walter Reed Medical Center and the number of positive COVID-19 cases linked to the White House continued to climb, some supporters of the president who've watched him criticize and mock masks in recent months say they still have no plans to wear them.
"His diagnosis does not change my mask opinion," said Misty Watkins, who lives in Dallas and typically doesn't wear a mask in public except when she's picking up her kids at daycare, where it is required.
Watkins said the decision to wear a mask should be a personal choice. "I do not wear one because I do not believe a mask actually protects you," she said. The CDC recommends that people wear masks, which considerable scientific evidence suggests slow the transmission of COVID-19.
Watkins first heard about Trump's diagnosis on Friday morning when she woke up and checked the news. She said she hopes President Trump will receive hydroxychloroquine treatments and make a quick recovery — referring to a drug the president has repeatedly promoted and said he has taken, even as the US Food and Drug Administration deemed the drug ineffective for treating the coronavirus and in some cases caused heart complications. As for whether he should have worn a mask to avoid getting sick or infecting others, Watkins said "it's up to him on if he wants to wear one," noting that "he is in the age bracket that getting [coronavirus] could be more harmful."
President Trump, who has frequently appeared in public without a mask, including at rallies attended by hundreds of people also not wearing masks, tested positive for COVID-19 early Friday morning. First lady Melania Trump also tested positive and is now quarantined.
Several current and former White House aides and two Republican senators, who are confirmed to have been in Trump's presence recently, have since also announced positive COVID-19 test results, including former White House aide Kellyanne Conway; Sens. Mike Lee, and Thom Tillis; top campaign officials Ronna McDaniel and Bill Stepien; and the former governor of New Jersey Chris Christie. All but Stepien and McDaniel attended the Sept. 26 Rose Garden gathering announcing Amy Coney Barrett as Trump's Supreme Court nominee. Vice President Mike Pence, who is first in the line of succession should the president be incapacitated, tested negative, as did Speaker of the House Nancy Pelosi, who is second. The White House has said the president, who is 74 and overweight, is currently working out of Walter Reed hospital out of "an abundance of caution."
Saturday morning, Sean Conley, the president's doctor, told reporters the president was doing "very well" and noted Trump was taking the drug remdesivir. Conley's remarks were contradicted by an anonymous White House aide immediately after the briefing and hours later, the New York Times and the Associated Press named Mark Meadows as the aide who presented the president's health as "very concerning" to reporters.

"When you tell Americans they have to do something, they are going to push back. It's just our nature."
Joshua Willett of San Diego, a car importer and Trump supporter, was unmoved by the cascade of cases, which some are calling a superspreader event perhaps fueled by a lack of masks inside the White House.
It's "stupid to be forced" to wear a mask, said Willett, who only wears one when absolutely necessary, like when he needs to go to the post office.
"If you want to wear one, especially if you're older, that makes sense," he said. "Just don't think myself or my kids need to wear them."
He said he assumes the president will recover and be fine, though he said he was a "little surprised they weren't more strict with who got close to him."
"But at this point," he added, "everyone's gotta get [it] eventually."
Dawn Cornish was among Trump supporters who attended a rally in Latrobe, Pennsylvania, last month, where the president poked fun at his Democratic challenger Joe Biden and Sen. Mitt Romney for publicly wearing masks. Cornish said she wasn't concerned about being infected with the coronavirus, the severity of which she thinks has been overblown.
"I never wear a mask. I feel they're worse for your system than they're good for you," she said. As for the virus, she said "if I'm going to get it, I'm going to get it."
Cornish said she was concerned, however, that Trump's illness might help Biden.
"I guess we'll see how it all plays out," she said.
Like many Americans, Ellen Buchholz first learned of Trump's positive test results Friday morning, in her case on the radio while driving to work. The emergency medical technician said she has long been skeptical of masks and remains so despite the president's positive test results.
"I mean I wear it because it makes other people comfortable," Buchholz, 54, said. "I'm just comfortable not wearing it. I'm not saying it's a made-up thing like everyone is trying to say. I just really don't like wearing the mask."
No one in Buccholz's family or circle of friends have tested positive for COVID-19, but as part of her work as an EMT she has transported at least three coronavirus patients to hospitals including someone a couple of weeks ago, she said.
Richard Tems in Pennsylvania, whose wife is a physician, said he has mixed feelings about wearing a mask, and the president's positive diagnosis hasn't swayed him either way.
"Occasionally," Tems, 72, responded when asked if he wears a mask.
To let Tems tell it, health organizations like the CDC, which now advises mask use, are influenced by political concerns that sometimes trump science.
"The CDC has gone back and forth and waffled," Tems told BuzzFeed News in a phone interview. "And the problem with the CDC, like all government agencies, it's a political organization. There's a large body of people in the CDC, who would very much like to keep the country locked down, just the way our five crazy governors have." Tems later specified Gretchen Whitmer, Andrew Cuomo, J.P. Pritzker, Jay Inslee, and Pennsylvania's Tom Wolf, all governors who've instituted strict rules for combatting the coronavirus.
Amid the heated run-up to the election, mask-wearing has become increasingly politicized in the United States even as the number of coronavirus cases continues to increase in such Republican-leaning places as South Dakota, North Dakota, Wisconsin, and parts of the South. Recently, anti-mask Facebook groups have swelled in size.
Willett, the Trump supporter from San Diego, said he doesn't think Trump's diagnosis will change the minds of his fellow mask opponents either.
"When you tell Americans they have to do something, they are going to push back," he said. "It's just our nature."