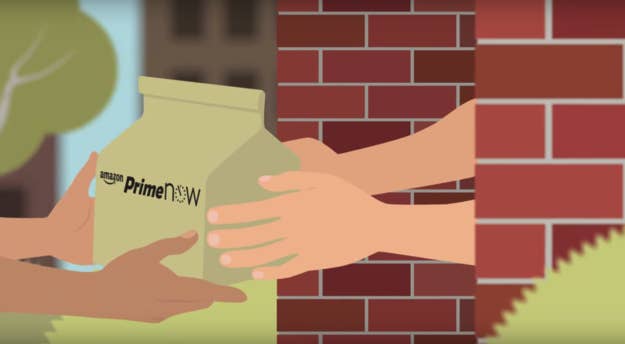 Four months after a group of Amazon Prime Now delivery drivers filed suit against the company, workers at one of the retailer's Southern California shipping subcontractors have been reclassified as employees.
The lawsuit is ongoing, and the four workers who filed it no longer drive for Amazon. But the contractor they worked for — Scoobeez, a "real-time deliveries" company headquartered in L.A. — has since reclassified Amazon Prime Now delivery drivers throughout California as employees. Two Scoobeez workers confirmed to BuzzFeed News that they had been transitioned from 1099 to W-2 status, though they did not confirm the date on which the shift happened.
With Prime Now, Amazon is competing with UberRUSH, Google Express, Postmates, and other on-demand services that have been at the center of a recent spate of worker-misclassification lawsuits. A notable few on-demand companies, including Instacart and Shyp, have side-stepped further litigation by reclassifying their contractors as W-2 employees, who get more benefits and protections, but at greater cost to their employer.
The attorney in this suit, Beth Ross, was told by Scoobeez's counsel that Amazon pushed the subcontractor to reclassify the workers. "They were facing massive financial liability if they continued to do what they were doing," Ross said at a symposium at Berkeley Law School on Friday. In June, Ross won a $228 million settlement from FedEx in a misclassification case.
"Amazon went to [Scoobeez] and said, 'classify them as employees or you're fired,'" she said. Ross estimated that "maybe a couple hundred" Scoobeez workers had been impacted by the transition, which she said took place in late January or early February.
The most high-profile of the techie 1099 lawsuits, Uber's, will be decided at trial this June. In the meantime, investors in Silicon Valley are keeping an eye on the outcomes of other cases. The change for some Prime Now drivers suggests that even behemoths like Amazon are interested in avoiding the legal costs and bad press associated with misclassification fights.
Reached for comment, an Amazon spokesperson declined to provide one, citing the company's "longstanding practice of not commenting on discussions with suppliers." The company is facing a similar lawsuit from Prime Now drivers in Nevada; the contractor there is Courier Logistics Services. Scoobeez declined multiple requests for comment.
Ross filed the class action lawsuit just two weeks after Amazon launched its Prime Now offering, which she noted meant the damages the workers would receive would be relatively small. "I'm not doing this case for the money," Ross said.