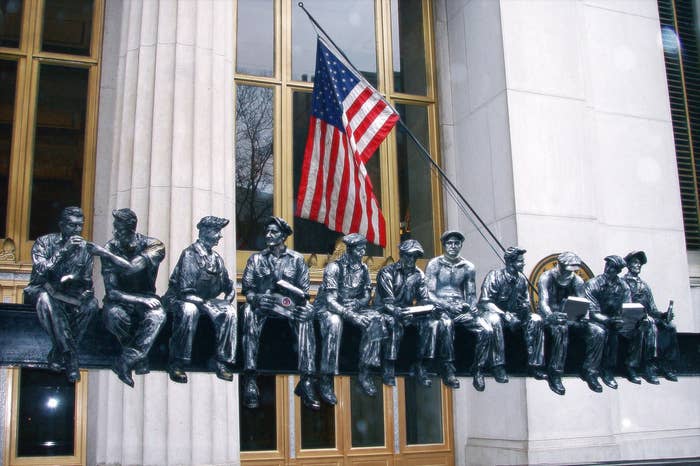 An open letter was published today — on Medium, of course — that calling for a portable benefits system for workers. The letter was signed by a coalition of tech founders and CEOs, venture capitalists and funders, and non-profit and foundation executives, as well as a few representatives from the alternative labor movement.
The document argues that, in the face of a workforce that is increasingly likely to include self-employed individuals working for multiple entities, the U.S. needs to fundamentally reimagine how benefits — "such as workers compensation, unemployment insurance, paid time off, retirement savings, and training" — are distributed. Traditionally, it has been the responsibility of an employer to provide these programs. But today, the letter argues, considering the way digital platforms have fragmented the labor force, that system no longer makes the most sense.
The letter is supposed to demonstrate a sense of solidarity around the issue of benefits for gig workers, an issue that unites such strange bedfellows as labor organizations and San Francisco tech startups. The letter itself is relatively toothless; it doesn't make specific policy recommendations, and so far it hasn't been officially endorsed by any regulators. It does, however, confirm that issues of workers' rights have a broad momentum right now. What the letter doesn't address — and what may eventually divide those who signed it — is whether actually providing benefits to these workers ultimately falls to labor organizers or private entities.
Many of the companies that signed this document are the very same companies responsible for the fragmentation of the workforce in the first place. The founders of Lyft, which hires independent contractors to drive cars, signed it. So did the CEO of Handy, which dispatches contract workers to clean houses. The CEO of Instacart, which relies on a team of drivers and shoppers to deliver groceries to customers, is also on there. Partners from the venture capital firms that fund these companies (or those like them) — Homebrew, Greylock Partners, Union Square Ventures and Second Avenue Partners — also signed on.
And many, in fact, are being sued by workers who say they were misclassified as contractors and are owed compensation for the pay and benefits they thereby missed out on. (Note that this is not true of all signatories; the CEO of Etsy also signed, for example, and while that company does profit off the work of self-employed crafters, it's not currently being sued by any.)
According to this letter, the founders of Handy, Lyft and Instacart believe that "everyone, regardless of employment classification, should have access to the option of an affordable safety net that supports them." But that safety net is something these companies in particular have denied workers in the past.
Shannon Liss-Riordan, the Boston based lawyer who is suing Uber, Lyft, Handy, and a number of other companies over this very issue, called the call for portable benefits for all workers an "admirable and important goal" in an email to BuzzFeed News. "However, this goal should not detract from employers' obligations to their employees under our current set of laws," she wrote, "or provide an excuse for companies to evade current laws based on the hope that one day a new social safety net will be created."
A number of future-of-work and economics-oriented foundations, including New America, the Institute for the Future, the Aspen Institute and the Roosevelt Institute, also signed the letter. Representatives from labor include the National Guestworker Alliance, SEIU leadership, and the National Domestic Workers Alliance, but none, notably, of the major traditional labor unions.
This is not the first time the idea of a portable benefits idea has been floated. In June, Senator Mark Warner suggested such a model might have legs, calling it an hour bank, a fund that individuals and their multiple employers could contribute to. In September, Warner told BuzzFeed News that he was interested in organizing a coalition of tech companies around such an idea. But David Rolf, president of Seattle's SEIU local 775 and president of the nonprofit Workers' Lab, told BuzzFeed News the coalition "didn't ask elected officials to sign on." In an email, a spokesperson for Warner's office said he "welcomes the consensus" the letter represents, noting that the senator has met with "virtually every signatory."
But to Rolf's mind, the fastest, most efficacious thing that could happen is a city government mandating portable benefits, and then companies or nonprofits or unions stepping in and starting to build the infrastructure for it. "Any city government in the country could take the first steps tomorrow," Rolf said. "They could do it right now."
Otherwise, next steps for this coalition are a little unclear. A spokesperson for Etsy said the group plans to hold an event in Washington D.C. in December. In October, President Obama hosted a summit on "Worker Voice" at the White house; both traditional labor groups and newer, alternative labor organizations, including some of those who signed this letter, were represented.
If local governments did issue a mandate requiring that benefits be made available to gig workers, there's still a question of what platforms would facilitate that process. Some of the coalition members, including Peers and the Freelancers Union, currently offer benefits packages to independent contractors. The Freelancers Union, a nonprofit, has sold insurance to its members in various forms for fifteen years, said founder Sara Horowitz. Peers, a venture backed company, is preparing to launch a portable benefits product.
Both organizations could stand to see membership increase if government pursued policy supporting flexible, universal benefits. Horowitz pointed out that, while all the signatories of the letter agree that it's high time to discuss restructuring the American social insurance system, it's unlikely that they all agree on exactly how that should be accomplished. Liss-Riordan predicted the same future debate.
"The issues addressed here also raise an important question: who should be responsible for creating, and paying for, this new safety net?" she said. "Government (meaning taxpayers)? Or the companies that are now profiting off of employing workers who do not have these basic protections?"
For now, this group of private and public interests is well aligned — everyone wants what's best for workers, to prepare for the eventuality of an increasingly dispersed workforce. But agreeing to discuss the issue is only the beginning of a much larger process, one that will eventually pit private interests against a labor movement struggling to define itself in the digital age.