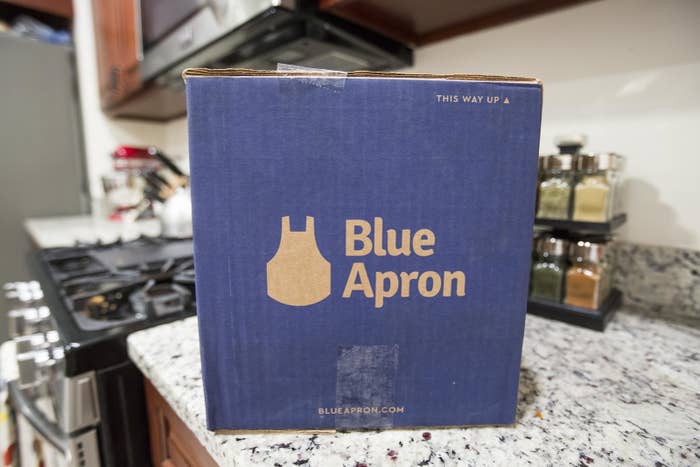 Blue Apron employees have filed a class-action lawsuit against the company, alleging that they weren't paid overtime, or for meal breaks, among other labor law violations. They are seeking back pay for missed wages and a trial by jury.
The suit, filed in October by former Blue Apron employee Rashida Fairley on behalf of all hourly employees, was moved to a federal court in California this week. Fairley alleges that Blue Apron routinely forced hourly employees to clock out before their meal break, effectively cheating them out of thirty minutes of pay per shift, a practice known in the world of labor law as "time shaving."
According to the lawsuit, Blue Apron claims on its website that "we win together, not alone; we operate with integrity."
"If Blue Apron truly does operate with integrity and is accountable," the lawsuit reads, "then it will pay its employees all of their hard-earned wages."
Blue Apron denied all of Fairley's claims in its initial response in court. In an email statement, a Blue Apron spokesperson said, "We cannot comment on pending litigation, though we intend to vigorously defend ourselves." Plaintiff's lawyers didn't respond to repeated requests for comment on the suit.
According to court documents filed by Blue Apron, the number of employees represented in the suit, which covers the period between 2014 and 2018, is at least 2,805 and could cost the company over $5 million.
Blue Apron employs thousands of low-wage workers in food processing plants in New Jersey, Texas, and California, where this suit was filed. State regulators fined its Richmond, California, facility for multiple health and safety violations during the time to which this lawsuit pertains. The UC Berkeley Labor Center recently published a report on working conditions in a meal-kit factory in California, which highlights long hours, low wages, uncomfortable working conditions, and safety accidents.
Blue Apron recently laid off 4% of its staff ahead of its quarterly earnings report in hopes of saving $16 million and making a profit in 2019.
The company is also being sued by an Iowa-based meat processing company, which claims the meal-kit company reneged on a $26 million contract to purchase free-range chickens, necessitating mass layoffs and the closure of a plant in Arkansas.
Blue Apron went public in 2017 with a share price of $10; it is currently trading at $1.09.