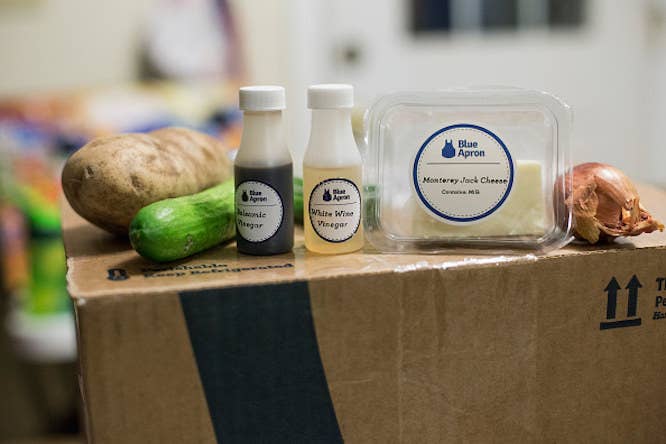 Blue Apron, the company that ships meal kits to customers' homes, filed for an IPO on Thursday.
According to the filing, the company brought in $77.8 million in 2014, $340.8 million in 2015, and $795.4 million in 2016. In the first three months of this year, the company has already generated $244.8 million in net revenue. For context, the restaurant chain White Castle took in about $691.3 million in sales in US sales, according to 2015 data from QSR magazine.
But as the company grows, it loses more money each year — $30.8 million in 2014, then $47 million in 2015, and $54.9 million in 2016.
The rate of growth the company has experienced in recent years is impressive, but its effort to rapidly scale had consequences for some of the workers in Blue Apron's food processing facilities, in addition to financial losses. At the end of last year, Blue Apron put its plans for an IPO on hold, Bloomberg reported at the time.
In the filing, Blue Apron commented on its relationship with workers. "As of April 30, 2017, we had 5,137 full-time employees, of which more than 85% were engaged in fulfillment operations. None of our employees is represented by a labor union or covered by a collective bargaining agreement. We have not experienced any work stoppages, and we consider our relations with our employees to be good."

Recently, a California food workers union introduced legislation in hopes of regulating workplace safety at companies like Blue Apron that package unprocessed food.

Blue Apron's filing also includes interesting information about how the company thinks about, and markets, itself. In 2016, 18% of the company's expenses went to marketing.
According to the chart below included in the filing, a little more than a third of Blue Apron's customers are between ages 25 and 34, aka millennials. About a quarter are between 35 and 44.

Despite a boom in smartphone usage and online shopping in the US and across the world, few consumer-facing internet companies have gone public in recent years, with the exception of Snapchat's parent company in February. Tech startups like Uber and Airbnb have been able to raise hundreds of millions — in many cases, billions — of dollars in venture capital, reducing the need to seek cash from public markets.

Blue Apron, which is as much a food and logistics company as a technology company, stands out in contrast to that trend.

Venessa Wong contributed reporting to this story.