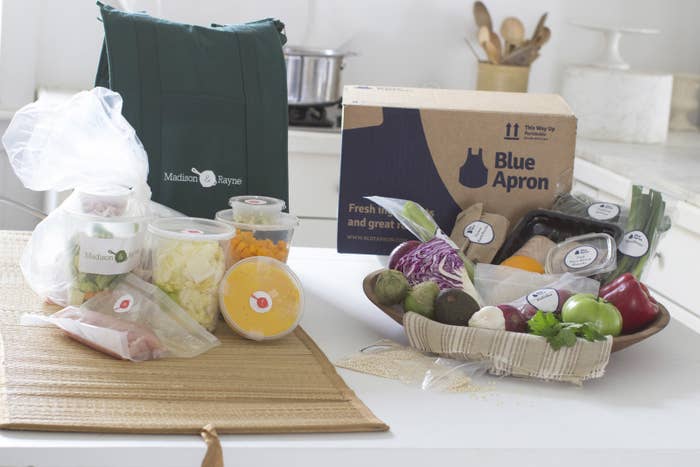 Blue Apron got approval to operate a food processing facility from the California Department of Public Health for the first time last month, despite having been packing and shipping boxes of fresh produce and raw fish, poultry, and meat in the state for over three years.

The company's Oct. 5 registration with the state health department, which was confirmed by both the agency and Blue Apron, immediately followed the Oct. 2 publication of an investigation by BuzzFeed News into the working conditions of the company's Richmond facility.
For its part, Blue Apron admits no fault, saying that its facilities have been appropriately regulated from the beginning, and that as soon as it was made aware it needed to register with the state of California, it did so. The state, meanwhile, says that while Blue Apron was immediately cooperative and is now in compliance, the onus was on the company — not regulators — to make sure it had the appropriate permits. Additionally, the Environmental Health Department of the Contra Costa County Health Services says it referred Blue Apron to the California Department of Public Health Food and Drug Branch more than once, but Blue Apron never contacted or registered with the state.
In a statement to BuzzFeed News, Blue Apron wrote that "we have always proactively sought to ensure that we maintain the necessary permits, have passed all facility inspections we've ever been part of, and have cooperated with all directives from regulatory authorities having jurisdiction over us."
A spokesperson from the the state emphasized that Blue Apron did not have "any significant violations or sanitation issues."
Since March 2013, Blue Apron has held a permit to operate from Contra Costa County Health Services; its most recent inspection by that agency, which it passed, was in January 2016. However, Contra Costa County Environmental Health Director Marilyn Underwood told BuzzFeed News that the scope of operations at Blue Apron's Richmond facility — which ships boxes of fresh food all over the country — exceeded the standards for a retail food establishment regulated by the county, and, as such, it should have been registered with the California Department of Public Health.
Underwood said her department attempted to refer Blue Apron to the California Department of Public Health once in January 2016 and again in July 2016, before finally making an official complaint to the state regarding Blue Apron in September 2016, following BuzzFeed News reporting.
Blue Apron denied that Contra Costa County ever suggested it register its facility with the state. The company maintained that not only was it unaware of any need to register with the state agency, but it was told in a 2013 phone call with the California Department of Public Health that registering with county officials was sufficient.
Underwood put an end to this confusion in September 2016 when, having learned Blue Apron still had not applied for a Processed Food Registration from the state, she filed an official complaint to the state Food and Drug Branch. "We errantly issued [Blue Apron] a permit about a year ago," Underwood wrote in an email dated Sept. 21, 2016, which she provided to BuzzFeed News. "When our inspector went to the facility in January for a routine inspection, she discovered that it is not a retail facility and more appropriately needs to go to you as it packages raw ingredients into packages that are delivered to the client they get from an order online."
Blue Apron and the California Department of Public Health both said they were not contacted by Contra Costa County regarding this issue prior to September 2016.
However, a complaint inspection report provided to BuzzFeed News by Contra Costa County Health Services indicates that a health inspector did attempt to contact Blue Apron in July 2016, after a Blue Apron customer complained about receiving a box of food in which chicken blood had allegedly leaked onto produce. In her report, health inspector Priscilla Ruiz said she contacted the California Department of Public Health to inquire about Blue Apron and, after learning that Blue Apron had not received a Processed Food Registration from the state, tried to contact Blue Apron COO Matt Wadiak by phone "to talk about registering for [Processed Food Registration] license." Wadiak did not answer, and, according to her report, Ruiz left a message.
In a statement, Blue Apron said that "Matt Wadiak has no record of a voicemail from Priscilla Ruiz in July 2016" and that "no record exists of Contra Costa County ever informing Blue Apron that the company needed to acquire a Processed Food Registration license from CDPH."
Blue Apron said Ruiz's suggestion that the company contact the state likely stemmed from a "unique and novel business model that does not squarely fit within existing regulatory classifications."
Blue Apron says it did reach out to CDPH regarding these questions of regulatory jurisdiction when it opened its facility in California in 2013, and was advised to register with Contra Costa County. However, the state says, while it's possible "a company representative could have called CDPH and spoke with one of our staff members," it has no record of a 2013 meeting with Blue Apron. CDPH says its first contact with Blue Apron followed Marilyn Underwood's official "complaint of an illegal wholesale food operation" on Sept. 21, 2016.
A spokesperson for CDPH confirmed that it is a company's responsibility to locate and register with the appropriate regulatory body, and that "as [Blue Apron] grew, it would have been its responsibility to follow up with regulatory authorities and verify that it was still operating in conformance with the rules."
CDPH also said it found no "evidence of intentional wrongdoing" on Blue Apron's part. In addition to passing a preregistration inspection, companies seeking a Processed Food Registration must also be in compliance with federal Good Manufacturing Practice regulations and submit a fee of between $350 and $1,790 per year, depending on its size and number of employees. The state says Blue Apron is currently in good standing.