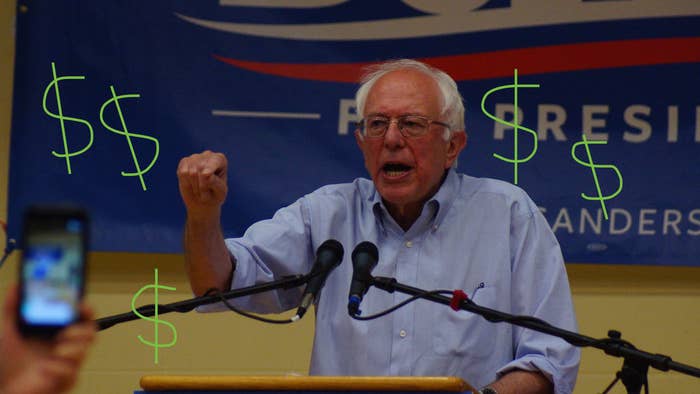 Tech industry workers are feeling the Bern, it would seem.
Recent FEC filings, analysis of which was made available to BuzzFeed News by "non-partisan political technology startup" Crowdpac, show the Vermont senator having outraised Hillary Clinton more than two to one among tech industry donors since the start of the election cycle.
Since December 2015, Sanders has regularly raised a greater amount per month than Clinton from tech firm employees, with the biggest spikes in late January and early February: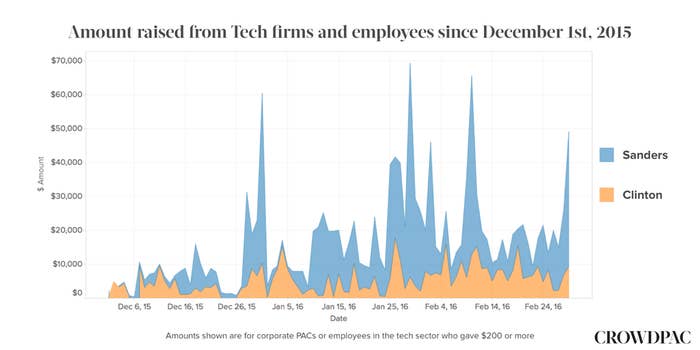 Sanders also beats Clinton in terms of number of tech donors (specifically, tech-affiliated corporate PACs and individuals who gave more than $200):
In fact, the top five employers of Sanders donors are all tech companies. At the top are Google (whose employees gave Sanders nearly $345,000 in the 2016 election cycle) and Apple (more than $127,000), followed by Microsoft, IBM and Amazon.
Many top-dollar Sanders donors in tech live in California, which won't hold its primary election until June 7. A poll published by the L.A. Times found that more than half of Sanders supporters in the Golden State believe Hillary Clinton will be the next president.