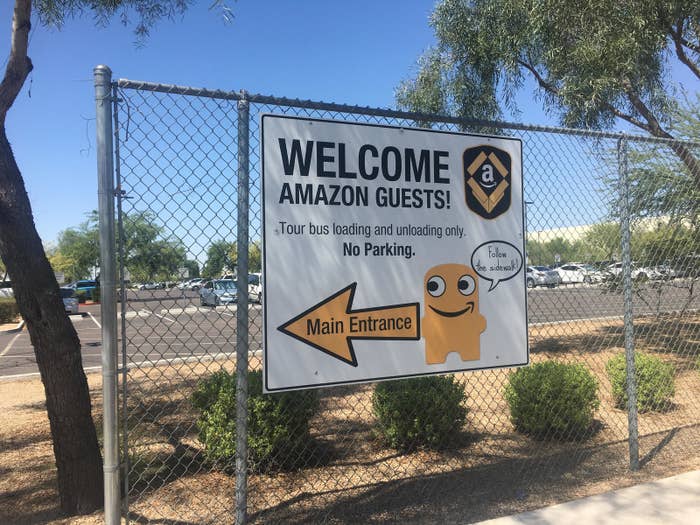 Claims that Amazon fulfillment center workers are underpaid and overworked to the point of physical exhaustion are once again dominating headlines. After Sen. Bernie Sanders highlighted claims that many Amazon workers rely on food stamps to survive, he introduced a corporate tax hike bill called the BEZOS Act in Congress last week.

Amazon hit back by lambasting Sanders in a blog post for making "inaccurate and misleading accusations." It also encouraged Sanders to take a tour of one of its facilities. While Sanders hasn't yet managed to fit a tour into his schedule, BuzzFeed News toured Amazon's PHX6 facility located in Phoenix last week.
Unsurprisingly, the tour was relatively sanitized — making recordings or taking notes was prohibited, guests had to stick to a planned route, three tour guides minded the group at all times, and no warehouse workers spoke with guests.
Despite the 92-degree heat outside, Amazon's 1.2 million-square-foot facility in Phoenix is kept pleasantly cool by what tour guide Lisa Guinn described as a high-tech climate control system that constantly monitors the building's temperature. Eight miles of conveyor belts crisscross the enormous facility, some of them twirling from ceiling to floor in spiral chutes that look like playground slides. Each belt carries a constant stream of yellow bins that are either empty and ready to be filled with products, or full and headed to be packed into cardboard boxes. On walls, T-shirts, and above the main entrance doors are the words "Work hard. Have fun. Make history."
Public tours are part of a new information war that Amazon has started waging after years of reports that characterize its working conditions as brutal and grueling.
The Phoenix facility employs 2,500 people who spend their days unpacking arrivals from various suppliers, placing them on the appropriate shelves, picking items off shelves as needed, dropping them in bins, and then repackaging them to be sent out to customers. A computer manages the process: Similar to how Uber routes drivers, an algorithm determines which items are closest to which worker, and instructs that worker to retrieve the item, scan it, and place it in a yellow bin. Signs hanging among the fluorescently lit shelves, which resemble library stacks if the stacks went on so far that you couldn't see the opposite end, tell workers they have 10 minutes to pick up their first item when they start their shift. After that, the algorithm determines their path, and how much time they have to move through it.
Tour attendees in Phoenix were mostly interested in a behind-the-scenes look at how the magic happens. Their questions tended to focus more on things like how much Amazon-branded tape the facility goes through than on what it's actually like to work there, which no one but me asked about.

Guinn's answers about working conditions echoed what Amazon's corporate team has said in blog posts. Through the Career Choice program, she said, warehouse associates can receive free training, even for positions that would require quitting their jobs at Amazon. Employee safety is a top priority, and Amazon uses the "kaizen" method to collect worker input on how to improve the company's systems and processes. In response to a question from BuzzFeed News, she said the Phoenix facility has three break rooms, and employees have plenty of time to go to the bathroom.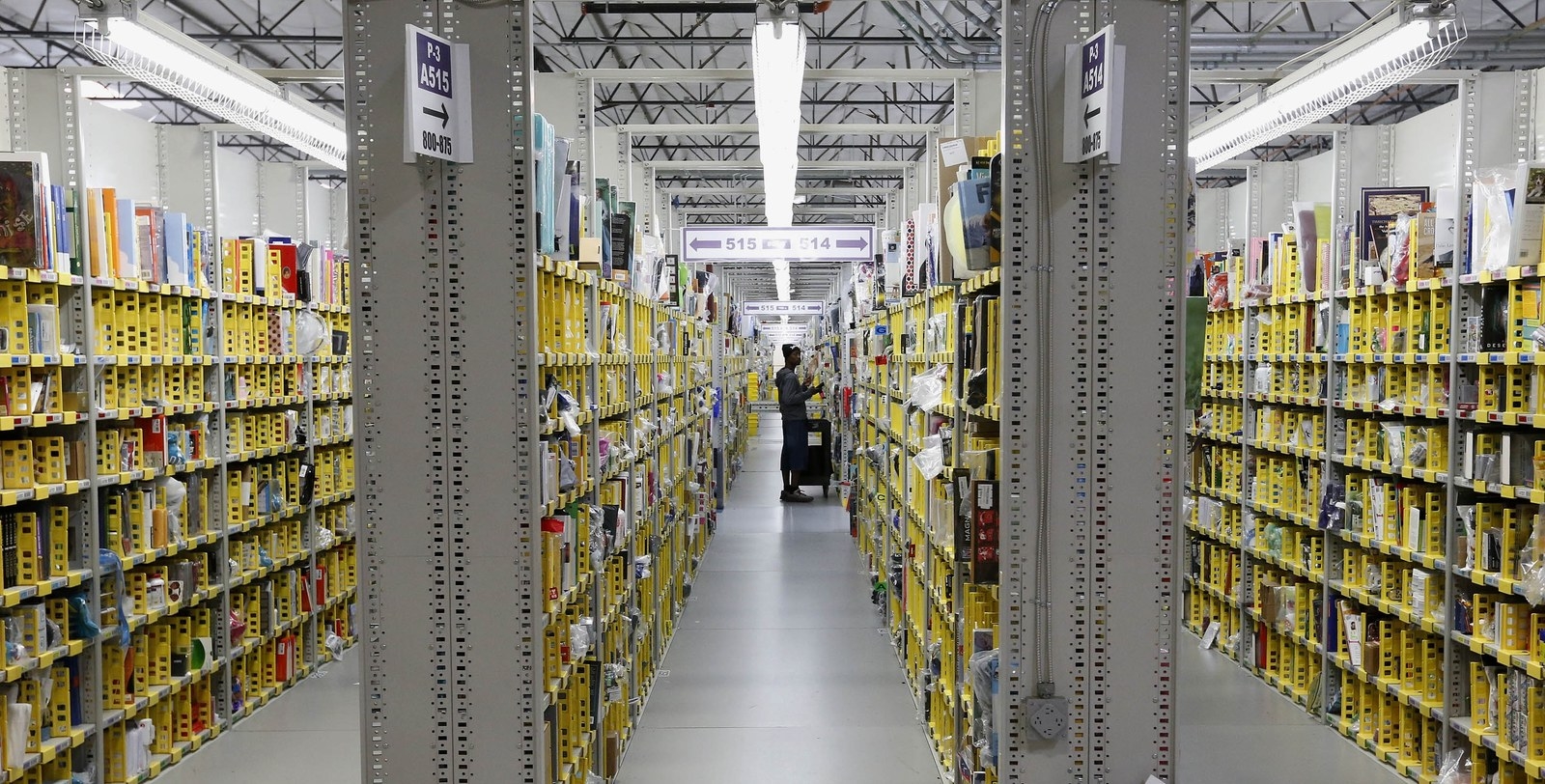 These public tours are part of a new information war that Amazon has started waging after years of reports that characterize its working conditions as brutal and grueling. While Amazon isn't exactly winning that war, it has succeeded in establishing an alternate narrative. Is working at Amazon a hellish, dangerous, physically grueling job, with low wages to boot? Or is it actually tough but rewarding work with generous benefits, plentiful job training, and an opportunity to rise through the ranks of the second most valuable company in the United States?
The answer, of course, depends on whom you ask.
According to data collected by the New Food Economy, an investigative news nonprofit, 1 in 3 Amazon employees in Arizona is currently collecting SNAP benefits, or food stamps. And while some workers appreciate the free meals on holidays, ice pops on hot days, and Red Bull on long shifts, anonymous warehouse workers on Glassdoor and Google have serious complaints.

"They will work your butt off," wrote one Phoenix fulfillment center Google reviewer. "The bell goes off for break and you have 15 minutes to run across the building sit down for 5 minutes and run back to where you were." Another employee made a similar claim, writing, "They don't care about their employees. They won't even let you sit down while working a ten hour shift." Even one worker who described the job as "GREAT!" said it left her with "really achy joints."
On Glassdoor, associates in Phoenix described the job as fast-paced and physically demanding, with short breaks and low pay for grueling conditions. (Amazon said it's committed to creating a "positive and safe working environment" and that it regularly asks workers "how we can make things even better.")
"Standard pay for warehouse in this area is 15–16 (starting pay) we start at 12 and max out at 15.50," wrote one former employee on Glassdoor. "Isnt the CEO the richest man in the world? Can't he afford to start people off at a living wage for fulltime employees?"
Amazon has clumsily fought back against comments like these by paying some warehouse workers, called "ambassadors," to share gushingly positive comments about their jobs on social media.
In a statement to BuzzFeed News, Amazon says its median pay rate is competitive with local retailers in Arizona. "We employ thousands of people in Arizona who chose part time or seasonal roles. The figures [in the reports you mention] are therefore misleading because they include people who only worked for Amazon for a short period of time and/or who chose to work part-time — both of these groups would almost certainly qualify for assistance if Amazon was their only job during the year," the company said in a written statement.
Stacy Mitchell, codirector of the Institute for Local Self-Reliance, which has investigated how Amazon fulfillment centers impact communities, told BuzzFeed News the discrepancy between conflicting claims about what it's like to work at Amazon can in part be explained by the large number of temporary and contract workers, who don't have access to benefits like health care or parental leave.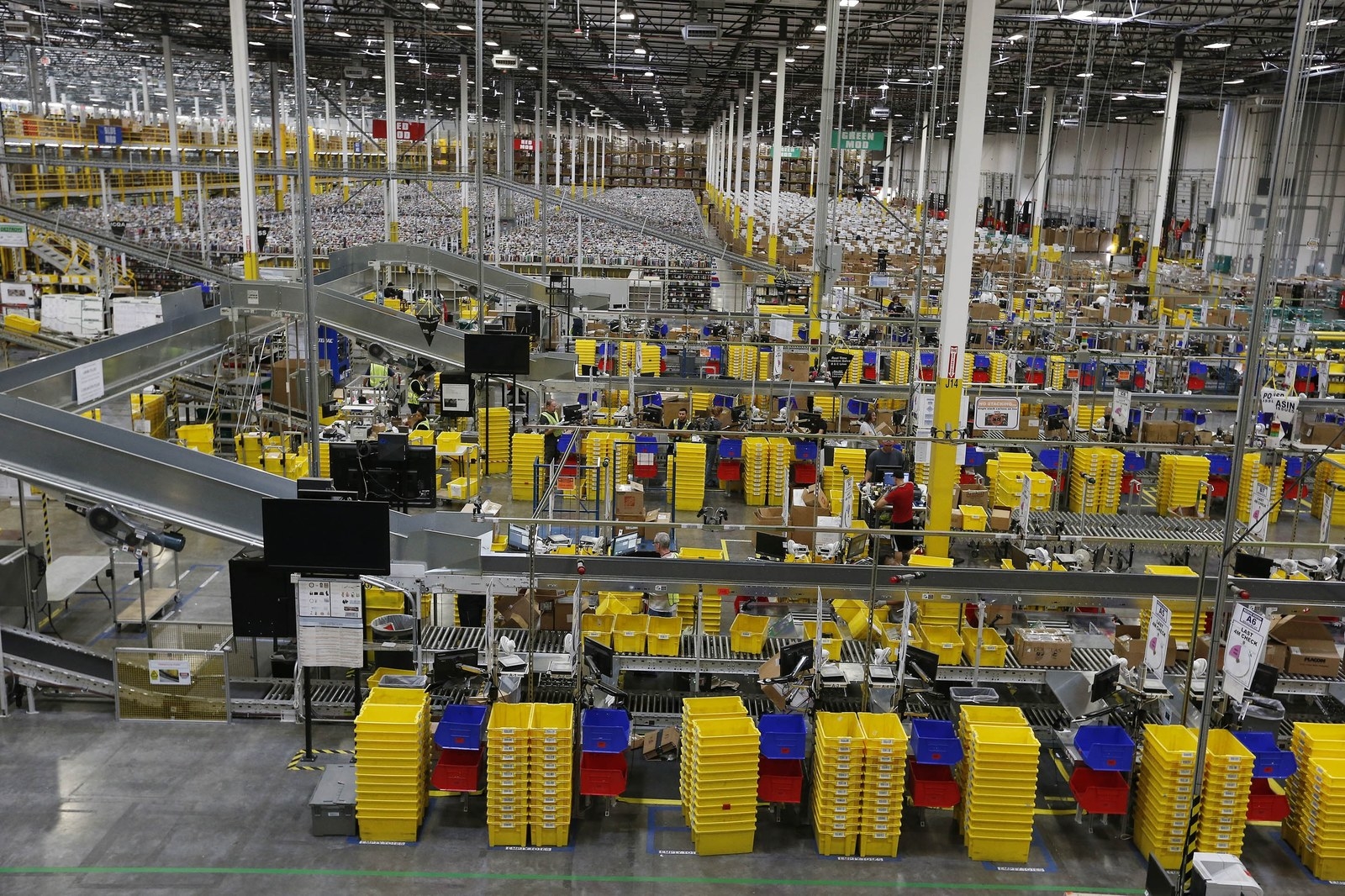 "The thing that stands out to me is that this is a company that has a turnover of around 50% a year, and that's for direct hires … The estimate of how many people are temporary employees is somewhere around 40%," she said.

So while some of Amazon's full-time employees might feel compelled to defend Amazon, many of the temps and contractors who cycle through Amazon's fulfillment centers are outspoken about the grueling nature of the job.
"Unions are ... coming to the conclusion that they really can't afford to ignore Amazon," said John Logan, a labor studies professor at San Francisco State University. "Amazon is becoming such a significant player in so many different parts of the economy — in the grocery sector, in home delivery, and commerce. I think in the future you will see more of a sustained effort, not just from unions, but with all of these other different community organizations."
As the labor movement continues to target Amazon, Logan says he expects company's response in the public sphere to be swift and aggressive. He said he knows of "several other journalists or labor commentators who have published critical pieces on Amazon who have gotten either a very quick response from the company, or ... [were] contacted by lawyers demanding a retraction."
"[Amazon] introduces the subset of facts it wants to highlight, but it hasn't really effectively answered the specific criticisms around abusive labor practices, the large number of employees who are enrolled in SNAP, or the effect it has on wages in the sector as a whole."
But Logan said that if Amazon wants to make a convincing case that it's a good employer, it has to address the specific claims against it, rather than making broad statements and opaque statistics.

"The company introduces the subset of facts it wants to highlight," he said. "But it hasn't really effectively answered the specific criticisms around abusive labor practices, the large number of employees who are enrolled in SNAP, or the effect it has on wages in the sector as a whole."
Sanders' office says he plans to visit an Amazon fulfillment center in Chester, Virginia, later this month; according to his office, Amazon was unable to accommodate his request to visit a warehouse in Kenosha, Wisconsin, earlier this summer.
"We are glad Senator Sanders has decided to visit one of our fulfillment centers and see for himself — something over 100 other members of Congress have already done," Amazon told BuzzFeed News in a written statement.
Amazon accuses Sanders of cherry-picking negative employee experiences that hew to his political and economic narrative. The company says it's "proud" to have created 130,000 new jobs in the last year, and that is a significant number. But in its flurry to prove that those jobs aren't as bad as some people say, Amazon is ignoring its critics' larger point: A company worth $1 trillion could afford to pay workers more.
"On the one hand, Amazon has added a lot of jobs. But there's a debate over whether or not Amazon jobs are actually good jobs by the standards of that sector," said Logan. "I think this debate about the impact of Amazon ... is not going to go away, and is likely to intensify. We'll hear a lot more critical voices in the future."