As Employees Protest Government Contracts, Tech Companies Deal With Security Concerns
As tech companies face protests over border security contracts with immigration agencies, corporations have been forced to address security threats both internal and external.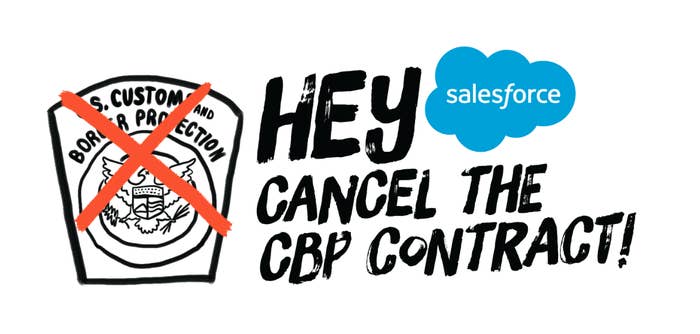 The day before activists planned to protest Salesforce's contract with US Customs and Border Protection (CBP) outside the company's new San Francisco headquarters Monday, its security team sent an all-staff email warning employees to protect their badges and not to talk to the media.

The email, obtained by BuzzFeed News, also promoted a "new See Something / Say Something app," an internal tool for employees to report incidents to Salesforce's global operations team. Salesforce says the app was initially released internally in April.
Examples of such incidents, shared on an internal Salesforce forum post about the new app, include "suspicious person/package/vehicle," "weather or natural events," and "Event/Incident impacting Salesforce property," including "protest" or "water main break."
A spokesperson for Salesforce said the company was "aware there is a group protesting and we respect the right to peaceful protest."
A group of a few dozen protesters, which included both Salesforce employees and local activist groups, gathered outside Salesforce Tower on Monday morning in opposition to the company's work with the CBP. The CBP uses Salesforce's Community Cloud technology to "increase core human resources information technology capabilities for current and prospective employees, while at the same time, driving efficiencies throughout the process."
Last month, over 650 Salesforce employees signed a petition asking the company to terminate its contract with CBP because they are opposed to the technology they build at work "being used to aid practices so irreconcilable to our values."

Salesforce has so far declined to cancel its contract with CBP.
The conflict at Salesforce came after employees of two other tech companies — Microsoft and Amazon — wrote similar letters of opposition to their CEOs over contracts with immigration agencies that were assisting with the Trump administration's "zero tolerance" border policy that involved separating children of undocumented immigrants from their families.
Salesforce CEO Marc Benioff has said on Twitter that he "stands against separating children from their parents & implore the govt to enact humane immigration legislation that keeps families together." In a tweet, the company said that "while U.S. Customs & Border Protection is a customer, Salesforce is not working with CBP regarding the separation of families at the border."
As contracts with government agencies continue to foment unrest among tech workers, corporations have been forced to address security threats both internal and external.
In its email to employees before Monday's protest, Salesforce told employees it would "increase our security presence in each of our downtown campuses" for the day. Security also instructed employees to "not wear your badge outside of our offices" and to "be mindful of preventing badge-surfing," or people attempting to enter corporate buildings without credentials.
Both Microsoft and Amazon have been the targets of public protests since their respective contracts with Immigration and Customs Enforcement (ICE) became public.
On June 28, a group of protesters that allegedly included Microsoft employees handed out flyers to other employees on campus in Seattle, and held signs that said "MS workers say no to ICE" and "Stop Serving Trump!" Microsoft didn't immediately respond to a request for comment about its security response to this and other actions.
Activists have also targeted Amazon for its involvement with ICE. On Tuesday, a group of activists called Movimiento Cosecha that are opposed to ICE's tactics claimed to have "shut down" an Amazon Books store in New York City. NYPD was called to the scene, according to an employee who spoke with BuzzFeed News, but no arrests were made.
An employee of the Amazon Books store declined to comment on the incident, except to say the store is currently open for business. Amazon's corporate office didn't return a request for comment.

Google has also experienced employee unrest in recent weeks. A group of a dozen employees quit their jobs in protest of the company's drone technology contract with the Pentagon; two weeks later, the company promised not to renew its deal to work on the program, known as Project Maven.