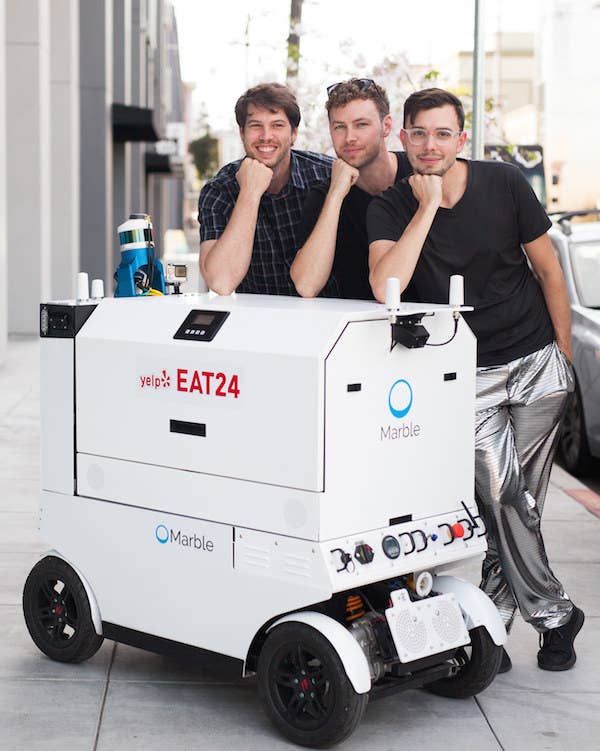 Yelp is getting into food delivery, and it's using robots to do it.

It's long been possible to order takeout through Eat24, which is owned by Yelp, but until recently, restaurants that accepted orders through Eat24 mostly did the deliveries themselves.
Now, Eat24 wants to handle some deliveries itself — only with robots instead of people.
Starting in San Francisco this week, some hungry customers ordering from specific restaurants on Eat24 will be asked if they're okay with getting their food delivered by robot. If they say yes, the robot will head to the restaurant from either its home base in a garage, or a convenient nearby spot where it's been inconspicuously waiting for instructions. Then an employee will come outside, open the robot with a four-digit code, and insert the order into a warming bag inside. When the robot is on its way, the customer will receive a text message with a four-digit code from Marble, the company that builds the robots Yelp is using. Then they can use the code to retrieve their order curbside when the robot arrives. No tip necessary.
Hiring people to deliver food in their cars can be inefficient, said Matt Delaney, CEO of Marble. Eventually, he says, using robots to get food from a restaurant to your doorstep could be cheaper than paying a person in a car to do it. He thinks that someday, it might even save you money on takeout.
Of course, that's not great news for the people who currently rely on income from doing deliveries. But the upside is, Marble's robots probably won't be turning the restaurant takeout industry on its head any time soon.
First of all, during this pilot project, Marble's robots are only doing deliveries from four restaurants, all in the same neighborhood, and only during dinner time.
The robot uses mapping technology and a suite of sensors to navigate the city, but it still needs a human chaperone to walk beside it. That means it can't move very fast, so realistically it can only deliver to people ordering food from within a relatively small radius of just two neighborhoods, the Mission and Potrero Hill.
It also can't be used in the rain, and requires someone back at headquarters to monitor its progress via video live stream and a suite of sensors — which means instead of one human needed per delivery, Eat24's system in its current form requires at least two.
But just because Marble's robotic restaurant delivery won't be widespread doesn't mean it won't attract attention — and not all of it will be positive.
Marble's delivery robot is very big and takes up a lot of room the sidewalk. It's kind of a rolling reminder of the tech industry's encroachment on jobs, and on culture in general in San Francisco.
And that's not something people necessarily want a giant, autonomous, rolling reminder about. In fact, when BuzzFeed News visited Marble's San Francisco headquarters to watch the robot at work, we encountered a passerby who clearly had some feelings about the whole thing. "Fuck you!" he shouted, maybe at us, but mostly at the robot. "This is what's ruining the city!"
Luckily, Marble's CEO said, not only can Marble employees use video game controllers to navigate the robots to safety if they run into trouble, but they can also speak through the robot, and tell would-be adversaries to back off.