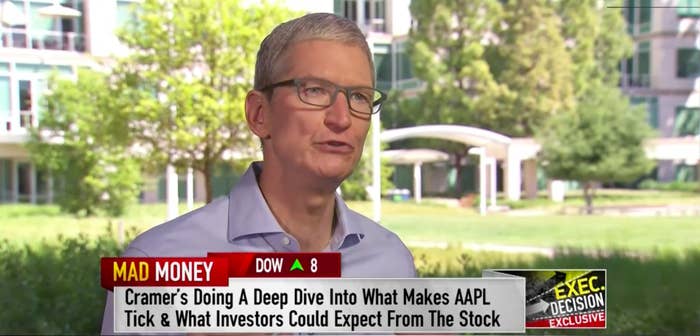 Apple has decided to invest $1 billion in advanced manufacturing in the United States, less than six months after a newly elected President Trump said he planned to use "a very large tax cut" to convince Apple CEO Tim Cook to "build a big plant in the United States."

The investment doesn't necessarily mean Cook is building a US plant, or hiring any US employees. For now, all Cook said is that the money will be used to create an "advanced manufacturing fund." Apple will announce the first company to receive an investment from the fund later this month, Cook said on CNBC Wednesday.
"We're really looking at this thing deeply," Cook said. "How do we grow our employee base? How do we grow our developer base? And how do we grow manufacturing? You'll see us bring things to market in all of those areas across this year."
Though the vast majority of Apple's hardware products are manufactured in China, Apple estimates that among its retail arm, corporate headquarters, data centers, manufacturing supply chain, and developer opportunities linked to the app store, it's responsible for over 2,000,000 jobs in the US. The company launched a new job creation landing page this week that breaks those numbers down in detail — for example, the "glass in every iPhone since its launch" is produced at a Corning plant in Harrodsburg, Kentucky, while a Nebraska company called Vishay Intertechnology "provides electrical components for many Apple products."
Still, with its new investment, Apple joins other tech companies — including Amazon and Infosys — that have announced job creation initiatives since Trump took office.
President Trump specifically called out Apple and Cook both on the campaign trail and in an interview with the New York Times shortly after he was elected. "I got a call from Tim Cook at Apple," Trump said in late November. "And I said, 'Tim, you know one of the things that will be a real achievement for me is when I get Apple to build a big plant in the United States, or many big plants in the United States, where instead of going to China, and going to Vietnam, and going to the places that you go to, you're making your product right here.'"
Apple does manufacture one product in the United States — it assembles Mac Pros at a plant in Austin, Texas through a partnership with Flextronics. Cook announced the opening of the Texas plant in 2012, along with a $100 million investment, close to two years after President Obama asked Apple founder Steve Jobs what it would take to manufacture iPhones in the United States.
At the time, Jobs told the president it would be impossible; and as he predicted, the Texas plant has notably struggled to keep up with demand. Cook said Apple employs a total of 6,000 people in Austin, in positions including engineering, financial services and customer support.
Pushed to comment on his relationship with the Trump administration on CNBC Wednesday, Cook said that while he supported plans for comprehensive tax reform, he remains willing to share his opposition on topics like immigration in hopes of influencing the president's outlook.
"I think with each administration in every country in the world there are things you disagree and things you agree, and you look to find common ground and look to influence the things you don't," Cook said. "If you don't show up, I think that's the worst scenario, because then you're quiet. And this doesn't do your cause any good."
Apple declined to say anything further beyond Cook's comments.