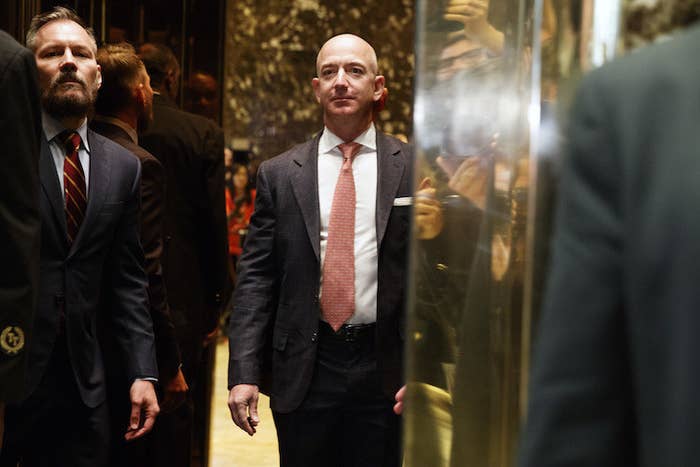 Amazon CEO Jeff Bezos on Monday issued one of the strongest corporate statements of opposition to President Trump's refugee ban yet.

In an email to all employees (full text below), Bezos said Amazon does not support the order and is exploring "legislative options" for opposing it. He also noted that Amazon will submit a declaration in support of Washington State Attorney General Bob Ferguson, who is filing a lawsuit in federal court to stop the order.

Bezos, who was among tech executives who met with the president at Trump Tower in December, said Amazon's legal team has filed a declaration of support of the Washington State Attorney General's lawsuit against Trump.
When Bezos announced that Amazon would be creating over 100,000 new jobs in the next year and a half, Trump was quick to take credit for the move; at the time, Amazon did not respond to request for comment as to whether Bezos' meeting with Trump had played a role in the announcement.
Other tech executives, including those from Google, Apple Uber and Tesla, have been responding to Trump's executive order with varying degrees of severity since Saturday; BuzzFeed News is keeping track of their responses here.
Here's the full text of the email from Bezos:
RE: Advisory—New Executive Order's Potential Impact on Amazon Employees
A quick update on where we are. This executive order is one we do not support. Our public policy team in D.C. has reached out to senior administration officials to make our opposition clear. We've also reached out to congressional leaders on both sides of the aisle to explore legislative options. Our legal team has prepared a declaration of support for the Washington State Attorney General who will be filing suit against the order. We are working other legal options as well.
We're a nation of immigrants whose diverse backgrounds, ideas, and points of view have helped us build and invent as a nation for over 240 years. No nation is better at harnessing the energies and talents of immigrants. It's a distinctive competitive advantage for our country—one we should not weaken.
To our employees in the U.S. and around the world who may be directly affected by this order, I want you to know that the full extent of Amazon's resources are behind you.
Thank you,
Jeff