Airbnb Is Beating Regulations On Its Home Turf In San Francisco
After an expensive, summer-long political campaign, a measure that would have regulated Airbnb in San Francisco was handily defeated, 55% to 45%.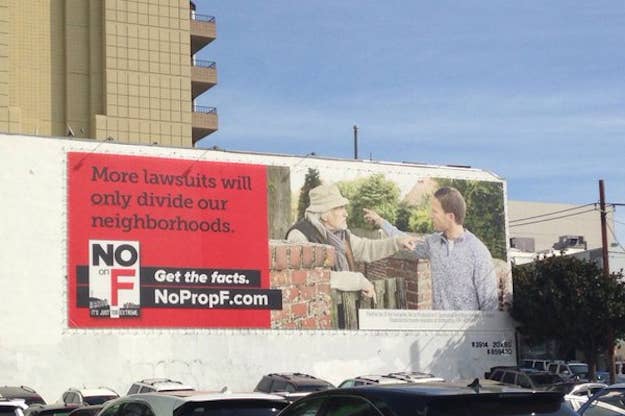 San Franciscans voted Tuesday against a local ballot proposition that would have imposed restrictions on home-sharing platforms such as Airbnb.
According to the city's election website, the measure, Proposition F, was defeated handily 55% to 45%.
Had Proposition F passed, it would have limited short-term rentals in the city to 75 days a year, required hosts and Airbnb to report regularly to the city, allowed neighbors to take each other to court over violations, and banned the renting of in-law units, among other things.
Airbnb reportedly spent more that $8 million to defeat Proposition F through a political campaign called SF for Everyone. Earlier this month, BuzzFeed News reported that for every minute of television commercials that aired in favor of Proposition F, there were 100 minutes of ads against the measure.
Meanwhile, the campaign backing Proposition F — a coalition of neighborhood activists, affordable housing supporters, hotel union workers, and others working as part of the national Share Better coalition — raised less than $1 million, most of it from Unite Here, a hotel workers union. (That campaign advertised as well — albeit far less than the No on F campaign — and had the backing of U.S. Sen. Dianne Feinstein and actor Danny Glover.)
Polling had indicated that it was unlikely the ballot measure — which, once passed, can only be altered by yet another ballot measure — would pass.
That said, Airbnb's campaign did suffer from some public perception setbacks. Some criticized SF for Everyone's mailers and ads, which claimed that the proposition would turn neighbor against neighbor, as a form of bullying, and even fear-mongering; others were critical of the considerable expenditure by the company.
But the biggest blow came when, unbeknownst to the No on Prop F campaign, Airbnb's internal marketing team approved an embarrassing ad campaign that, after evincing eye-rolls as far away as New York City, was removed by the company immediately. Though Airbnb has since refused to comment on the debacle, it brought to light some of the city's resentment of the company:
On the Monday before the election, a group of protesters somehow made their way past Airbnb security and managed to send a number of signs mocking the ad campaign aloft via balloons inside the company's headquarters.
With the failure of Prop F, the city of San Francisco's regulation of short-term renting defaults to the legislation that was passed last October. Hosted short-term rentals, in which the resident of the home is present, are unlimited as long as the property is registered; un-hosted rentals, in which the guests are alone on the property, are limited to 90 days a year. In July, San Francisco Mayor Ed Lee created the Office of Short-Term Rental Administration in the city. That office, headed by Kevin Guy since Sept. 15, will ultimately have a staff of six. So far, Guy told BuzzFeed News, it has received 221 complaints and assessed $335,000 in penalties.
Airbnb will undoubtedly celebrate the failure of Prop F as a victory for the company. The vote, which has been referred to as a "referendum" on the sharing economy, will bolster the company's claim that the majority of San Franciscans support home sharing. It may also work as a cautionary tale for other cities looking to regulate Airbnb.
But the saga of regulation for Airbnb in San Francisco isn't over. The law currently on the books in the city has been in effect for less than a year, and parts of it haven't even been enacted yet. The ballot measure's failure is an opportunity for the city's Board of Supervisors to revisit that legislation, should they be so inclined.
So, while today was a win for the company, Prop F is likely not the end of Airbnb's troubles, in San Francisco or anywhere else.