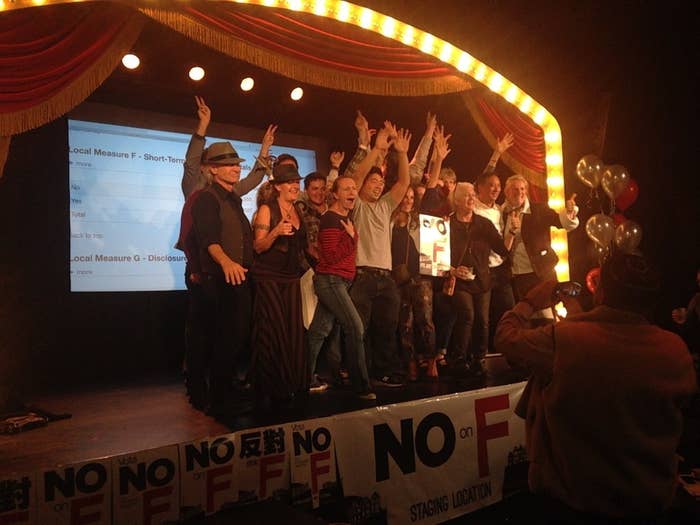 Airbnb won a decisive victory over regulation in San Francisco Tuesday night, but its work is far from over. Wednesday morning, in a post-election press briefing, Head of Global Policy Chris Lehane announced the company's strategy to capitalize on what it sees as momentum in favor of short-term renting.
A year ahead of the 2016 presidential election, Airbnb is launching a global campaign to unite its users and advocate for the company. Dubbed "100 Clubs" by the company, the initiative aims to network Airbnb users — hosts and guests — around the world into a series of guilds. The goal is to have 100 such clubs in major cities around the world by 2016, though Lehane said that figure was "more a floor than a ceiling."
The program, which will include an organization external to Airbnb, will incorporate a digital platform for supporters and be assigned dedicated Airbnb staff. Lehane said it was too early to disclose what the program would cost, only saying that Airbnb is taking the network seriously. "This is now a movement," said Lehane.
Airbnb policy staffers are already on the ground around the world. Lehane said in cities where clubs are founded, staffers will be called on to organize training, facilitate resources, and otherwise manage the beginnings of an international grassroots network. While most cities don't have the same proposition system as San Francisco, which allows voters to weigh in directly on initiatives, he said he could foresee clubs supporting political candidates who are in favor of short-term renting and home-sharing in their cities. Lehane compared the potential political strength of Airbnb hosts and guests, of which there are over 4 million in the United States, to that of the National Rifle Association or the Sierra Club.
Airbnb funded the No on Prop F campaign to the tune of around $8.5 million. Winning that battle has, for now, ensured that the company is able to do business more freely in San Francisco; the globalization of that movement is aimed at ensuring that's the case around the world. It's an indication that Airbnb is gearing up for local regulatory battles in cities beyond San Francisco, and that it is preemptively motivating consumers to help fight them, much as Uber has become known for.
For Lehane, the victory in San Francisco — and the planned investment in Airbnb's political strength in markets around the world — is part of a "broader evolution in capitalism."