Less Than A Week Before San Francisco Votes On The Future Of Airbnb, I Had Dinner With Airbnb
With the next big vote for regulating Airbnb less than a week away, Airbnb product executives gathered for dinner. Here's what they talked about.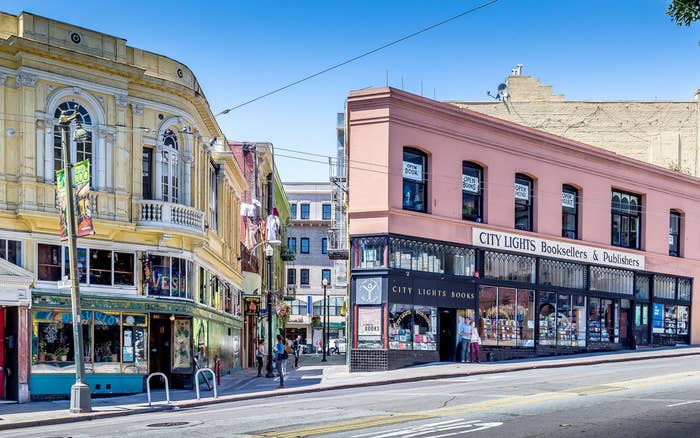 On Wednesday night, less than a week before a citywide election will determine the fate of Airbnb in San Francisco, a small group of journalists met with an even smaller group of the company's executives over dinner. The event, proposed a few weeks back, was hosted by Airbnb in a rented event space called the Cookhouse.
The Cookhouse has whitewashed brick walls and airy windows and french doors that look out over the heavy foot traffic and flashing neon lights of Columbus Avenue, in San Francisco's version of Little Italy; the space is, in other words, a rental that feels like the home of a well-kempt and nice-smelling rich person, which made it the perfect place to contemplate the future of Airbnb, a company that has made its money out of helping people rent out their own well-kempt and (hopefully!) nice-smelling homes. Even if the company's future — which is particularly muddled at the moment — is not what any of the Airbnb employees wanted to talk about.
In fairness, it's been a hard couple of weeks for them. Last week, the company became the subject of a social media (and, ultimately, regular media) outcry after pictures of an ill-conceived ad campaign went viral. The ads, which were less-than-gentle suggestions by Airbnb for where the city could spend its tax dollars, were seen by many as a sign of the entitled disconnection of the city's tech elite, and roundly lambasted.
The Airbnb executives who attended the dinner, which started with pureed celery shooters and concluded with a Nordic-seeming fruit dessert, work in product, not policy, and it was made clear that the measure — Proposition F, which would put hard limits on how many nights a space can be rented out for and put some of the onus of monitoring users on the company — and the campaign to defeat it were not their forte. After the dinner, I was reminded again, in an email from Airbnb communications brass, the purpose of the dinner was to discuss Airbnb's product — search filters and matching algorithms and pricing tips — not politics.
But regardless, the question of the messaging, of the campaign, of what a loss would mean, came up again and again. Less than a week after the embarrassing ads were taken down, and less than a week before more than 100,000 residents of the company's home city are set to come out and vote either for or against Airbnb, it's hard to imagine that the ballot measure and what it means aren't top of mind for Airbnb employees, executives, and the rank and file alike. It's easy to see how, as an Airbnb employee, it might feel a bit like being on trial before the city; on the one hand, there are something like 135,000 hosts and guests living in San Francisco. On the other hand, it was only a few weeks ago that someone spray painted "FUCK AIRBNB" on the storefront window of the No on Prop F campaign headquarters.
For what it's worth, the executives at the dinner said they didn't know who approved the ads, and they don't agree with them. Joe Zadeh, vice president of product for Airbnb, told BuzzFeed News the ads could not be less in keeping with how actual Airbnb employees feel about the city. He described the all-hands meeting that took place the day after the unfortunate ads started to go viral: CEO Brian Chesky apologized to employees and local hosts for the misstep, and confirmed that it was not in keeping with the mission of the company. The mea culpa improved morale, Zadeh said.
While Airbnb will probably succeed in its efforts to defeat Prop F, the vote has set up a difficult binary in the city; when it comes to Airbnb, you're either with them, or against them. "It's scary," said Airbnb product lead Vlad Loktev of the prospect of Prop F winning.
Some time after the entree — a studiously farm-to-table-casual roasted chicken on a bed of autumnal veggies — had been served and consumed, and the seven journalists and four Airbnb representatives gathered around the table were sipping wine, or water, and waiting for dessert, Zadeh elaborated on his personal framing of what the ballot measure meant, not from the perspective of one of Airbnb's earliest employees, but as a new dad, who just relocated his family to a new apartment and wants to open it up to Airbnb guests for the first time.
Zadeh's wife, Becca Jones, recently quit her job in customer support at Square to pursue a career in novelty baking, after her Frida Kahlo cookies picked up traction on cooking and lifestyle blogs. The cookies were so popular that they sparked something of a Frida obsession in the Zadeh-Jones household. Jones and Zadeh have become friendly with Denise, who runs Luz de Luna, a Kahlo-themed shop in San Francisco's Mission District, he said, and are in the process of creating a Frida-themed room in their new home to rent on Airbnb as a means of underwriting the cookie business. But, Zadeh said at dinner, if Prop F passes, the revenue they had counted on coming in via Airbnb (the rental, not Zadeh's' salary) might not be available, which could impact Jones' bakery dreams. (Zadeh either couldn't or wouldn't say which part of Prop F, exactly, had the potential to crush the great Frida bake-off before it begins.)
Or maybe it's not that bad. After all, as Marissa Coughlin, who does communications for Airbnb and joined reporters for dinner and chastised them for talking too much politics, pointed out, San Francisco is a tiny market for the company. Paris, a city that has been much more open-arms when it comes to Airbnb, has 60,000 listings; San Francisco has only around 5,500. 50% of the company's revenue, Coughlin told us, comes from Europe. Airbnb is active in over 34,000 cities, and it can't afford to build special regulatory products or vigilantly monitor its users or get invested in the legal details in every one of them.
Rejection by San Francisco — the city where Airbnb is headquartered, where its founders live, where this three-course catered dinner took place — would certainly sting, but not forever. Perhaps it's just as Zadeh put it. "At the end of the day," he said, as we turned, wine glasses in hand, to take our seats at the long wooden table, "we're just a platform."