Jérôme Hamon, a 43-year-old from France, has become the first person in the world to successfully receive two face transplants.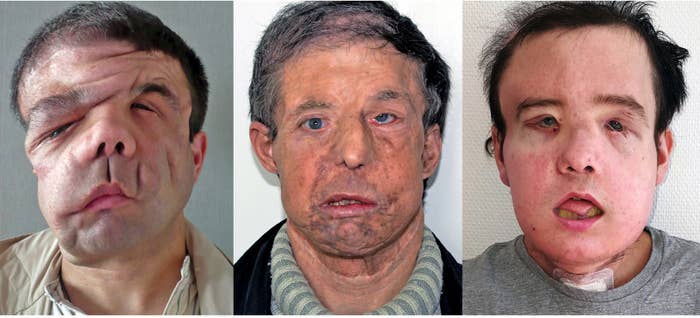 A team of surgeons in France made medical history in January when they successfully performed a second face transplant on a man whose immune system rejected his first face transplant. The surgery was led by Dr. Laurent Lantieri of the Georges Pompidou European Hospital, AP-HP, in Paris.
Hamon, now three months into his recovery, recently went on his first outing since the surgery and is expected to be discharged soon, according to a press release from the hospital.
Face transplant surgery involves the full or partial transplantation of facial tissue from a deceased donor to a person with a severe facial deformity or injury that can't be fixed with conventional plastic surgeries.
Hamon had his first face transplant in 2010 to treat neurofibromatosis, a condition that caused tumors to grow on his face.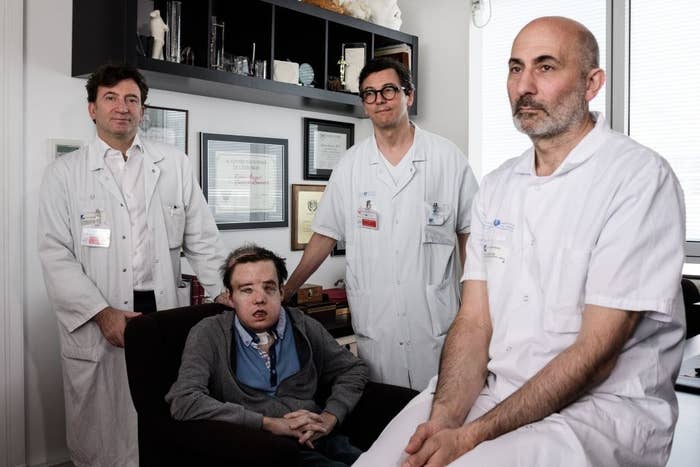 Neurofibromatosis type 1, also called von Recklinghausen's disease, is a genetic condition that causes abnormal skin pigmentation and the growth of tumors on the nerve tissue or skin, according to the National Organization of Rare Disorders. The condition is typically diagnosed in childhood and it can get progressively worse over time.
The tumors are usually benign (noncancerous), but the condition can cause severe pain, vision loss, speech impairment, and learning disabilities. In Hamon's case, he suffered from massive, disfiguring tumors on his face that made him eligible for a face transplant by his mid-30s.
Hamon underwent his first face transplant surgery in 2010, which was also performed by Dr. Lantieri (pictured above, right), and he made a full recovery. Transplant patients are required to take immunosuppression medication so their body does not reject the new organ.
Patients need to be matched with a donor, which can take time. "Identifying an ideal match for a face transplant donor is a precise and often arduous task, requiring a blood, antibody, skin tone, hair color, and facial bone structure match," Dr. Eduardo Rodriguez, director of the Face Transplant Program at NYU Langone Health, told BuzzFeed News.
In 2016, his body began rejecting the transplant and it had to be removed entirely in late 2017, leaving him "faceless" until the second transplant surgery this January.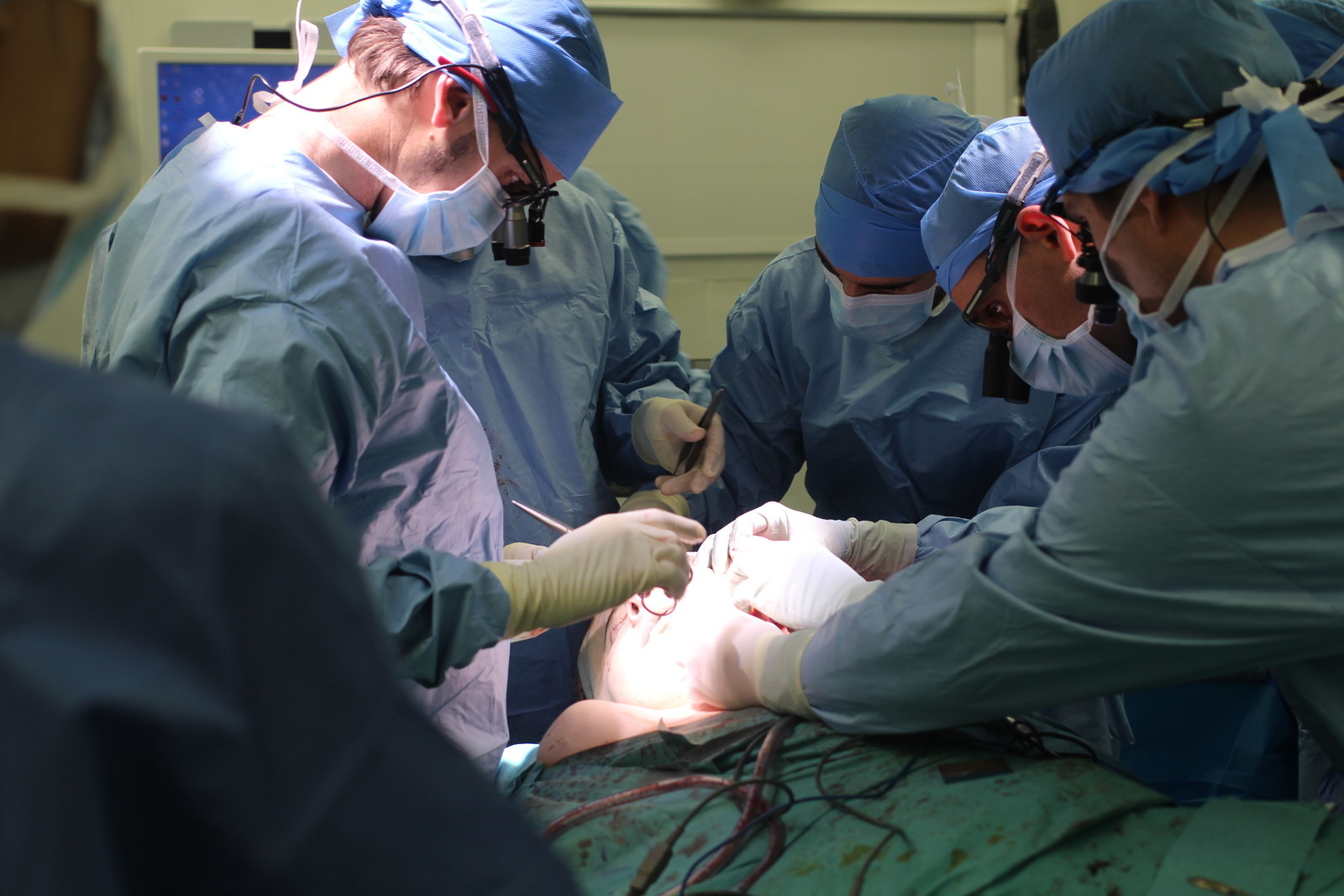 In the summer of 2016, Hamon began to show signs of chronic rejection, according to the hospital. The rejection was triggered when Hamon took antibiotics for a respiratory infection that interfered with his anti-rejection medications, according to the Associated Press.
"With rejection, the body's immune system overwhelms and destroys — so the blood supply is lost and the tissue stops functioning. At that point, there's no return and you have to remove the organ," Dr. Patrick Byrne, director of the Division of Facial Plastic and Reconstructive Surgery at Johns Hopkins, told BuzzFeed News.
In October 2017, Hamon went back on the French Biomedicine Agency's waiting list for a new face transplant. The seriousness of his rejection led surgeons to fully remove Hamon's first face transplant in November, the hospital reported, which left him essentially "faceless." Hamon had no skin, eyelids, or ears, leaving him in a condition Lantieri described to the AP as "the walking dead."
In the following weeks, Hamon lived in an intensive care unit without a face, unable to speak or see, and at high risk for infection. Finally, in January, he was matched with a donor and got his second face.
"During the period of time after the face is removed and before a suitable donor has been found for second transplant ... there is a high risk of infection, damage to the eyes, and contamination that could threaten the next face transplant," Byrne said.
Face transplant surgery is still an emerging field of medicine, but the technology and techniques used are advancing.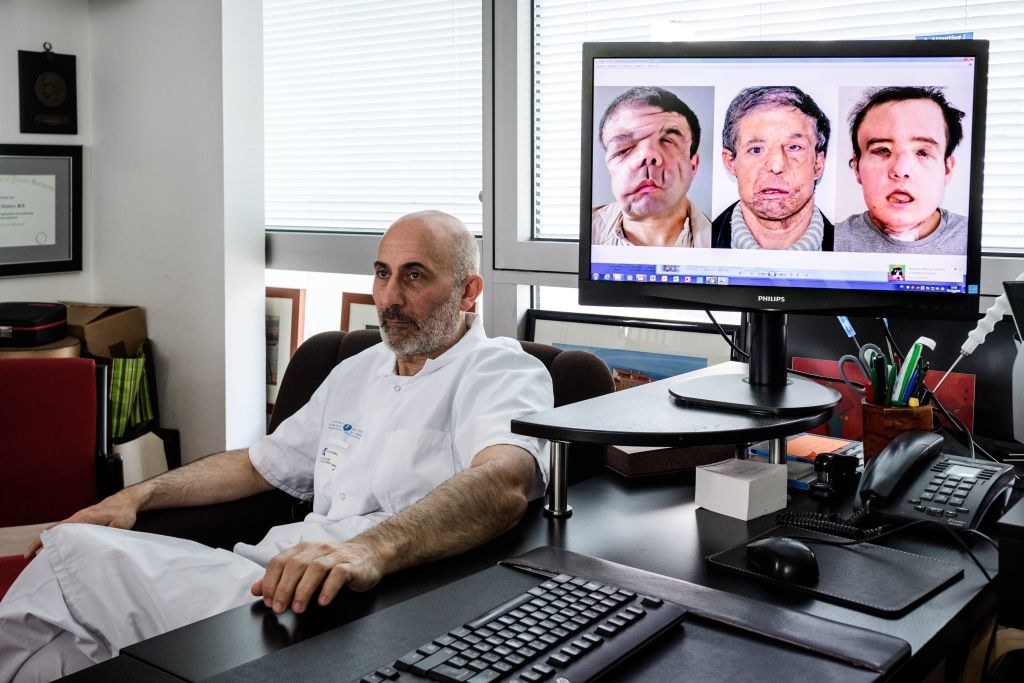 "The first face transplant was performed in 2005, [and] more than 40 face transplants have since been performed worldwide," Rodriguez, who is also chair of the Hansjörg Wyss Department of Plastic Surgery at NYU Langone, told BuzzFeed News. Now, surgeons are able to use 3D virtual planning to map out the portions of the face that need to be recovered from the donor, which are unique to each patient, Rodriguez explained.
There is no hard number for the success rate, and the risks with facial transplants are still considerable. "We inform [patients] there is a 50% risk of failure. The reason for this statistic is to convey the severity of this decision and because it is a relatively new field," Rodriguez said.
However, since 2005 there have also been many advances in surgical techniques and also the ability to control the immune system to help prevent rejection. "With those advancements, we think these facial transplants will become much more common over time," Byrne said.
Hamon's transplant is described as "exciting" and "very encouraging" for the future of face transplants.
Since the second transplant surgery, Hamon has received extensive treatment to prevent rejection as well as speech therapy and psychological care, which are "expected to continue for many months," the hospital wrote.
"It's promising to hear that a patient who has had a second face transplant after a transplant failed due to chronic rejection is recovering and reportedly has expressed gratitude for the new opportunity. To date, this sort of experience has not been recorded yet," Rodriguez said.
Other notable face transplant cases include that of Patrick Hardison, a volunteer firefighter from Mississippi who was left with disfiguring burns on his face and head after a rescue mission in 2001. Hardison's face transplant, completed by a team of surgeons led by Dr. Rodriguez at NYU Langone in 2015, has been described as the most extensive facial transplant in history.
Another famous case is that of Charla Nash, the Connecticut woman who lost most of her face after she was attacked by a friend's pet chimpanzee in 2009.
"It's very encouraging that they were able to do this successfully because this is all new ground and we're learning as we go what's possible," Byrne said.
BuzzFeed News has reached out to Lantieri for comment.